The Back to School shopping season is now in full swing with just a few remaining weeks of summer remaining.  Along with pencils, notebooks and backpacks, kiddos also need to arm themselves with the traditional equipment needed to keep those supplies safe, such as combination locks.  Unfortunately, around 25% of students have a difficult time remembering their combination and popular electronics like cell phones and iPods are stolen most often.
This year, Master Lock offers two extremely innovative devices designed to EASILY keep your small valuables, electronics, jewelry and cash safe and secure anytime you're away from home.  The Safe Space 5900D Personal Portable Safe is ideal for recreation, campus, office, travel or leisure use.  They've also designed the dialSpeed Digital Combination Lock, a brand new lock that is kid-friendly and memory-free!
In 2010, Master Lock reinvented the traditional padlock with the introduction of the Speed Dial – the first padlock that opens on directional movements (up, down, left, right) instead of the traditional rotary dial. In 2012, the brand topped itself again with the release of the first-ever digital padlock called the dialSpeed.
This handy little gem eliminates the fear of the forgotten combination once and for all.  It offers super-fast entry and features an electronic light-up keypad with a unique online Backup Master Code that users can retrieve from masterlockvault.com.  It stores multiple resettable guest codes and sports a sleek, ergonomic design for one-handed, no-look operation.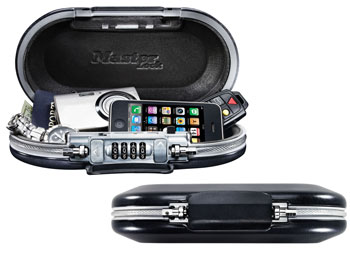 I had the opportunity to review the 5900D Safe Space and have to admit that it was love at first sight!  I can't tell you how many times I've been away from home and wished that I had a safe and secure way to lock up my jewelry, extra cash, small electronics, etc.  Now with the Master Lock Safe Space, protecting your belongings has never been so easy!
The Safe Space 5900D's durable water-resistant construction protects MP3 players, cell phones, cameras, gaming devices, cash, credit cards, jewelry, keys, passports, sunglasses, or other small valuables.  Safe Space 5900D's unique cable mechanism provides additional utility and security: lock up valuables with the cable wrapped tightly to the safe, wrapped securely around a fixed object, or conveniently looped as a carrying handle.
More and more people are carrying small valuables and portable electronic devices, especially when heading back to school, making the Safe Space 5900D the perfect product to keep your information and valuables safe and secure while on the go.  The Safe Space 5900D measures 9.5" x 5.25" x 2.25" inches and carries a limited lifetime warranty.
Detailed Features:
Unique cable mechanism: the included cable allows for attaching the safe firmly to a work station, desk, or other fixed object--the cable also doubles as a useful loop carrying handle or can be wrapped tightly around the outer edge of the safe and out of the way when not in use.
Durable construction: the safe's hard exterior construction and water-resistant housing work together to keep contents dry and protected.
Protected interior: shock-absorbing foam covers the interior walls of the safe, which means stored items stay nicely protected during transport--no need to worry about bumps or scratches.
Portable design: sleek-looking and lightweight (weighs just 1.5 pounds), the personal safe provides a smart, easy way to transport everyday valuable items like cell phones, cameras, cash, credit cards, jewelry, keys, passports, and more--whether at home, traveling abroad, commuting to work, or simply spending the day at the beach.
Combination lock: the personal safe offers a set-your-own-combination lock with four adjustable digits for security and ease of use.
Cable access port: keep portable devices such as MP3 players and gaming devices safely stored and ready to use--the personal safe offers a handy ear bud/charging cable access port for ultimate on-the-go enjoyment and convenience.
Make sure to enter the new Master Lock Master Campus Challenge too!  Each week consumers will be challenged with a new game featuring a different animated lock on a unique campus location.  Players will be given a hint during the game, or can use the hints provided on the Master Lock Facebook page, to crack the code.  You can also earn points for a chance at the grand prize and a digital SLR camera by using #MasterCampusChallenge. Players can snap a creative picture or video of their Master Lock product and upload it to Instagram or Twitter to show Master Lock how they master any security challenge.
Be sure to join the Master Lock Twitter Party on August 6th at 8 PM EST, hosted by @ResourcefulMom ~ follow using hashtag #MasterBacktoSchool.
This year, make sure those nifty school supplies you give the kiddos stay safe and secure at all times with Master Lock.  Protecting those expensive gadgets and electronics has never been more stylish or easy to do!
Disclosure: I received the Safe Space Portable Personal Safe from Master Lock in order to facilitate my review. No other compensation was received. This product review is based on my own personal experiences with this item and is completely honest and objective.
I'm a former 7th grade Science teacher turned stay-at-home mom that lives in Houston, Texas. I am married to my college sweetheart and have a beautiful daughter named Riley, who definitely keeps me on my toes! I am also involved in starting a small business which would both manufacture and sell an invention that I've patented, called Toothpaste 2 Go. I love interacting with my readers and hope to learn as much about you as you learn about me!
Melissa @ Mommy Living the Life of Riley!