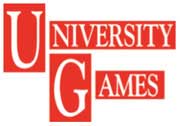 The high-tech world we live in can be extremely exciting and I love having so much knowledge and information literally at my fingertips.  Unfortunately, our newfound level of "connectedness" has actually made us more distant with each other in a lot of ways.
I see this disconnect occurring on a daily basis with friends and family members.  How many times have you been in public and noticed people that are there with each other, but are all glued to their cell phones or portable video games and not even talking to the people they came with?
Snagging some quality family time isn't as hard as you may think.  All that's necessary is to participate in a few fun-filled activities that don't involve batteries, electricity or an internet connection.  University Games provided me with three such options guaranteed to delight kids and families of all ages.  Keep reading to learn more!
I reviewed the following from University Games:
BrainBox USA
, which retails for $12.99 but is currently on sale for $10.81 with FREE SHIPPING
Poppin Hoppies
, which retails for $26.95 with FREE SHIPPING
Color On! Under the Sea Coloring Roll
, which retails for $15.99 but is currently on sale for $10.76 with FREE SHIPPING
Unplug then Plug In for Some Quality Family Time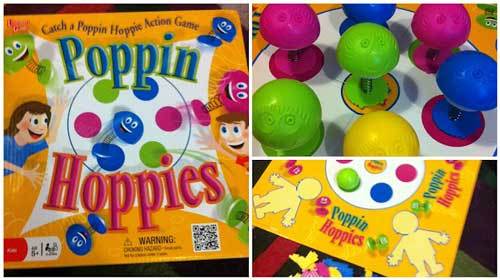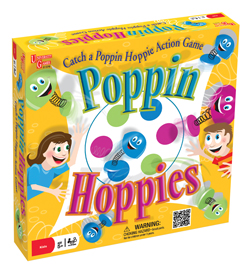 Poppin Hoppies is an action game geared for 2-4 players ages 5 years old and up.  It involves quick moves and a lot of coordination.  The object of the game is very simple, yet you'll find that the fun and the giggles never end.  You are trying to be the first to catch 6 Poppin Hoppies of particular colors which will create a complete person.
Everyone must push down a Poppin Hoppie in the appropriate colored circle at the same time.  Then, it's a race to catch the Hoppie you're after and try to predict when it will pop up.  My husband, daughter and I played this game several times and we laughed the entire time.  The great thing is that the rules are simple and game play is relatively short, which is perfect for younger children with shorter attention spans.
With Poppin Hoppies, you immediately jump right in to the fun!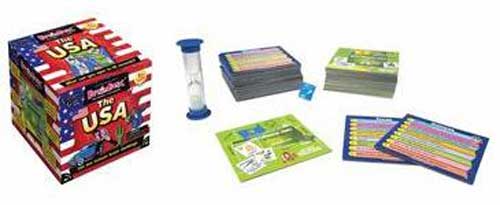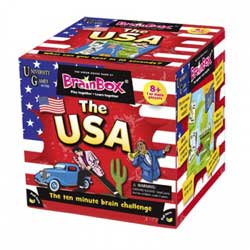 Want a quick, yet enjoyable trivia game that can actually be won without knowing any trivia?  Then be sure to check out the BrainBox USA edition.  This game is designed for 1 or more players ages 8 years old and up.  Play takes only 10 minutes, but if you're like my family, you could easily play this game for an hour.
Basically, you have 10 seconds to study a card from the BrainBox.  Then pass the card to another player and roll the dice.  Simply answer the question that corresponds to the number you rolled on the dice and if you're correct, you get to keep the card.  If incorrect, you must return the card to the BrainBox.  After 10 minutes, if you happen to have the most cards, you're the winner.
What I love about this game is that it's a fun way to learn interesting facts about our country, but you don't actually have to know any of them beforehand in order to win.  As a matter of fact, the person with the best memory will more than likely beat the person with the most "knowledge".  BrainBox USA is a fast-paced game that's just perfect for those small intervals of time you have together.  My family likes to take this game along when we go out to eat and play while waiting for our food to arrive, proving that quality family time can happen anytime, anyplace!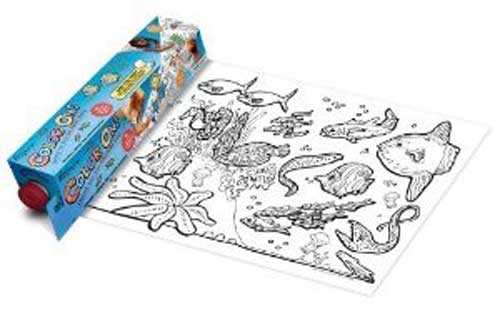 Finally, your child can get their color on with over 10 feet of coloring space in the Color On! Under the Sea Coloring Roll!  This super large coloring book, so to speak, is just perfect for children of all ages and is amazingly convenient for fun on the go.  The roll of paper is easy to roll and unroll in a hurry and even includes five crayons and a crayon sharpener inside the tube itself.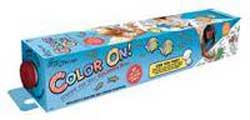 This is our new go-to when we're out visiting family or friends without children.  Normally, Riley wouldn't have anything to play with since our friends without children don't exactly have a lot of toys for her lying around.  Now, she just plops down on the floor and begins a new section of her masterpiece.  It's easy for everyone to help her color too and we've already got many "artists" that have contributed their time and talents to Riley's underwater mural.
Once this picture is complete, we plan on hanging it up in her room for a neat decoration.  The Color On! Under the Sea Coloring Roll has proven to be fun for the whole family and it's taught Riley a lot about doing her best and having the patience to complete a task so large.  Knowing that she'll soon be looking at this masterpiece on her own wall is giving her the added inspiration to color her little heart out!
As you can see, quality family time can happen anywhere and these selections from University Games might be just what you need to make some special memories with your clan today!
Disclosure:  I received the three games shown above from University Games in order to facilitate my review. No other compensation was received. This product review is based on my own personal experiences with this item and is completely honest and objective.
I'm a former 7th grade Science teacher turned stay-at-home mom that lives in Houston, Texas. I am married to my college sweetheart and have a beautiful daughter named Riley, who definitely keeps me on my toes! I am also involved in starting a small business which would both manufacture and sell an invention that I've patented, called Toothpaste 2 Go. I love interacting with my readers and hope to learn as much about you as you learn about me!
Melissa @ Mommy Living the Life of Riley!