Do you remember the movie, Monsters Inc.?  This happens to be one of my family's all-time faves because the story line was unique and original and the entire movie was so well done.  Billy Crystal and John Goodman were classic in their characters of Mike and Sully, and who could resist the charming songs from Randy Newman?
To this day, my daughter laughs like Boo (on purpose) and we still like to try and scare each other around the house, thus generating "scream energy".  When we heard that Disney had created a brand new prequel to the original, called Monsters University, we were beside ourselves with anticipation.  Keep reading to learn more about the must-see family blockbuster of the summer!  (I promise I'll try not to include any spoilers in my review.)
Monsters University opens nationwide on Friday, June 21st!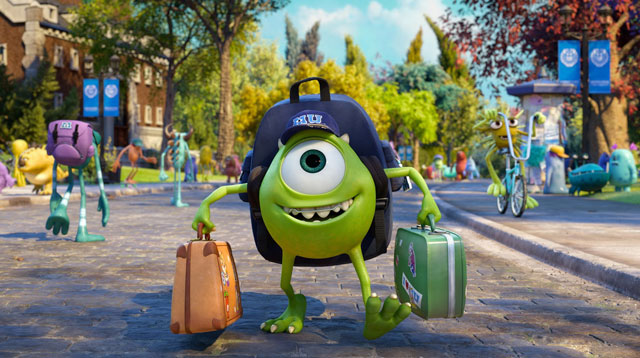 Monsters University centers around the life of young Mike Wazowski and how his life-long dream is to become a scarer.  Scarers are the fierce monsters that generate scream energy for the city and are revered by the entire community as heroes.  When Mike is very young, his class takes a field trip to Monsters Inc. and Mike inadvertently meets a scarer who inspires him to attend Monsters University, the scarer's alma mater.
Fast forward several years and now Mike Wazowski is a student at Monsters University, majoring in the scare program.  There is a final at the end of the semester which everyone must pass in order to stay in the elite program.  If anyone fails the final, they will be removed from the scare program and forced to major in a lesser program such as making scream canisters or creating bedroom doors.
Mike studies fiercely and works harder than anyone in the program, but the problem is, he's just not born scary-looking.  Many people try to tell Mike this, but his determination is so strong and he wants to be a scarer so bad, that he just works harder and doesn't listen to them.  In Monsters University, we're introduced to Randall, Mike's college roommate for a time, and Sully, Mike's rival in the scare program.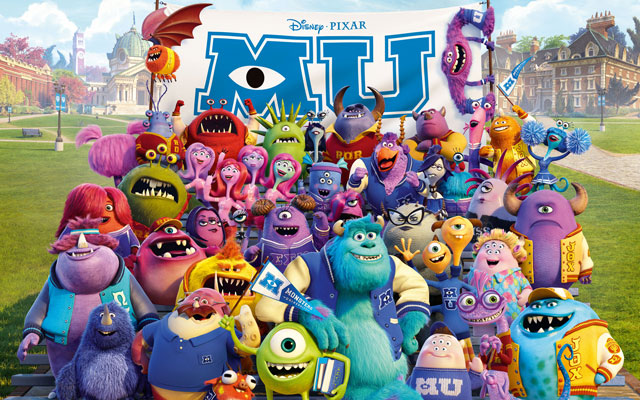 Sully doesn't work hard at all in the scare program because he's a "Sullivan" and was born scary.  He doesn't bring a pencil to class, never reads a book or does any of his assignments, yet will most likely still pass the final because of his natural talents.  This angers Mike and during an argument between Mike and Sully on the day of the final, they are both inadvertently kicked out of the scare program by the dean of the school.
Mike devises a way to get back into the scare program, which involves banding together with a fraternity of "nerds" and even Sully himself.  This part of the story had many of the same themes found in the classic, "Revenge of the Nerds", a movie which I also love.  Now I don't want to ruin or allude to any of the many great moments of this film so suffice it to say that this heartwarming prequel is a must-see and will be enjoyed by all.
The moral of Monsters University is especially wonderful and is a great lesson for all children to learn and every adult to be reminded of:  If you work hard and never, ever give up, you can accomplish absolutely anything.
Disclosure:  I received tickets to the premiere of Monsters University from Disney in order to facilitate my review. No other compensation was received. This feature is based on my own personal experiences with this item and is completely honest and objective.
I'm a former 7th grade Science teacher turned stay-at-home mom that lives in Houston, Texas. I am married to my college sweetheart and have a beautiful daughter named Riley, who definitely keeps me on my toes! I am also involved in starting a small business which would both manufacture and sell an invention that I've patented, called Toothpaste 2 Go. I love interacting with my readers and hope to learn as much about you as you learn about me!
Melissa @ Mommy Living the Life of Riley!