During winter, there's nothing better than a steaming hot cup of coffee, cafe latte or hot chocolate.  The creamy goodness of these beverages definitely soothes the soul as well as any frazzled holiday nerves.
Unfortunately, most coffee makers are designed to make just that...coffee.  And if you'd like anything else, such as a cafe latte, you're going to pay through the nose at a neighborhood coffee shop.  Thankfully, Mr. Coffee has found a way to save you up to $500 per year on specialty drinks with their brand new Cafe Latte machine.
I reviewed the Mr. Coffee Cafe Latte, which retails for $99.99.
Receive $10 off and FREE SHIPPING on the purchase of a Café Latte at mrcoffeelatte.com with promo code "MLAT10A"
Win the grand prize of $500 or one of two Mr. Coffee® Café Latte makers in a Pinterest contest!  Help bring the coffeehouse home by sharing your ideal coffee home, whether it's the perfect mug, your favorite chair or the essential soundtrack. Get brewing and get pinning!
http://pinterest.com/mrcoffee/coffeehouse-at-home-contest/
 ~ HURRY!  This contest ends 12/3/12.

Mr. Coffee Cafe Latte Brings the Coffeehouse Home and Saves You Money
The Mr. Coffee Cafe Latte makes perfect lattes in one simple touch.  The automated process will brew the coffee while heating and frothing milk to create a delicious latte.  The included recipe book includes 20 different varieties of easy to make drinks that will help you save money compared to visiting the coffeehouse chains.
Stop making unnecessary trips to coffeehouses when you could be making them at home and entertaining guests.  The process is easy and consistently delivers great results.  Bring coffeehouse-style beverages from brewer to your cup in minutes.
FEATURES:
Automatic Latte Cycle
24oz. Capacity Glass Pitcher
Makes Hot Chocolate
Recipe Book Included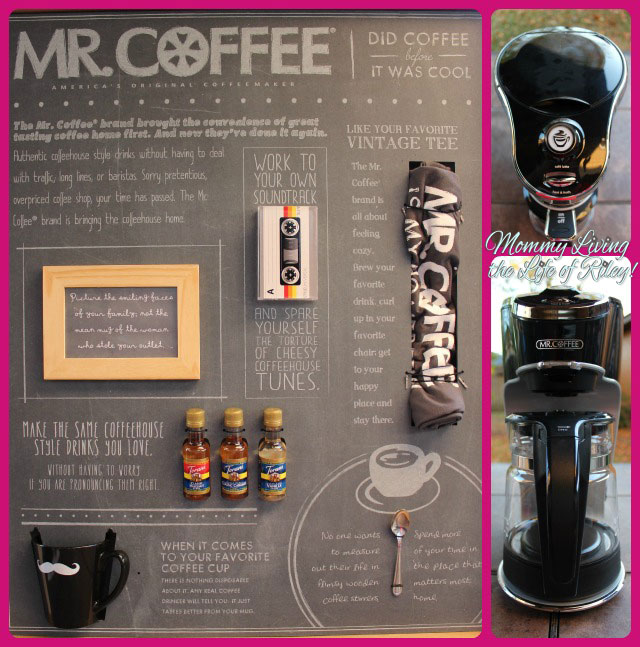 Since cafe lattes are my absolute favorite hot beverage, I couldn't wait to give the Mr. Coffee Cafe Latte machine a try in my home.  The first thing I appreciated was how tall and slim the design was, which makes it easy to fit onto overcrowded countertops like mine.  Next, I loved all of the options available to me in the included recipe guide.  From coffee-based lattes, tea-based lattes, hot chocolate and even coffee with liquor recipes, there's truly something for every member of your home.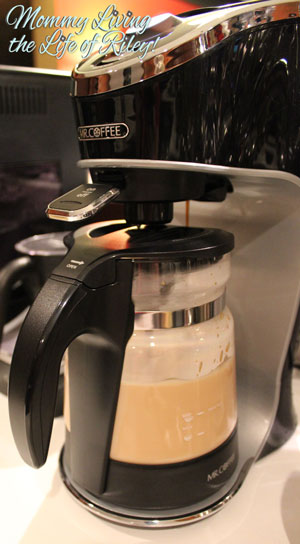 Using this machine is extremely simple and efficient.  First, attach the whisk into the inside of the pitcher's lid.  Next, add a coffee filter, appropriate amount of ground coffee or espresso and water into the back of the Mr. Coffee Cafe Latte, just as you would a typical coffeemaker.
The secret to your latte is in the specialized pitcher itself.  Here's where you consult your recipe guide and add the appropriate ingredients for your concoction of choice into the pitcher.  For instance, for my first latte, I made a recipe of my own consisting of 13 oz. of milk (added to the double serving marking in the pitcher), 1 tablespoon of Torani Sugar-Free Classic Caramel Syrup and 6 tablespoons of gingerbread ground coffee.
Simply place the pitcher onto its specialized base, push the selector switch to the latte function and lower the on/off lever.  Watch as the power light illuminates and the milk in the pitcher begins to spin and froth.  Just a short while later, you'll have an entire pitcher of delicious lattes that taste amazing.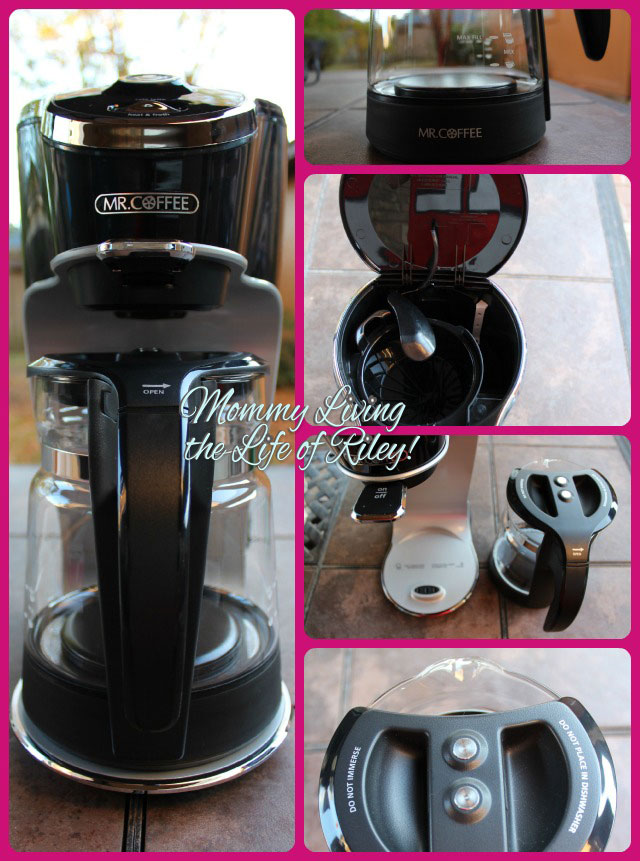 Both my husband and I were delighted at the ease of preparation and the end results from the Mr. Coffee Cafe Latte machine.  The drink was well mixed and the milk was frothed to perfection.  :coffee:
Although none of the parts are dishwasher safe, the machine was still simple enough to clean.  Now we're able to enjoy a ready-made cafe latte, hot chocolate or other delectable beverage right in the comfort and convenience of our own home...much better than paying a small fortune at the local coffeehouse!
Check out these two fabulous recipes that AREN'T in the included Recipe Guide:  (I never knew "slim down" and "mocha latte" to be in the same sentence before, but now I think I'm in love!)  :love: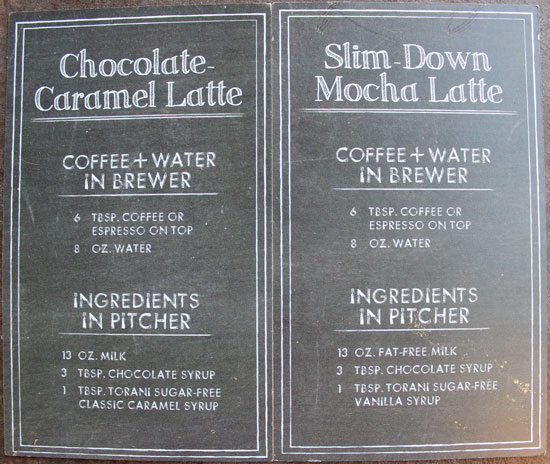 If you're looking for the perfect gift for a coffee lover, an entire family or a person that loves entertaining, then be sure to wrap up the Mr. Coffee Cafe Latte for a present that will be enjoyed and revered the whole year through!
Disclosure:  I received the Cafe Latte from Mr. Coffee in order to facilitate my review. No other compensation was received. This product review is based on my own personal experiences with this item and is completely honest and objective.
I'm a former 7th grade Science teacher turned stay-at-home mom that lives in Houston, Texas. I am married to my college sweetheart and have a beautiful daughter named Riley, who definitely keeps me on my toes! I am also involved in starting a small business which would both manufacture and sell an invention that I've patented, called Toothpaste 2 Go. I love interacting with my readers and hope to learn as much about you as you learn about me!
Melissa @ Mommy Living the Life of Riley!