Posted by: Melissa @ Mommy Living the Life of Riley on October 26th, 2013 Filed in:
Product Reviews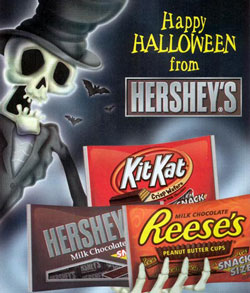 Halloween is a wonderful holiday full of ghouls, goblins and everything that goes bump in the night.  Being scared is a lot of fun, which is why Halloween is one of my favorite holidays...even as an adult.  Of course, getting terrific goodies at every turn doesn't hurt either, and The Hershey's Company has always supplied plenty of scrumptious ways to help us celebrate!  
New treats this Halloween season include:  Fall Rolo Chewy Caramels, Cadbury Screme Eggs and Jolly Rancher Candy Apple Lollipops.  All of your regular Hershey's favorites like Reese's Peanut Butter Cups, Reese's Pieces, Kit Kat, and Hershey's Miniatures are also donning their holiday duds.  Hershey's has even launched a fabulous Halloween themed website called "Celebrate with Hershey's", which contains plenty of terrific holiday recipes, crafts, decorating ideas and more!  This is a great resource for everything Halloween and there's plenty there to make your mouth water too!