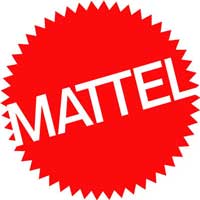 In today's high-tech world, it's easy to fall into the trap of buying toys which I call "press and perform" toys.  In my opinion, these are some of the lowest value toys out there, for when you "press" a button, they "perform", requiring zero imagination or creativity on the part of your child.  The problem is, these toys are awfully alluring and most kids flock to the animation, music and flashing lights these toys provide.
Personally, I love it when Riley plays with toys which are 100% kid-powered, meaning that the fun factor is 100% dictated by the child.  She has a million different toys like this, but dolls always seem to be her favorite, hands-down.  That's why I was happy to learn of a whole new set of Polly Pocket playsets from Mattel which incorporate suction cups into the fun!

Polly Pocket is a quality brand that has been around for quite some time.  I can even remember having a Polly Pocket playset back when I was a little girl.  The only thing though is that the original Polly Pocket sets were made to travel around literally, in your pocket (or purse at the very least).  This presents a problem when it comes to younger children, for they're just not ready yet for such small pieces.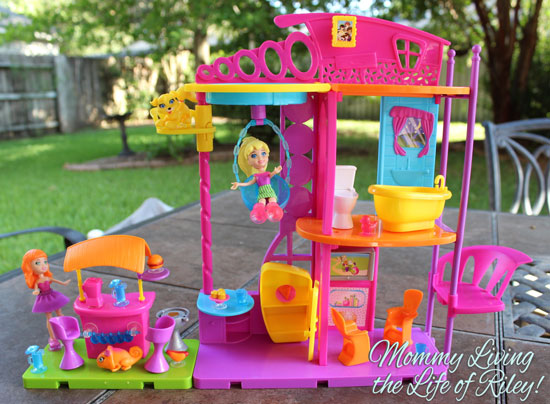 Mattel didn't want the younger children to miss out on any of the Polly Pocket fun though, so they thought of an innovative way to get little girls into the action...by offering larger pieces with suction cups!  Now Polly Pocket's possessions and friends will stay right where you put them without toppling over.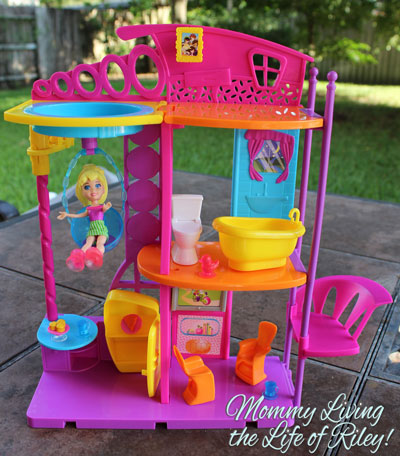 We received the Polly Pocket Hangout House Playset and the Stick 'n' Play Lea Patio Party Playset to review and my daughter was in love right from the start.  The suction cups and highly interactive pieces gave her such variety with how she could play with these sets. For instance, it wasn't long until she figured out that the suction cups worked great on smooth surfaces, but if there was just the tiniest amount of texture, the cups wouldn't stick.
This newly acquired information led her on a hunt through the entire house for new places to play with the Polly Pocket characters.  As a matter of fact, one day I was surprised to find Lea in the shower with me.  I guess Riley discovered that suction cups and tile walls were made to go together!  :)
The Polly Pocket Hangout House Playset comes with so many neat accessories to help Polly deck out her house.  There's a pet pole elevator seat which Polly's cat sits in and spins up and down to get from floor to floor.  There's a penthouse pool which converts into a bed, a sofa which hangs in midair off the side of Polly's house, a refrigerator, flat screen, food, drinks, chairs, a picture to hang on the wall and even a potty.  Riley's favorite part of the Polly Pocket Hangout House was Polly's super neat swing chair!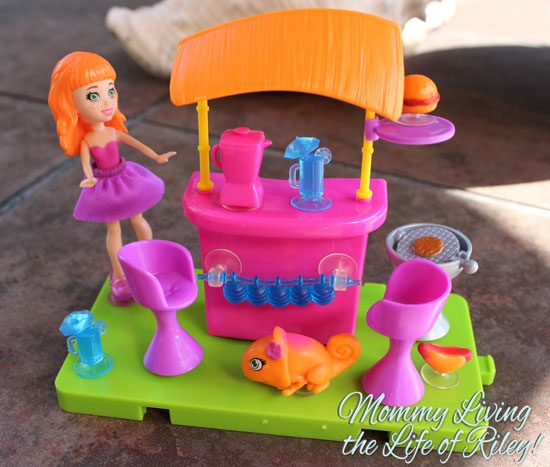 The Stick 'n' Play Lea Patio Party Playset is a wonderful addition to the Polly Pocket Hangout House Playset.  These two toys conveniently hook together so that Polly can literally add on new, fun rooms to her crib.  The Stick 'n' Play Lea Patio Party Playset comes complete with a Tiki bar, lights, stools, drinks, blender, BBQ pit, food and much more.  Of course, Lea herself is also included.
Encourage imaginative play with unlimited fun!  Get your special little girl one of the new Polly Pocket playsets and watch their own creativity take flight!
Disclosure:  I participated in a campaign on behalf of Mom Central Consulting for Mattel Polly Pocket. I received product samples and a promotional item as a thank you for participating.
I'm a former 7th grade Science teacher turned stay-at-home mom that lives in Houston, Texas. I am married to my college sweetheart and have a beautiful daughter named Riley, who definitely keeps me on my toes! I am also involved in starting a small business which would both manufacture and sell an invention that I've patented, called Toothpaste 2 Go. I love interacting with my readers and hope to learn as much about you as you learn about me!
Melissa @ Mommy Living the Life of Riley!