This post brought to you by CloSYS. All opinions are 100% mine.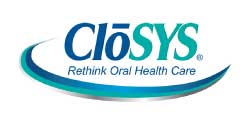 We've all been there before...stuck in a "too close for comfort" conversation with someone who's breath HORRIBLY offends!  Whew!  I used to have a teacher that had the worst smelling breath on the planet and I would go to great lengths to answer every question he asked correctly, just so that he wouldn't come to my desk and help me.  :laugh:  I guess that's one way to get good grades!
No one wants a stinky mouth, and while chewing a piece of gum can help, this isn't getting to the root of the problem, which are VSCs.  Volatile Sulfur Compounds (VSCs) on the back of the tongue are the primary agents of mouth odor.  Thankfully, there's a super easy and effective way to have excellent oral health and that's with CloSYS Alcohol-Free Oral Health Rinse.  The CloSYS Complete Oral Health System uses patented Cloralstan technology to eliminate VSCs and other odor-causing germs for hours and even prevents re-growth.
Incorporating CloSYS Oral Rinse into your daily regimen will yield noticeable results in only a few days, and will also help improve your overall health too.  Recent studies suggest that periodontal disease increases the risk of developing cardiovascular diseases.  So by eliminating the harmful bacteria in your mouth, you can improve the health of your entire body.
Just look at the power of CloSYS:
Kills 99.9% of bad breath germs within seconds
Reduces plaque and promotes oral wellness
Non-staining formula
Fights tartar buildup by reducing plaque
Recommended by Dental Professionals
This oral health rinse even allows you to control its flavor.  CloSYS comes to you unflavored, but a small vial of mint flavoring is also included.  If you try out the mint flavoring and like it, then it is super simple to change the taste of the entire bottle.
I really enjoyed using the CloSYS oral rinse and enjoyed the clean fresh taste it leaves in my mouth.  I've been using the CloSYS Sulfate-Free Fluoride Toothpaste along with the oral rinse and can honestly say that my mouth has a much fresher feeling than it used to have.
I don't think I was walking around with "hot" breath, but who knows?  Very few people will actually tell you to your face that your breath is abominable.  What's more, it makes me feel good knowing that not only is CloSYS providing me with a cleaner, more germ-free mouth, it's also inadvertently improving my overall health.
If you'd like to stay up to date on all things concerning oral health, please like CloSYS on Facebook.
I'm a former 7th grade Science teacher turned stay-at-home mom that lives in Houston, Texas. I am married to my college sweetheart and have a beautiful daughter named Riley, who definitely keeps me on my toes! I am also involved in starting a small business which would both manufacture and sell an invention that I've patented, called Toothpaste 2 Go. I love interacting with my readers and hope to learn as much about you as you learn about me!
Melissa @ Mommy Living the Life of Riley!