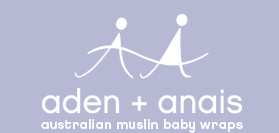 Ever since Riley was born, I have been frightened by the possibility of SIDS and have tried to do everything in my power to prevent her from succumbing to it.  One of the most popular things I knew to do was swaddle her when she went to sleep.
Newborns love being swaddled because it stops them from waking themselves with their sudden, jerky movements, and because it helps recreate the snugness they felt in the womb.  Once Riley outgrew the newborn stage, we moved on from swaddling blankets to sleep sacks.  She is such a wild sleeper though, ending up in every part of the crib at one time or another during the night.
Using a sleep sack instead of a blanket, was the only way I felt safe to keep her warm.  I've always heard that a baby can easily get wrapped up in their own blanket and suffocate themselves.  Riley absolutely loves her sleep sacks and even associates them now with sleep itself.  She knows that when she is being put into her sleep sack, that it's time for bed or for a nap.  I'll admit though, that Riley has never had a quality sleep sack before, and so I was very excited to be able to review the aden + anais muslin classic sleeping bag!

The aden + anais single layer muslin classic sleeping bag sells for $29.95.
Mothers around the world have turned to natural muslin to care for their children for countless generations. The aden + anais® sleeping bags brings this lightweight fabric into the 21st century with colorful, stylish prints and an effortless design to keep a night's rest safe, comfortable, and peaceful. Available in both a single layer of muslin and four layers of muslin to keep baby comfortably warm during cool nights, and brisk walks in the park.

Swaddling is said to be as familiar to babies as it is to their moms because it recreates the secure and cozy feeling of the womb -- and using swaddles made of natural cotton muslin only enhances that blissful feeling. Muslin is a finely-woven breathable fabric believed to have originated in Bangladesh during the Middle Ages. It's delicate, yet durable weave, makes the fabric stretchy, and therefore ideal for swaddling, as the natural give" allows the blanket to be tucked snugly around a baby without being overly restrictive.

The lightweight muslin also permits air to circulate around the baby's body, while still providing comfort and warmth without the worry that the baby may overheat in moderate weather. Cotton muslin is also a workhorse fabric, in that wraps woven from this natural fiber stands up to repeated washings only becoming softer -- and better -- with age.

Of course, all the scientific evidence in the world is no substitute for the experience of millions of Mothers through uncountable generations: that swaddling in muslin is one of the most loving, gentle, restorative acts a mother can perform for her child.
In order to facilitate my review, I was sent the aden + anais Mod About Baby - Fish Classic Sleeping Bag.  I was very surprised when I removed it from its packaging because it was extremely lightweight.  The muslin was so thin in fact, that you could see right through it.  I told my husband that I had my doubts on how well this was going to keep Riley warm during the night.
He agreed, but we were both very surprised when the next morning, she was warm and toasty and her bare feet were not chilled at all.  That's when I found out the power of muslin fabric!  It has the unique ability to keep you both warm AND cool!  This was great because here in Texas, our nights are usually pretty warm.
In Riley's previous sleep sacks, sometimes she would wake up sweating because her sleep sack was making her too hot.  Now that I understand better how muslin fabric works, I am confident that Riley won't get overheated any longer during the night.

I was also very impressed at how well the sleeping bag was crafted.  I noticed there was double stitching around every seam and border on the sleeping bag.  The zipper was also sewn in extremely well and there were no gaps left open around the bottom of the zipper for little toes to poke out of.
Riley's previous sleep sacks all have huge holes in the bottom of them around the zipper because they were not stitched tightly to begin with.  She was able to wiggle her toes in these small holes and make them bigger and bigger, so that now, she can actually stick her entire foot and part of her leg out of the bottom of her blankets.  Obviously, a huge hole in the blanket is going to seriously diminish how warm it can keep you!

I was happy to find that this sleeping bag held up nicely after being washed too.  I checked the garment over carefully and was glad to find that nothing came unraveled or unstitched.  I was also pleased to find that the muslin felt a little softer than it did before!
The only problem that I noticed with the sleeping bag is that the neck hole is quite large.  I don't really understand the reasoning behind this because the sleeping bag opens in the front and is zipped onto the child.  It never need go over their head.  The first time that Riley used the sleeping bag, she managed to find a way to remove her left arm from the arm hole and slide it up through the neck hole.  She then somehow got her left leg in the left arm hole.  It looked like she was playing Twister during her nap!  (See the picture above.)  This never happened in her other sleep sacks because the neck hole was smaller in those.

STRENGTHS:
Single-layer muslin fabric keeps baby warm without overheating
Double stitched without gaps left around the bottom of the zipper
Washes well without anything coming unraveled or unstitched
Muslin gets softer after each wash
Bright, colorful fish with cheery orange accents

WEAKNESSES:
The neck hole of this sleeping bag is quite large, so my daughter was actually able to half slip out of the sleeping bag.

The aden + anais Mod About Baby - Fish Classic Sleeping Bag is a great blanket substitute which will ensure that your child remains warm, yet not overheated, throughout the night.  Also, by removing the blanket from their crib entirely, you can rest assured that your child will not be able to suffocate themselves during the night.  This sleeping bag is a very well made and well thought-out design and will ensure your child many, many peaceful nights' sleep.

Disclosure:  I received the Mod About Baby - Fish Classic Sleeping Bag from aden + anais to facilitate my review. No other compensation was received. This product review is based on my own personal experiences with this item and is completely honest and objective.
I'm a former 7th grade Science teacher turned stay-at-home mom that lives in Houston, Texas. I am married to my college sweetheart and have a beautiful daughter named Riley, who definitely keeps me on my toes! I am also involved in starting a small business which would both manufacture and sell an invention that I've patented, called Toothpaste 2 Go. I love interacting with my readers and hope to learn as much about you as you learn about me!
Melissa @ Mommy Living the Life of Riley!