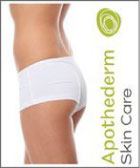 I don't know a woman alive who doesn't have them in one way or another.  If you managed to avoid getting them when you were younger, chances are motherhood brought them your way.  I'm talking, of course, about STRETCH MARKS...those little road maps on our bodies which we all wish we could eliminate for good.
I was lucky enough to not get any while I was pregnant with Riley, but I obtained my little white beauties long before when I was in my late teens.  Helix BioMedix has created a stretch mark cream called Apothederm, which is designed to greatly reduce the appearance of stretch marks.  Keep reading to learn much more about it!
Apothederm Stretch Mark Cream combats both new and old stretch marks and features an exclusive heptapeptide-7.  This technology helps to reduce the appearance of stretch marks, improve discoloration, even skin tone and texture and protects skin to prevent future stretch marks from occurring.  By applying this cream twice a day, you should start to see visible results in as little as 2 weeks with continued improvement over time.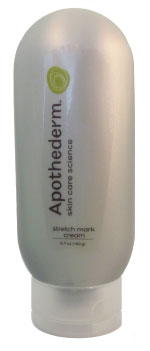 I had my unfortunate run-in with stretch marks in my late teens.  It seems that they developed on the tops of my outer thighs due to a late growth spurt.  My skin is so pale that I didn't even notice them until one summer when I actually got a tan.  All of a sudden, I started seeing these thicker white lines standing out on my upper thighs.  These lines have always bothered me and I was excited to have the chance to see what Apothederm Stretch Mark Cream could do about them.

I had high hopes for the Apothederm cream, for their clinical studies reported 70% of people noticing results in as little as two weeks, with 90% of people noticing results in twelve weeks.  I used the product for three weeks before writing this review and have to agree that this cream does give results.
Although my stretch marks weren't very noticeable by their color, since I have such pale skin, they were definitely noticeable by their thicker texture.  This is where Apothederm came to my aid.  My stretch marks appear much smoother and more even after only 3 weeks of use.  The thick, scar-like lines are definitely more subdued, so I couldn't be happier.  I didn't know how well Apothederm would work, since my stretch marks are about 15 years old, but it did help a lot.

If you have some "road maps" you'd like to ditch, then I definitely recommend giving Apothederm Stretch Mark Cream from Helix BioMedix a try.  The patented heptapeptide-7 technology will help improve the discoloration, skin tone and texture of your stretch marks in a relatively short period of time.  I will keep using this cream for the recommended twelve weeks to see if I can finally say "buh-bye" to my stretch marks for good!
More Terrific Skin Care Products from Apothederm:
What tips do you have for lessening the look and appearance of stretch marks?
Disclosure:  I received the Apothederm Stretch Mark Cream from Helix BioMedix in order to facilitate my review. No other compensation was received. This product review is based on my own personal experiences with this item and is completely honest and objective.
I'm a former 7th grade Science teacher turned stay-at-home mom that lives in Houston, Texas. I am married to my college sweetheart and have a beautiful daughter named Riley, who definitely keeps me on my toes! I am also involved in starting a small business which would both manufacture and sell an invention that I've patented, called Toothpaste 2 Go. I love interacting with my readers and hope to learn as much about you as you learn about me!
Melissa @ Mommy Living the Life of Riley!