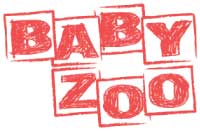 Getting a child on a successful sleep schedule is one of the first priorities of any new parent.  From the moment your child is born, everyone seems to ask, "How much are they sleeping?".  Babies will eventually turn into toddlers and toddlers will thankfully sleep for much longer stretches at a time, but there is still a certain amount of sleep training that needs to take place.
Since children don't know how to tell time yet, it's hard for them to realize that 5 AM is NOT the time to get up and start the day.  If only there were a way for a child to know when to get up and when to go back to sleep!  Now there is, thanks to Kastel International!  They've created the BabyZoo Sleeptrainer, a clock which tells your children whether they should be sleeping or awake.  Keep reading to learn more!
I reviewed the BabyZoo Sleeptrainer from Kastel International, which retails for $39.99.
The BabyZoo Sleeptrainer from Kastel International is the perfect solution for children who consistently wake up too early.  Sleep is an essential component of proper health and growing children need restful sleep just as much as their tired parents do!   When a young child wakes up too early, the entire day is much more stressful because neither the child nor the parent received the proper amount of rest that they needed.  :cry:
That's why the BabyZoo Sleeptrainer is such a great idea.  Your child will realize when to wake up and when to go back to sleep by paying attention to whether Momo the monkey's eyes are open or shut.  Parents can set the alarm on Momo just like an alarm clock and can also choose whether to wake the child with or without jungle sounds.  Either way, when the proper time arrives, Momo's eyes will open letting the child know that it is the appropriate time to wake up and begin the day.
Momo can also help teach your child how to tell time since it has both an analog and a digital time display.  Most all children pick up digital time rather quickly, but learning to read the hands on an analog clock takes a lot of practice.  Now a child can compare the two clocks, thus teaching them the proper way to read an analog clock.
The BabyZoo Sleeptrainer also offers a volume control button for heavy or light sleepers as well as a back light so that children are able to read the clock when it's still dark in their rooms.  Simply push the button on top of the digital clock and both clocks will light up for a period of 30 seconds.
The only thing I didn't care for about the Sleeptrainer is how it only uses 3 "AAA" batteries and doesn't offer an AC power supply option.  Riley has a perfect place on top of her dresser where the Sleeptrainer could be plugged in, but instead, I will need to keep my rechargeable batteries at the ready.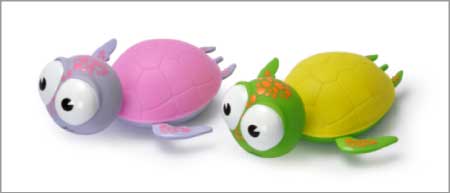 Kastel International also offers the world's first timer-based nightlight.  The BabyZoo Nightlight is an extremely cute & huggable turtle-shaped Nightlight with several simple features.  The timer function automatically shuts the light off, so there is no need to physically turn it off.  Plus, a child can switch it on by himself at night when waking up and the Nightlight will automatically shut down after each use.  Finally, the whole 'shell' functions as the light switch making it very easy for children to operate.
If you would like to teach your little one when it's time to wake up and when it's time to stay in bed, then I highly recommend buying a BabyZoo Sleeptrainer.  Momo will also help your child learn how to tell time and function as an alarm clock for when they get older.  With the BabyZoo Sleeptrainer, both parent and child will finally get the full night's worth of rest they both deserve!  :sleep:
Disclosure:  I received the BabyZoo Sleeptrainer from Kastel International in order to facilitate my review. No other compensation was received. This product review is based on my own personal experiences with this item and is completely honest and objective.
I'm a former 7th grade Science teacher turned stay-at-home mom that lives in Houston, Texas. I am married to my college sweetheart and have a beautiful daughter named Riley, who definitely keeps me on my toes! I am also involved in starting a small business which would both manufacture and sell an invention that I've patented, called Toothpaste 2 Go. I love interacting with my readers and hope to learn as much about you as you learn about me!
Melissa @ Mommy Living the Life of Riley!