Through the years, I've come to learn several things to be true and one of them is the saying, "You usually get what you pay for".  I don't know how many times, when I was younger, that I would buy the cheapest item made only to be sorely disappointed later.
Just recently, I discovered the major differences in curling irons and flat irons and how the cheap models of these are actually destroying your hair!  Now, I had the same opportunity in comparing blow dryers.  I currently use some off-brand, Wal-mart special-type blow dryer and figured what could really be the difference?  Don't they all just blow hot air?  Well, I had the chance to review the BARBAR ECO-8000 Professional Eco-Friendly Blow Dryer to see for myself!
I was sent the BARBAR ECO-8000 Professional Eco-Friendly Blow Dryer, which retails for $150.00.
When I first took this out of the box, I was surprised at how futuristic this blow dryer looks!  It has two switches on the handle with which to control the motor speed as well as the temperature, and it also has a red cool shot button, which will deliver a blast of cold air to lock your style into place.  These features are the same as any other blow dryer though.  What was different about the ECO-8000 was that it had a green light on the barrel of the blow dryer and one at the base of the handle too!
At first glance, I wasn't sure why these lights were there, because this blow dryer didn't come with any instructions!  I thought this was odd, because every blow dryer I've ever owned at least had the instruction sheet or tag on it saying not to blow dry your hair while in the bath tub.  Where was this vital piece of information?  No, seriously, I really do wish that there had been some instructions included so that I could have known what those little green lights meant.  This blow dryer also came with two attachments which can funnel the air into a stream for more precision styling.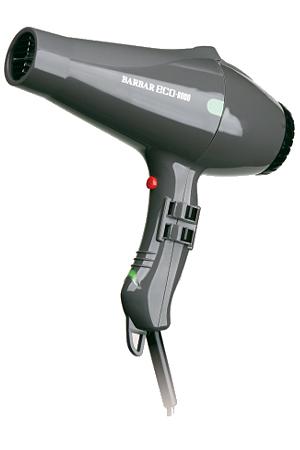 I noticed that this blow dryer had only a 1000 watt motor, which is pretty wimpy by cheap blow dryer standards, but then I realized why.  The ECO-8000 has a ceramic heating element, unlike the coiled metal heating elements of your typical blow dryers.  The ceramic heats up very quickly and actually UTILIZES the electricity it receives instead of wasting it, like the coil heating element does.  This means that you can have a lower wattage dryer that can actually blow better than a higher wattage model, and the ECO-8000 definitely does!
My damp hair seemed to dry a lot faster using this blow dryer and my hair didn't appear as frizzy either!  Apparently, my hair dried smoother using the ECO-8000 because it doesn't emit all of the radiation that the typical blow dryers do.  A typical blow dryer emits the same amount of radiation as a MICROWAVE OVEN!  If a microwave can make an egg explode, common sense would tell me that I shouldn't be blowing that same level of radiation at my own head.  Because the ECO-8000 actually uses the electricity supplied to it, this blow dryer emits 1/40 the radiation of a typical blow dryer!  This savings in electricity also equals a savings on your electric bill too!
Finally, I like how quiet this blow dryer is, even on its highest speed.  My current blow dryer is one step quieter than a jet engine.  The ECO-8000 also comes with an 11-foot cord and can reach heats of up to 130 degrees Celsius, thus making it a professional grade tool.
I have to say that I finally see what all of the fuss is about over the BARBAR ECO-8000 Professional Eco-Friendly Blow Dryer.  This futuristicly styled blow dryer will save you time getting ready, save the condition of your hair, save your eardrums from the noise, and save your wallet some money by using less electricity!
I guess the ECO-8000 is just one more example of the old adage, "You usually get what you pay for!"  I just sure wish my money would have paid for an instruction booklet so that I could finally find out what those little green lights mean!  :)
Disclosure:  I received the ECO-8000 Professional Eco-Friendly Blow Dryer from BARBAR Hair Tools in order to facilitate my review. No other compensation was received. This product review is based on my own personal experiences with this item and is completely honest and objective.
I'm a former 7th grade Science teacher turned stay-at-home mom that lives in Houston, Texas. I am married to my college sweetheart and have a beautiful daughter named Riley, who definitely keeps me on my toes! I am also involved in starting a small business which would both manufacture and sell an invention that I've patented, called Toothpaste 2 Go. I love interacting with my readers and hope to learn as much about you as you learn about me!
Melissa @ Mommy Living the Life of Riley!