Colossal Christmas Countdown:

12 Days Until Christmas!

I think everyone is born a natural music lover.  There's just something about a song that lifts our spirits and makes us want to play right along.  Unfortunately, learning to play an instrument can take years of practice and even then, we may never be very proficient at it.

Now, Beamz Interactive has invented a unique and state-of-the-art way for us to arrange, create and play music immediately, with no professional training or years of practice necessary!  It's called the Beamz Player and you actually "play" laser beams.  Keep reading to learn all about it!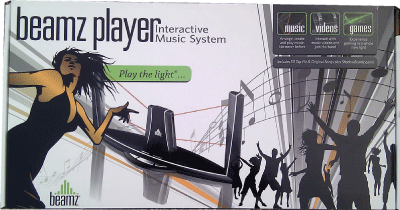 I was in awe the first time I saw the Beamz Player from Beamz Interactive.  This simple and unassuming instrument looks very similar to a goal post on the football field, but when you interrupt one of the four laser beams on the player using absolutely ANY object, you hear beautiful music!  I felt like I was playing a harp or strumming an air guitar, but the strings I was plucking were beams of light instead.
In order to operate the Beamz Player, you only need a laptop or other PC computer running Windows 7, Vista or XP.  Mac users can also use the Beamz Player with the Boot Camp Utility from Apple.  The reason that a computer is needed, is because the Beamz Player needs the Beamz software to function properly.  The Beamz Player software contains everything you need to play up to 12 different instruments and sound effects during one of the 50 hit songs also included.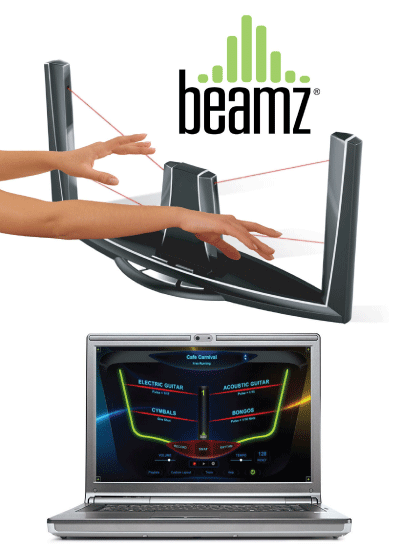 The neat thing about Beamz is that there is no way possible to play a wrong note or be out of tune, unlike playing a traditional instrument.  Every time you pass your hands through the laser beams, you trigger a stream of musical notes, vocals or sound effects which have already been harmoniously paired to play with each song's background rhythm track.  So there's no way the accompaniment you play won't sound tremendous and as if it should have been included with the original song all along!
If you're like me, you may have a side of you that loves to compete and play games.  The Beamz Player has just what you need  in order to hone your light playing skills and find out who plays the beam best with the ShadowBeamz interactive music game!  Who says you need a keyboard or a mouse to play computer games?
Now, you can do so using laser beams...how cool!  Of course, Beamz Interactive has also developed an entire community of "beamers" whereby you can download Beamz games, upload and download Beamz music and even share videos with others like you.
I have to admit that I have become absolutely addicted to my Beamz Player.  It is just so cool to be able to effortlessly play a song which sounds so beautiful and in-tune, right out of the box.  I also love how I can play some of my favorite songs a different way each time, so that when it's over, I just want to start over and try something else with it.
My husband and I host a huge Christmas party every year for our friends and family and I know that, without a doubt, the Beamz Player is going to be the epicenter of our entertainment this year.
If you're shopping for a music fanatic of any age or a die-hard "techie" that loves the latest gadgets, then I highly recommend the Beamz Player C4 Modelfrom Beamz Interactive Inc.  With so many ways to experience music, including interacting with videos and playing games, anyone would absolutely love finding this gift under the Christmas tree this year!
Disclosure:  I received the Beamz Player C4 Model from Beamz Interactive Inc. in order to facilitate my review. No other compensation was received. This product review is based on my own personal experiences with this item and is completely honest and objective.
I'm a former 7th grade Science teacher turned stay-at-home mom that lives in Houston, Texas. I am married to my college sweetheart and have a beautiful daughter named Riley, who definitely keeps me on my toes! I am also involved in starting a small business which would both manufacture and sell an invention that I've patented, called Toothpaste 2 Go. I love interacting with my readers and hope to learn as much about you as you learn about me!
Melissa @ Mommy Living the Life of Riley!