Being a mom is definitely NOT easy!  It seems that I'm frequently on the verge of a sleepless night and a headache for one reason or another.  During times like these, it's good to know that there are some wonderful solutions on the market to help soothe your aching head or ensure a restful night's sleep.
I recently had the opportunity to review two beauty masques guaranteed to help refresh and rejuvenate us moms and get us back in the game.  Keep reading to learn more!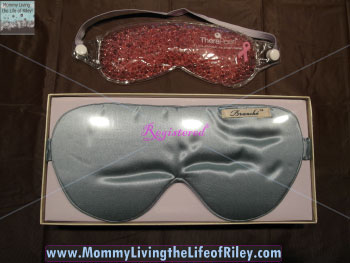 The first eye masque that I had the chance to review was the TheraPearl Eye-ssential Eye Pack.  This eye pack was created by a renowned doctor who was interested in bringing her patients the healing effects of both heat AND cold in one easy-to-use eye pack.  TheraPearl's unique Pearl Technology allows for hot and cold therapy that is flexible, reusable and non-toxic.  It's based on the concept of frozen peas, but unlike peas, its pliable, body-hugging shape won't leak or drip.
Now you no longer have to use leaky ice packs, messy frozen peas, or dripping hot gauze pads and towels for relief from allergy-swollen eyes, recently plucked eyebrows, headaches, minor surgery or cosmetic injections.
With the ability to be used in both the freezer and microwave, the packs disseminate their healing cold or warm properties in 20 minutes, the doctor recommended time for heat or ice. When the pack approaches room temperature, it is time to take a brief break before applying another compress.
The TheraPearl Eye-ssential Eye Pack is also recommended for the following:
Reduce facial swelling
Cosmetic surgery pain relief
Wisdom teeth
Cosmetic skin peels and facials
Waxing
Sore muscles
Headache tension
Since sleep is a precious and much-needed commodity for all mothers, I am happy to have had the chance to review the Belle De Nuit Eye Masque from Branche Beauty Sleep.  The Belle De Nuit Eye Masque is an oversized sleep masque composed entirely of hand-sewn silk.  It lies completely flat and has a silk-covered elastic band which secures the mask comfortably around your head.
When wearing the Belle De Nuit Eye Masque, my eyes felt cool and comfortable, thanks to the super soft silk.  Also, because the masque is generously sized, it covered my eyes completely and never slipped off during the night.
If you suffer from frequent sinus headaches, dark under eye circles or puffy eyes, a chilled silk eye mask can help reduce or eliminate all of these conditions.  Because Branche Belle De Nuit Eye Masques have a non-bleached, non-dyed silk underside, there is little to no risk of an allergic reaction to the dyes used in silk.
Wearing a sleep eye mask can also help regulate your circadian rhythm, due to its role in blocking intrusive light, which results in a better quality of sleep.  As multiple studies have shown, there is a distinct correlation between sleep deprivation and weight gain.  Since a sleep eye mask boosts the overall quality of sleep, you can actually eliminate weight gain caused by insubstantial sleep.
A high quality of deep sleep is also essential to the body's natural production of HGH (human growth hormone), which is shown to increase calcium retention, stimulate the immune system, increase muscle mass and even break down fat.
As you can see, there are so many beneficial reasons to have both the TheraPearl Eye-ssential Eye Pack and the Branche Belle De Nuit Eye Masque in your arsenal.  For a more peaceful night's sleep and the immediate healing benefits of hot and cold therapy for a myriad of conditions, I highly recommend both of these wonderful beauty products!
Disclosure:  I received the TheraPearl Eye-ssential Pack and the Branche Beauty Sleep Belle De Nuit Eye Masque in order to facilitate my review. No other compensation was received. This product review is based on my own personal experiences with this item and is completely honest and objective.
I'm a former 7th grade Science teacher turned stay-at-home mom that lives in Houston, Texas. I am married to my college sweetheart and have a beautiful daughter named Riley, who definitely keeps me on my toes! I am also involved in starting a small business which would both manufacture and sell an invention that I've patented, called Toothpaste 2 Go. I love interacting with my readers and hope to learn as much about you as you learn about me!
Melissa @ Mommy Living the Life of Riley!