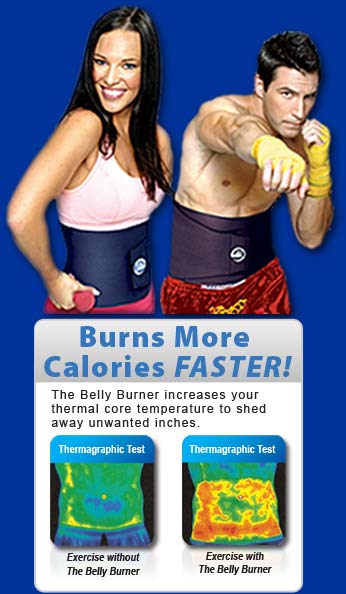 Who doesn't want a firmer, tighter midsection?  I've lusted after sculpted abs for years, but although I've come close a few times in my life, I've never seemed to be able to burn off that last little bit of "tummy" hiding the rock-hard abs that I just KNEW were there!
I've heard time and time again that you can't burn fat in a targeted area of your body, but the Belly Burner Belt claims that it can and will raise your thermal core temperature to finally shed those unwanted inches around your midsection.  Of course, I had to try any product that helps me lose inches just by wearing it!
PRICE: I was sent the Belly Burner Belt, the Blazing Abs DVD, and three health pamphlets, which retail for $39.90 + $7.95 shipping.
I was very excited to try out the Belly Burner Belt because I actually had some hopes of this working.  Rubber suits, saunas, sweat suits and the like have been around for years.  These devices all claim to make you lose more weight by raising your body temperature.  The Belly Burner Belt works in the same manner.
It is suggested that you wear this belt either on your bare skin or over a very light article of clothing, such as a thin t-shirt.  Since I've already been hard at work with an existing exercise program, I thought that I would just incorporate the Belly Burner Belt into my routine.
At first, the belt proved a little difficult to get snug.  It didn't seem to fit around me in the same manner that the lady model in the picture is wearing it.  This belt will accommodate a waist up to 50" around and so I guess this extra material took some getting used to.  Finally, I secured it snugly around my waist and got to exercising.  The two things I liked immediately about the belt were that it didn't get in the way of my exercises and that it actually helped me to keep my belly button pulled in, which automatically engages your ab muscles.
| | |
| --- | --- |
| | |
I worked out for 30 minutes and then took a picture of myself with the Belly Buster Belt removed.  Look at the ring of sweat around my shirt were the Belly Buster Belt was!  Obviously, it raised the temperature in this area of my body pretty substantially!  The pamphlets that come with the Belly Buster Belt claim that wearing this belt while working out will almost double the amount of calories burned during the activity.  Honestly though, I don't really know what to tell you as far as whether or not to buy it.
The Belly Buster Belt DOES raise the temperature in the midsection of your body.  Will it help you lose weight and burn inches of fat around your midsection?  I don't know, since there's no way for me to really test it scientifically.  I can say though that I was not impressed by the three pamphlets that were included.  The pamphlets seemed to contain minimal and very general information that I think you probably already know or could find on the internet in one click.
I can't say whether or not the Blazing Abs video is a good one because I am already using an exercise program and have been sticking to the workouts specified in it.  I guess the best thing I can tell you here is to look at my results above and decide for yourself.
More Tummy-Slimming Products:
Disclosure: I received the Belly Burner Belt, Blazing Abs DVD and informational pamphlets from 2 Elevens, LLC in order to facilitate my review. No other compensation was received. This product review is based on my own personal experiences with this item and is completely honest and objective.
I'm a former 7th grade Science teacher turned stay-at-home mom that lives in Houston, Texas. I am married to my college sweetheart and have a beautiful daughter named Riley, who definitely keeps me on my toes! I am also involved in starting a small business which would both manufacture and sell an invention that I've patented, called Toothpaste 2 Go. I love interacting with my readers and hope to learn as much about you as you learn about me!
Melissa @ Mommy Living the Life of Riley!