When I go to the beach, I look forward to playing in the sand and the surf, but at the same time, I don't want to be covered in sand the entire time!  Unfortunately though, within minutes of arriving, I usually have sand inside my bathing suit, covering my feet, beach towel, arms, legs, etc.
There seems to be no escape from the tiny, gritty little particles, which can become quite annoying before long.  CGear Sand-Free has found a unique and simple solution for staying sand, dirt and dust free while enjoying the great outdoors.  Keep reading to learn all about this new summer essential for your family!
I reviewed the Sand Free Outdoor Multirug (Small - 1.0m x 2.0m) from CGear, which retails for $44.99.
The CGear Sand Free Outdoor Multirug technology was originally developed by the military to solve the problem of "brownout" for helicopter pilots.  "Brownout" is where dust and dirt thrown up by the helicopter's rotor eliminates the pilot's vision.  Thanks to the CGear Sand-Free's patented dual-layer weave technology, countless lives and millions of dollars spent servicing damaged equipment are now saved.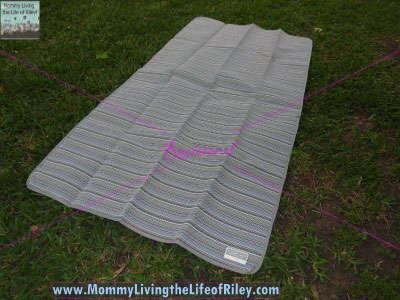 The unique weave of the multirug also serves a domestic function too.  By using the CGear Sand-Free Outdoor Multirug at the beach, picnic area, campsite or even for outdoor yoga, you can minimize the sand, dirt and dust carried into your environment.  Particles that once created a sandy, dirty and dusty environment will now disappear through the top surface to the bottom and will not come back up.
This one-way sifting action will ensure that sand, dirt and dust won't penetrate from beneath and anything that falls on top of the multirug will simply fall through to the bottom. The outdoor multirug can also be coupled with your favorite beach towel to create a sand-free zone around you.  Since my family hasn't made a trip to the beach yet, we instead had the chance to use the CGear Sand-Free Outdoor Multirug while having a picnic by the pond.
I loved this multirug, for no matter how many times Riley ran around and kicked up dirt on top of it, the mat remained clean and dirt-free.  Now, we didn't have to eat our food with a side of dirt and dust, which is usually the case when we picnic!  It was also extremely easy to clean because of its non-absorbent material, which wiped clean when Riley dropped her macaroni on top of it.  The soft top layer also made it very comfortable to sit on.
In order to see the CGear Sand-Free technology in action, check out the beach feature from USA Today:
If you love being outdoors, but would like a way to keep the sand, dirt and dust to a minimum, then I highly recommend the CGear Sand Free Outdoor Multirug.  This neat technology will enable you to enjoy a sand-free summer...while at the beach!  :)
Additional Outdoor Blankets:
How do you keep the sand at bay while at the beach?
Disclosure:  I received the Sand Free Outdoor Multirug from CGear in order to facilitate my review. No other compensation was received. This product review is based on my own personal experiences with this item and is completely honest and objective.
I'm a former 7th grade Science teacher turned stay-at-home mom that lives in Houston, Texas. I am married to my college sweetheart and have a beautiful daughter named Riley, who definitely keeps me on my toes! I am also involved in starting a small business which would both manufacture and sell an invention that I've patented, called Toothpaste 2 Go. I love interacting with my readers and hope to learn as much about you as you learn about me!
Melissa @ Mommy Living the Life of Riley!