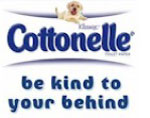 Most people don't think too hard about the quality of toilet paper they use in their bathrooms and my family is a prime example.  We seem to pinch pennies in this department and end up buying John Wayne toilet paper (rough, tough and don't take crap off of nobody) instead of the soft, plush, super absorbent variety.
Recently, Kleenex Cottonelle allowed me to see what I've been missing in the bathroom by sending along their Ultra Thick & Absorbent toilet paper and new Fresh Flushable Moist Wipes to review.  Keep reading to find out more!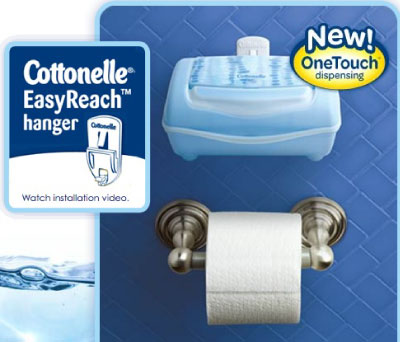 I have to admit that it was wonderful being able to use the Kleenex Cottonelle Ultra Thick & Absorbent toilet paper we were sent.  It was so soft and plush and felt much nicer on the tushie than our conventional toilet paper.  The great thing is that one roll of the Cottonelle Ultra seemed to last much longer too.
I guess because it was much more absorbent, we used considerably less than the cheaper toilet paper.  Even my husband commented on how much softer and luxurious the Cottonelle toilet paper was than our standard rolls.
What was really neat was incorporating the new Cottonelle Fresh Flushable Moist Wipes into our bathroom routine.  Cottonelle even thought to include an EasyReach hanger support with each container of Fresh wipes so that you can have them available in an easy-to-reach location in your bathroom, such as in the picture shown above.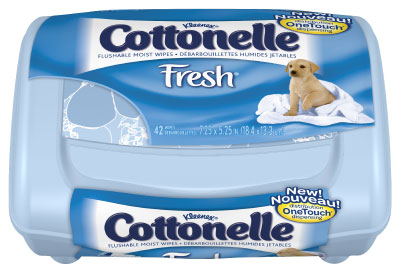 I loved having the option to use the Cottonelle Fresh wipes anytime you needed a little freshness boost down there.  For the ladies, this would be perfect while pregnant, after a strenuous workout, or even around that special time of the month.  For the gentlemen, this might be a great way to tidy up after having an upset tummy or stomach virus.
Of course, I really liked using these with my potty-training toddler.  It is very difficult sometimes to try and wipe a squirming toddler's behind, but with the Cottonelle Fresh Flushable Moist Wipes at my disposal, I knew I was doing a much better job of cleaning Riley's tush.
If you would like to give your family and house guests a more pleasant bathroom experience this summer, then I highly recommend supplying your bathroom with Kleenex Cottonelle Ultra toilet paper and Fresh Flushable Moist Wipes.  These two products will put a little pep in your step by helping you feel fresh and clean down under!
Would you be willing to incorporate flushable moist wipes into your family's bathroom?  Why or why not?
Disclosure:  I wrote this review while participating in a blog tour campaign by Mom Central Consulting on behalf of Cottonelle and received product and a promotional item as a thank you for my participation.

I'm a former 7th grade Science teacher turned stay-at-home mom that lives in Houston, Texas. I am married to my college sweetheart and have a beautiful daughter named Riley, who definitely keeps me on my toes! I am also involved in starting a small business which would both manufacture and sell an invention that I've patented, called Toothpaste 2 Go. I love interacting with my readers and hope to learn as much about you as you learn about me!
Melissa @ Mommy Living the Life of Riley!