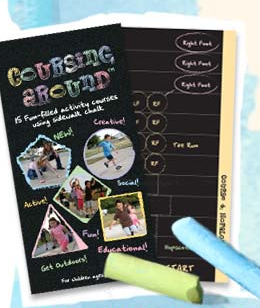 When I first began teaching, I assumed that kids today were just like kids used to be when I was young, but I couldn't have been more wrong.  I was absolutely shocked at how sedentary they've become.  About 70% of the children I taught were grossly overweight and didn't even like going outside to play anymore!
I'll never forget the time that I had purposefully scheduled a fun Science experiment which involved them playing tag outside.  The weather was gorgeous and I just knew I would be the "teacher of the year" for coming up with such a fun activity for the day.  But instead, the children actually started COMPLAINING that they had to run and were telling me that they would rather just sit out.
They were begging me to go back inside and do book work!  It was at this moment that I realized how poorly our children's physical activity and overall health had become.  I vowed then and there never to let my own children reach that physical state, which is why I'm thankful I reviewed the activity book entitled, Coursing Around, by Debbie Tougas.
I really like the concept of this book and the thought that went into its creation.  Coursing Around has the goal of getting your children outside to PLAY in mind!  They also have found a way to do so very economically.  The biggest challenge here is finding a safe, paved surface large enough to draw the courses on.  Once you've accomplished this, the rest is done for you.  The Coursing Around book comes complete with two pieces of sidewalk chalk to get you started and the back of the book even has a handy ruler on it, which will aid you in drawing some of the courses.
There are 15 exercise courses included in this book and these courses get progressively harder as you move through the book.  Just so that you are familiar with all of the exercises needed to complete the various courses, there is an exercise key with detailed descriptions and pictures of each activity, included in Coursing Around.  The only fault I found with the exercise key is that I couldn't find directions on how to play hopscotch, which is a part of many of the courses in the book.
It's been a while for me and I don't really remember exactly how to play that anymore.  I also couldn't find a detailed description of the side shuffle exercise which is included in many of the courses.  There were extremely easy moves, such as jumping jacks, listed in the exercise key, but I couldn't find instructions for hopscotch or the side shuffle exercise anywhere.
The 15 courses looked like a lot of fun!  My daughter is not quite old enough for this book yet, since it is recommended for children ages 4 and up, but when she gets a little older, I know one home's driveway that is going to be covered with activity courses!  The best thing about this book is that your children are developing so many other talents and skills while being physically active.  These activity courses foster friendly competition and creative play.
This book has so much flexibility built into it that it is just BEGGING your children to create their own courses too, or combine courses together!  I can just see a group of children now, getting all excited while trying to create their latest and greatest course together.  What a day of fun!  You could also use these courses for birthday parties, after-school programs or at children's centers too.
As a former Science teacher, I wish I would have had this book when I was still teaching.  There are so many ways to integrate learning into these activities!  Children can practice their measuring skills, shapes, numbers and letters, as well as more intangible talents like creative thinking, problem solving, listening and reasoning too!
The possibilities are truly endless for a ton of outdoor fun!  As a teacher and a parent, I highly recommend this book for your children and now that summer is here, there's no better time to get outdoors and start Coursing Around!
Disclosure:  I received the Coursing Around Activity Book by Debbie Tougas in order to facilitate my review. No other compensation was received. This product review is based on my own personal experiences with this item and is completely honest and objective.
I'm a former 7th grade Science teacher turned stay-at-home mom that lives in Houston, Texas. I am married to my college sweetheart and have a beautiful daughter named Riley, who definitely keeps me on my toes! I am also involved in starting a small business which would both manufacture and sell an invention that I've patented, called Toothpaste 2 Go. I love interacting with my readers and hope to learn as much about you as you learn about me!
Melissa @ Mommy Living the Life of Riley!