Now that Riley is over 2 years old, she has developed much better table manners and dining habits.  Rarely do we experience a bowl or plate dropping to the floor anymore and we also want to introduce a regular drinking cup to her, instead of the sippy cup she's been using for some time.
Transitioning from plastic suction bowls and sippy cups though, requires a special set of kid-friendly dinnerware.  Since the occasional accident can still happen, I don't want to turn over my breakable dishes to Riley just yet, so I was happy when Duralex allowed me to review three pieces from their Kids Tableware line.  Keep reading to learn more!
I reviewed the
Gigogne Tumbler
,
Lys Dessert Plate
and
Lys Clear Bowl
from Duralex USA, which retail for $8.50, but are all sold in sets of 6.
A complete 3-piece place setting of Duralex Kids Tableware can also be purchased for $14.95 from One Step Ahead.
All toddlers seem to have two things in common: a quest for independence and wanting to mimic the actions of those around them.  Riley is constantly striving to accomplish tasks all by herself and usually does her best to copy what her father and I do.  I notice this behavior even more at mealtime.
She now even loves to dip all her food into whatever condiment is around because she notices her father and I doing that frequently.  Being able to eat off of "big girl" dishes would give her a great sense of accomplishment and pride and I just knew that she would love her new Duralex tableware.
The Duralex Kids Tableware is composed entirely from tempered glass, which means that it is virtually unbreakable.  As with any material, over time this glassware will weaken, but even if it does ever manage to break, the pieces will be more like pebbles instead of splinters or shards of glass, which is definitely much safer.  Glass is also completely sanitary and nonporous, so that foods and liquids won't be absorbed into the tableware, unlike with plastic dishes.
I'm sure we've all seen how plastic containers will stain rather quickly and these stains are virtually impossible to remove.   Plastic containers have also been known to leach chemicals into the food they contain when heated in the microwave, which can be harmful.  The Duralex Kids Tableware is perfectly microwave and dishwasher safe and will never leach any chemical into your child's food.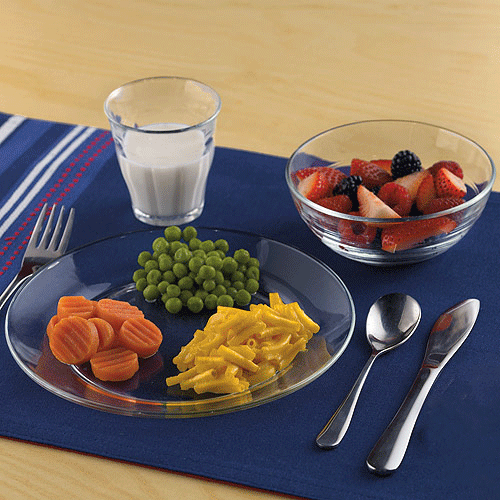 Riley simply adores using her new "grown-up" dishes and has even drank from the Gigogne Tumbler pretty well.  Another great thing about this Duralex Kids Tableware, is that they are the perfect size for her little hands and the portions that she should be eating, which really helps to take the guesswork out of mealtime.
If you are looking for a wonderful set of kid-friendly dishes, which are perfect for transitioning your child from the plastic tableware they may be currently using, then I highly recommend the selections of kid-friendly glassware from Duralex.  These dishes are just the right size for young children and will give them a new sense of confidence and independence at the dinner table!
Do you have any tips on how to make your child feel like a "big boy" or "big girl" at dinnertime?
Disclosure:  I received the Gigogne Tumbler, Lys Dessert Plate and Lys Clear Bowl from Duralex USA, Inc. in order to facilitate my review. No other compensation was received. This product review is based on my own personal experiences with this item and is completely honest and objective.
I'm a former 7th grade Science teacher turned stay-at-home mom that lives in Houston, Texas. I am married to my college sweetheart and have a beautiful daughter named Riley, who definitely keeps me on my toes! I am also involved in starting a small business which would both manufacture and sell an invention that I've patented, called Toothpaste 2 Go. I love interacting with my readers and hope to learn as much about you as you learn about me!
Melissa @ Mommy Living the Life of Riley!