These days, it seems a constant challenge to get kids off of the computer or video game system and outside to play.  I don't have to fight that battle yet with Riley, for she is still too young, but I dread the day when I'm going to have to coax her to go outside and get some fresh air, exercise and sunshine.
Thankfully, EzyRoller has made my job much easier, for they have created the ultimate riding machine, which combines the control of a bicycle with the fun of a scooter.  Better yet, this one toy will probably last your child ten years or more!  Sound interesting?  Then keep reading to learn more!
I reviewed the
EzyRoller
 in Red, which retails for $99.99, but is currently on sale for $67.99.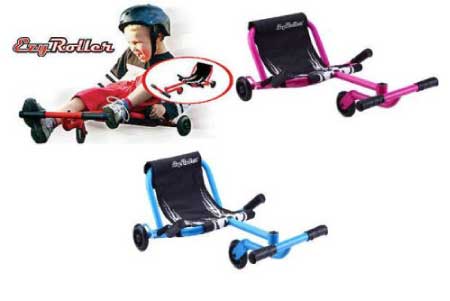 The EzyRoller is a unique and fun way to get kids on the move without the use of chains, pedals or batteries.  Simple kid power is all that's required here.  The EzyRoller is constructed of a tough and durable steel frame and fork which will withstand years of abuse.  The best part is that children of almost any age can ride the EzyRoller.  If your child is between the heights of 3' 3" and 5' 5" and weighs less than 150 pounds, then the EzyRoller is for them.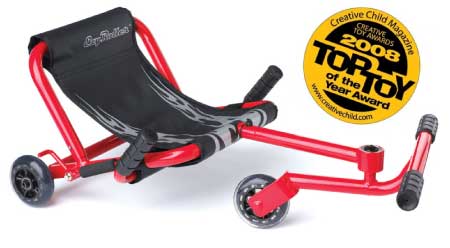 Assembling the EzyRoller couldn't have been any simpler and it literally took only a few minutes to have it up and functional.  Since Riley is two and a half years old, but already 3' 3" tall, I made sure to assemble it on the smallest size.  The EzyRoller comes with two extra extension pieces (seen in the top of the picture below) so that this machine can grow right along with your child.
All that's needed is a flat, smooth riding surface, either indoors or out, and a little coordination from the rider.  Jump in the seat and alternate pushing on the front bar with your feet using right/left movements and you'll begin to glide forward like a snake.  Since I weighed less than the weight limit for this toy, I took the EzyRoller for a spin and have to admit that I had a blast!  I was squealing like a kid again...and then crashed it into our gate!  (Don't worry, no blogger was hurt in the making of this product review!)  :big grin:
Which brings me to some of the safety features of the EzyRoller...  It has a very low center of gravity, which makes this machine much less likely to dump over and injure your child.  Both scooters and bicycles offer plenty of ways for children to fall off and hurt themselves, but this risk is greatly reduced with the EzyRoller.  Second, the EzyRoller offers a hand brake on the right side so that if you are coming close to hitting an object, you can squeeze the handbrake and stop immediately.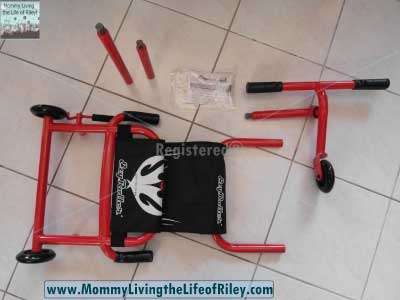 Riley wanted to take the EzyRoller for a spin just as soon as it was ready to go, but although she was tall enough, at two and a half years old, she just wasn't coordinated enough yet to push her feet back and forth on the bar in front of her.  That's okay, for her father and I would get behind her and push her on the EzyRoller and she loved every minute of it!  We all had a great time playing with this riding machine and there's no doubt in my mind that in another six months or so, I won't be able to peel Riley off of this toy!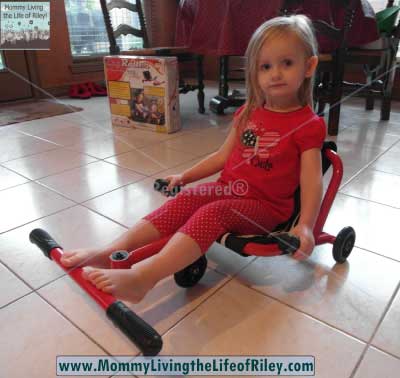 Which brings me to the point of value.  I can't think of another toy which will entertain such a wide age range of children without having to purchase a new one.  For instance, bicycles are great, but you can't give a 3 or 4 year old child the same bike you'd give a teenager.  With the EzyRoller though, just one toy can literally be used with the same child for a decade or more!  Just look at me, I'm 35 years old and was still able to have fun and ride on the EzyRoller.  Now that's a bargain!
If you are looking for a durable, rugged and spectacularly designed toy for a child of almost any age which will also encourage them to play outside, then look no further than the EzyRoller.  I know Christmas is many months away, but I would go so far as to say that any child would be absolutely thrilled to find this one waiting for them under the tree!
Disclosure:  I received the EzyRoller in Red from EzyRoller in order to facilitate my review. No other compensation was received. This product review is based on my own personal experiences with this item and is completely honest and objective.
I'm a former 7th grade Science teacher turned stay-at-home mom that lives in Houston, Texas. I am married to my college sweetheart and have a beautiful daughter named Riley, who definitely keeps me on my toes! I am also involved in starting a small business which would both manufacture and sell an invention that I've patented, called Toothpaste 2 Go. I love interacting with my readers and hope to learn as much about you as you learn about me!
Melissa @ Mommy Living the Life of Riley!