My daughter is so fond of books and absolutely loves being read to.  She actually gets read to a minimum of three times per day, because she insists that we read together as soon as she wakes up in the morning, and again before nap and bedtime.  I have to admit that I truly cherish these times with her, for I love having a quiet moment together with which to snuggle and bond.  But what do you do if something comes up and you can't physically be there to read your child a book?
Or, what if you are a grandparent or other member of the extended family who would like to take part in a child's reading ritual?  Well, Hallmark has created a recordable storybook which will allow a child to hear your voice anytime they wish.  I had the opportunity to review one of their holiday selections, Frosty the Snowman.  Keep reading to learn more!
I absolutely love the classic Christmas programs, such as Santa Claus is Coming to Town, Rudolph the Red-Nosed Reindeer, and of course, Frosty the Snowman.  This year, Michael and I have been exposing Riley to all of our old childhood Christmas programs, so that hopefully they will become Riley's favorites too.  I was thrilled to find that Hallmark had turned Frosty the Snowman into a recordable storybook, which would hopefully become a cherished holiday heirloom in our household.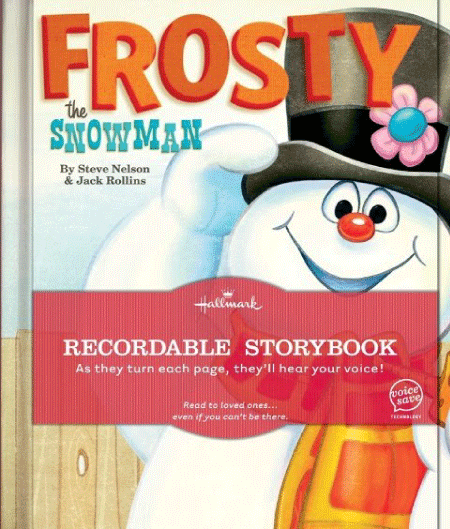 Right away, I was very pleased at the large, colorful graphics as well as the durability of the book itself.  The Frosty the Snowman book from Hallmark was constructed of very thick cardboard, just like a children's board book.  At the very bottom of the book was a small white strip which contained a record and a stop button as well as a tiny speaker/microphone.  There was also a small compartment which housed one "AA" battery and was secured by a single screw.
Recording the story itself couldn't have been easier.  I really wanted to create a storybook that Riley would treasure for years to come, so I thought it would be a good idea for both Michael and I to sing the Frosty the Snowman song together for her.  All that we had to do was find a quiet place, hold the book about 12-18 inches away from us, hit the record button and wait for the bell to sound.  Once we heard that tone, we simply read or sang what was on the page, then hit the stop button.
If we were happy with what we recorded, then we just turn the page and repeat the steps.  If not, we could re-record only that page until we were satisfied with the way things turned out.  Once the entire storybook was recorded, simply unscrew the battery compartment and slide the switch from the unlock to the locked position.
Now, your recording is safe and can't accidentally get erased, even when the battery is removed!  If you want to see how Riley reacted to the Frosty the Snowman recordable storybook from Hallmark, check out the video below:
I am so happy with the results of the recordable storybook as well as Riley's reaction to it.  She kept opening the pages and hearing our singing over and over.  Now, when Michael and I go out and leave Riley with her grandparents for the night, I know that we can still share story time together before she goes to bed.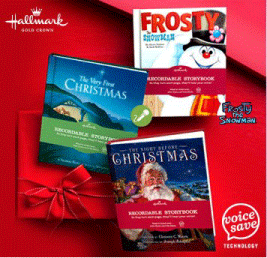 If you would like to create a special holiday moment for your child, then I highly recommend sending them a recordable storybook from Hallmark.  Now, whether you are near or far, your child can be comforted and soothed by the sound of your voice reading a classic story to them!
Disclosure:  I received the Frosty the Snowman Recordable Storybook from Hallmark in order to facilitate my review. No other compensation was received. This product review is based on my own personal experiences with this item and is completely honest and objective.
I'm a former 7th grade Science teacher turned stay-at-home mom that lives in Houston, Texas. I am married to my college sweetheart and have a beautiful daughter named Riley, who definitely keeps me on my toes! I am also involved in starting a small business which would both manufacture and sell an invention that I've patented, called Toothpaste 2 Go. I love interacting with my readers and hope to learn as much about you as you learn about me!
Melissa @ Mommy Living the Life of Riley!