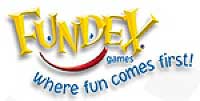 Children often seemed to get bored rather quickly during the summer.  Since they have a lot more free time on their hands, why not make it fun?  Fundex Games has a wide variety of hilarity waiting for your child, which is bound to keep them laughing and entertained all summer long.
I recently had the chance to review two of their selections with Riley, Gassy Gus and the Snoopy Sno-Cone Machine.  Keep reading to learn more!
I reviewed the following two items from Fundex Games:
Gassy Gus
, which retails for $34.99, but is currently on sale for $6.98.
Snoopy Sno-Cone Machine
, which retails for $22.49 with FREE SHIPPING.
Gassy Gus is a game for children ages 5 years of age and up that is as fun to play as it sounds!  It is a quick and easy game to learn which can also be played rather quickly, usually in less than 10 minutes.  You see, the object of the game is to feed Gassy Gus the food cards in your hand without him tooting on you.  Each food card has a number on it which signifies the number of times you must pump his head up and down.
Each time you pump his head up and down, his belly (a balloon) inflates and when it gets too full, he toots rather loudly, making everyone in the room laugh!  I must admit that even though I am 35 years old, I couldn't keep from giggling every time Gus broke wind! :blush:
With Riley only being two and a half years old, there aren't many games like this that we can all play together as a family, but I'm happy to report that Gassy Gus is one.  Riley really surprised me at how well she understood the rules and waited for her turn to play her food card and pump Gus's head up and down.  It was also great practice for her counting skills, for every time anyone had to pump Gus's head, we all counted slowly and loudly together.
If Gus does happen to toot on your turn, you must draw two more cards and add them to your hand.  There are also bottles of soda that you can play on your opponent's turn which makes them have to pump up Gus's stomach even more.  Michael and I kept playing the soda bottle cards on each other, so that Riley would win, and she was so thrilled to have won the game.  Now she wants to play Gassy Gus all the time!
Fundex Games really shocked me when I discovered that they still carried the Snoopy Sno-Cone Machine!  This toy came on the market back in 1979 when I was just 3 years old and I can remember how much I wanted one of these.  I mean, what kid isn't crazy for snow cones, especially on a hot summer's day?
The Snoopy Sno-Cone Machine is a wonderful piece of nostalgia for me and something that I am happy to pass along to my daughter.  She couldn't have been more thrilled to help me make snow cones using this machine and it's simple to operate and to clean too.  Inside the hole of Snoopy's dog house is a circular grater and on the back of the machine is a plastic handle.
To get started, you must place one ice cube down the chute in the top of the house and place the Snoopy plunger back inside.  With just a little amount of pressure applied to the Snoopy plunger, begin turning the handle on the back of the machine, so that your ice cube turns into shaved ice.  Scoop it out of the hole with the small red snow shovel included with this set and place the shaved ice in the included paper cup.
Next, fill up the small snowman flavored liquid dispenser with either juice, soda, Kool-aid or any other flavoring your child likes.  We used cranberry juice for our snow cones.  This was where Riley could help.  She loved squirting down our ice using the snowman dispenser and was having a wonderful time.  While I cranked, she squirted and drank.  Fun for all!
My family was thrilled with both of the selections we received from Fundex Games.  Now we have some great activities to keep us entertained and having fun together this summer.  If you are searching for an original selection of quality family games, then look no further than Fundex Games!
Disclosure:  I received the Gassy Gus and Snoopy Sno-Cone Machine from Fundex Games in order to facilitate my review. No other compensation was received. This product review is based on my own personal experiences with this item and is completely honest and objective.



I'm a former 7th grade Science teacher turned stay-at-home mom that lives in Houston, Texas. I am married to my college sweetheart and have a beautiful daughter named Riley, who definitely keeps me on my toes! I am also involved in starting a small business which would both manufacture and sell an invention that I've patented, called Toothpaste 2 Go. I love interacting with my readers and hope to learn as much about you as you learn about me!
Melissa @ Mommy Living the Life of Riley!