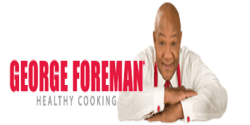 Now that Riley is getting older and is eating solely table food, I am much more concerned with how healthy we, as a family, are eating.  Meat is a great source of protein and so we include a serving of meat every day in Riley's diet.
Of course, preparation is key in determining how healthy any food really is and so I was very glad to have the opportunity to try out The Next Grilleration Removable Plate Grill from George Foreman Healthy Cooking.  I haven't found the George Foreman grills of the past easy to clean, so I was intrigued at how this one would work.  Does it live up to the hype?  Keep reading to find out!
As I'm sure many of you know, the George Foreman line of grills are convenient table top models with a hinged lid and a slant to the grilling surface.  This patented slant is what makes the George Foreman grill cook your food in a healthier manner, since the grease and fat will then slide down the slanted surface and collect in a drip pan underneath the grill.  Now, eating meat, even the cheaper cuts of meat, is actually better for you since you no longer have to eat the accumulated grease and fat that comes along with them.
Another way that the George Foreman grill will help you prepare your foods in a healthier manner is thanks in part to the George Tough nonstick coating on the grilling plates.  This coating is designed to work without oil, butter or cooking spray.  You can add this to your food if desired, but the ability to cook without it saves your family undue fat and excess calories.
You may also be interested to learn that independent, third-party studies have recently confirmed that George Foreman Grills remove around 42% of fat from quarter-pound burgers made with 80/20 mince, which translates to a reduction of nearly 89 calories per burger.  Now, that's a savings my waistline can definitely appreciate!
Setting up the grill itself couldn't have been easier.  Simply attach the top and bottom removable grill plates to the grill itself and plug the machine in.  You will notice that the orange light immediately lights up on the top of the unit, which tells you that the grill is preheating.  As soon as the appropriate temperature is reached, the light goes off, which is when you should place your food on the bottom tray.
Make sure to add the plastic drip tray in front of the machine so that all of the excess grease and fat will be collected there.  Next, consult the instruction guide for how long you should cook your meal.  I wanted to test this grill out with one singular frozen chicken breast, although the grill accommodates 3-4 servings.  I love the 72 square inch size of the grill itself, for this is perfect for my family of three.
The instruction guide told me to cook the chicken for roughly 11-13 minutes, but since it was frozen to begin with, I decided to cook it for 15 minutes.  At the end of the 15 minutes, I was thrilled at just how much grease had collected in the drip tray as well as how juicy the chicken breast was.  It was also cooked all the way through and tasted wonderful!  This grill has the potential to save me a lot of time and money in the kitchen.
Usually, when I cook chicken breasts for my family, I have to run our big oven for around 45-50 minutes.  This is expensive to do for not only does my oven run a long time, but the air conditioner must be cranked up too due to the extra heat in the house.  Now, with the George Foreman grill, I save on both time spent in the kitchen as well as electricity used!
My absolute favorite part though was just how easy the cleanup of The Next Grilleration Removable Plate Grill was!  I simply waited for the plates to cool completely and then snapped them off and placed them in the bottom rack of my dishwasher.  I was absolutely amazed that they came out completely clean, without a speck of food or grease left behind.  THIS is by far the best George Foreman grill I've ever used!
Have any healthy cooking tips you'd like to share?  I'd love to hear them, since I'm always looking for the best ways to help my family eat better!
Disclosure:  I received The Next Grilleration Removable Plate Grill (GRP4B) from George Foreman Healthy Cooking and 

Family Review Network

in order to facilitate my review. No other compensation was received. This product review is based on my own personal experiences with this item and is completely honest and objective.
I'm a former 7th grade Science teacher turned stay-at-home mom that lives in Houston, Texas. I am married to my college sweetheart and have a beautiful daughter named Riley, who definitely keeps me on my toes! I am also involved in starting a small business which would both manufacture and sell an invention that I've patented, called Toothpaste 2 Go. I love interacting with my readers and hope to learn as much about you as you learn about me!
Melissa @ Mommy Living the Life of Riley!