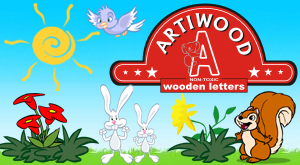 What can I say?  I love my daughter's name and want to put it up all over her room!  She seems to love it too and is used to seeing her name everywhere for now when she notices lettering of ANY kind, she immediately says "Wowie" (Riley) because she thinks this is what the word says.
I think having your child's name in their room is a fun touch and instantly makes it a little more cozy for them, like having their own little place in this world.  I came across Artiwood Letters and LOVED how they incorporated a certain theme into their different alphabet selections.
They were nice enough to allow me to review the Animal Wooden Letters in my daughter's name.  Read on to find out my experiences with this product!
I was very excited to have the opportunity to review the Animal Letters from Artiwood Lettersin my daughter's first and middle names.  Her room is already decorated in the rainforest/jungle theme and I knew these would look perfect on her wall.  I like putting her name up in several places around her room, for I feel that she will learn some of her letters better as well as learn how to spell her own name faster.  She loves looking at her name too!
When she goes to sleep and we watch her through her video baby monitor, we can see how she constantly points at her name on the wall or door and says "Wowie!" (Riley) over and over again. The first thing I liked when ordering my letters from Artiwood Letters is how they give you the "preview" option, so you can see exactly how your child's name will look in the letter style you chose.  They also guarantee that when picking the colors of the letters that will be used to spell your child's name, the colors will be balanced and won't repeat on adjoining letters, so that everything looks its best.
Artiwood Letters has five different alphabet design choices, which should look great with most children's room decor.  I think the Animal Letters are by far the most versatile design, since most children love animals and Artiwood Letters uses primary colors in this pattern.  The letters are about 3.5" H x 3" W and so can fit pretty much anywhere!
These would look great on doors, walls, furniture, etc.  These letters are also created using renewable, non-endangered timber and child-safe paint too!  The neat thing is that they already have small adhesive pads on the back of each letter, so literally you only need to peel and stick and you're done, with absolutely no damage or holes to your walls or door!
As you can see from the pictures, the Animal Wooden Lettersblended beautifully in her room and complimented her rainforest/jungle decor well.  I really like her name above the one large window in her room...that space is so jazzed up and interesting now, instead of blank and boring!  Riley liked it a lot too.
I put this up after she woke up from a nap and she watched and cheered me on as each new letter was stuck to her wall.  When I had finished and it was time to go back downstairs, she started crying and pointing at her name.  I actually think she wanted to stay in her room longer so that she could look at those letters some more!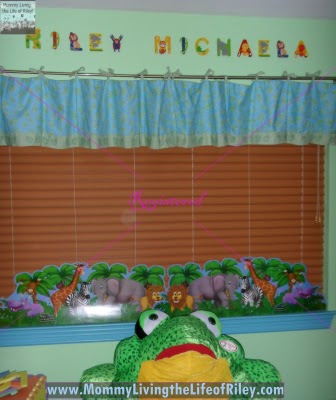 Artiwood Letters is a wonderful eco-friendly company that makes quality hand-painted letters at a very affordable price.  They ship worldwide for just $9.50, so there's no area that they won't serve.  I thought the letters were great looking, the colors were carefully chosen and the designs were fun and interesting.  I highly recommend this company and their products and feel that this would make a terrific birthday, baby shower or Christmas present for that special child's room.
Disclosure:  I received the Animal Wooden Letters from Artiwood Letters in order to facilitate my review. No other compensation was received. This product review is based on my own personal experiences with this item and is completely honest and objective.
I'm a former 7th grade Science teacher turned stay-at-home mom that lives in Houston, Texas. I am married to my college sweetheart and have a beautiful daughter named Riley, who definitely keeps me on my toes! I am also involved in starting a small business which would both manufacture and sell an invention that I've patented, called Toothpaste 2 Go. I love interacting with my readers and hope to learn as much about you as you learn about me!
Melissa @ Mommy Living the Life of Riley!