This isn't something that I'm especially proud of, but I've been known to be a little vain.  I've always been the girl that likes to look GOOD!  Now, don't get me wrong, I can slum it with the best of them and for me, ponytail holders and sweats are as guilty of a pleasure as chocolate!  It's just that when I CHOOSE to dress up and look good, I want to really look good.
This is where my vanity knows no bounds.  Last week, I just turned 34 and I can honestly say that I have been noticing some sagging, wrinkling and graying going on!  I won't fill in the details...I'm sure you can guess!  Now, it always bothers me when my husband says things like, "Damn!  Demi Moore is HOT!"  Demi Moore now looks younger than her daughters and we can't all afford the sheep placenta or surgical procedures that she can.  Thankfully, Frownies is here to try and cater to the vain people, who are also on a budget!
pH Balancing Complexion Wash (4 oz.)
Biologically Active Immune Perfect (1 oz.)
Rose Water Hydrator (2 oz.)
Immune Shield (2 mL)
Forehead and Between Eyes Patches (144 patches)
Corner of Eyes and Mouth Patches (144 patches)
Under Eye Patches (3 sets of 2 patches)
Frownies were created in 1889 after Margaret Kroesen discovered that her daughter Alice, a concert pianist, had developed unsightly wrinkles and frown lines. With a desire to maintain her youthful beauty and stage presence, Mrs. Kroesen created Wrinkle Eradicators (as they were first called) by employing the basic principle of fitness to the muscles of the face. At the time, there was no thought of producing them for anyone else but herself and her daughter. But Alice, after using her mother's amazing invention, was a living testimony, and it became clear that women and men everywhere could benefit from these Wrinkle Eradicators.
How Frownies Work
Frownies Facial Pads
Natural Wrinkle reduction for forehead wrinkles, crows feet, eye wrinkles, marionette lines. Splint the muscles under the appearing skin lines and watch them change one night after the next. FROWNIES have been called the best wrinkle reducer.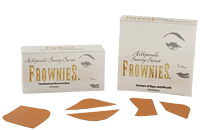 Address Deep Expression Lines
A wrinkle treatment that addresses the physical cause of deep lines and wrinkles in the skin, Frownies are facial pads made from natural, skin-friendly materials. Frownies are applied to the forehead winkles between the eyes and across the forehead as well as the crows feet at the corners of the eyes and mouth to gently re-educate the underlying muscles to assume their correct, relaxed and natural appearance. Frownies, traditional patch works at night to eliminate skin wrinkles in fact, allow the deep expression lines to heal leaving younger, relaxed-looking skin. Frownies are a true anti-aging skin treatment!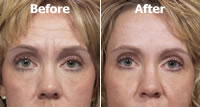 These amazing results were achieved after using Frownies every night for only 3 weeks. More results can be expected with continued use and may vary from one person to the next. Add wrinkle cream Immune Perfect to the skin as a anti-wrinkle companion.
Face the Facts
Continual repetitive motions such as frowning, squinting, smiling, etc. cause damage to the facial tissue supporting the epidermis (visible layer of the skin).
Over time, this damage deepens and cells in some areas of the wrinkle slow down production of elastin and collagen, making it easier for the muscle to press the skin together. Cells in other areas build up and cause heavy sagging at the deepest part of the wrinkle.
Wrinkled Skin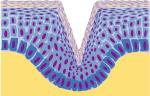 Facial expressions and stress train
facial muscles to hold deep lines.
There is a solution to this age-old problem of wrinkled skin. Frownies wrinkle treatment patches form a splint holding the visible layer of skin smooth and flat overnight while the skin cells reposition themselves supporting the natural, smooth, healthy-looking skin.
The first sign of deepening lines indicates the time to begin applying Anti-aging solutions like Frownies Facial Pads while you sleep. Moisten the back of the pad with Frownies Hydrator Spray and apply directly over the wrinkle.
Wrinkled Skin with Frownie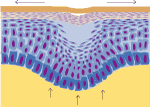 Frownies train expression lines to relax.
It's never too late to splint deep skin lines with Frownies. With this wrinkle treatment, you will see visible improvement overnight and continual use is the key to lasting results. Don't think you have to live with deep wrinkles. Frownies will diminish the visible signs of aging effectively and naturally.
Unwrinkled Skin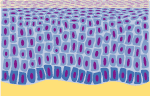 Frownies help rid the face of deep lines
by holding the muscles while they relax and heal.
First and foremost, I have to say a few things about my own experiences with skin and results from using different products.  I am slightly obsessed with my skin and have been on a rigorous skin regimen for many years now.  If there's one thing I know, it's that everyone will have different results using different products, since everyone's skin is different.
Also, true results take time.  No cream or lotion will deliver true results until it has been used for a while and your skin has gone through several "cycles", which usually last about six weeks each.  The results I'm about to present are my own and yours may differ.
I used the products in the Face Lift in a Bag for two weeks before writing this product review.  I will list each product included in the bag and then give you my opinions of each one:
| | |
| --- | --- |
| | pH-Balancing Complexion Wash ~ I really liked this face wash.  It aids in cleansing and detoxifying your skin and is comprised of 100% pure essential oils and herbal extracts.  It had an invigorating, lemony smell and it lathered up well.  A little of this goes a long way and my face really felt clean afterward. |
| | Immune Perfect ~ This was one of my favorite products included in the Face Lift in a Bag.  I couldn't get over how light it felt on my skin and how quickly it was absorbed by my skin.  My face soaked this stuff up like a sponge.  It just glided on though, and really moisturized my skin.  It didn't feel greasy or like I had a moisturizer on at all!  The Immune Perfect is also recommended to be worn under your cosmetics to stop oxidative damage to your skin.  This is one product that I will be purchasing again. |
| | Rose Water Hydrator Spray ~ I wasn't the biggest fan of this spray because basically, it is only used to wet the face patches.  Although it contains 100% pure oils, vitamin E extracts, rose water, and smelled lovely, I'm not sure if I will reorder this or simply try misting the patches with water next time.  The Rose Water Hydrator Spray is supposed to help moisturize and plump your skin, but when I felt it with my fingers, it didn't feel any different than water. |
| | Immune Shield ~ The Immune Shield is another one of my faves from this bag.  Unfortunately, I have been plagued by adult acne and I really appreciate that this product contains 40% active whole Vitamin E.  Vitamin E is known to help sooth inflammations in the skin, such as acne.  I applied this product to a few pimples I had and in a few days, I noticed that they were almost gone.  Yippee!  Maybe after 34 years, I've finally found something which will help my adult acne!  (And yes, I've tried Proactiv, and no, it doesn't work for me). |
| | Under Eye Patches ~ Of all the products in the kit, I was the most skeptical about this one.  I took these out and applied them to my eyes as directed.  They were very pleasant and cool and I had a sensation of either being at the spa or of biting into a York Peppermint Patty!  :)  I left these on for 40 minutes and have to admit that one of them kept sliding down a bit.  The last 10 minutes was a little uncomfortable, for I believe they were starting to dry out a tad.  I removed them and was astonished when I actually saw a big difference in the skin around my eyes!  The outer half of skin was smoother and was even less dark.  The really dark circles under the inner part of my eye were still there, but not as dark as before!  I wouldn't believe it if I hadn't seen it with my own eyes!  I'm definitely buying this one again! |
| | Forehead and Between Eyes Patches ~ This is another product that's a keeper!  I didn't have much hope for this when I saw it, because honestly, it looks (and smells) like the glued paper from a manila envelope.  After the results I saw with the eye patches though, I had to give it a shot.  I applied this to the developing furrow in between my eyes and instantly, that skin felt lifted a little.  I could tell that the patch was taking some of the stress off those muscles there.  I left it on overnight and was happy to find that the wrinkle looked a little less intense the next day.  Over the next two weeks, I noticed a real change in how that wrinkle looks.  I'm definitely going to buy these again.  They don't cost much money and you get 144 of them in every package. |
| | Corners of Eyes and Mouth Patches ~ This patch works in the same principle as the forehead patches, but I didn't like these as much.  First of all, I don't have crows feet yet, which is one place that these patches are intended to be used, but I do have deep laugh lines around my mouth.  I tried smoothing out the wrinkle and applying these patches, but they just didn't seem to stay as well as the forehead patches did.  I think that this area of the face is just harder to treat with a patch and I didn't see the results that I saw with the forehead patches.  I don't believe I'll order this set of patches again.  I didn't try them on the outer parts of my eye area though, and they may work better there. |
If you are starting to notice the inevitable signs of aging making their way across your face, then the Frownies Face Lift in a Bag is a really good sampler pack to try.  I didn't LOVE all of the products included in this pack, but I really liked many of them and will most definitely be using the Immune Shield, Immune Perfect, Under Eye Patches and Forehead and Between Eyes Patches from here on!
As I said before, everyone has differing results with skin products and so I recommend you give some of these products a try and see if they work for you too!  There's something to be said for anything that's been around since 1889!
Disclosure:  I received the Frownies Face Lift in a Bag from Frownies in order to facilitate my review. No other compensation was received. This product review is based on my own personal experiences with this item and is completely honest and objective.
I'm a former 7th grade Science teacher turned stay-at-home mom that lives in Houston, Texas. I am married to my college sweetheart and have a beautiful daughter named Riley, who definitely keeps me on my toes! I am also involved in starting a small business which would both manufacture and sell an invention that I've patented, called Toothpaste 2 Go. I love interacting with my readers and hope to learn as much about you as you learn about me!
Melissa @ Mommy Living the Life of Riley!