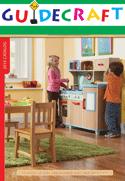 Quality construction seems to be a fad that is no longer in style.  I don't know how many toys I've heard about, since becoming a mom, being recalled for parts breaking or not performing like they should.  When buying toys for Riley, I am vigilant about three things:
the toy should foster creativity and imagination (which means that it shouldn't require my child to merely push a button and a show is put on for her)
the toy should be constructed well and be able to stand up to years of toddler abuse
the toy should be able to grow with my child and not be of interest to her for just a month or two
I'd always heard about Guidecraft and the quality children's products they make, but I had never experienced one of their toys firsthand.  Of course, I was thrilled when asked to review the Guidecraft Work Bench!
I was sent the Work Bench from Guidecraft, which retails for $90.00.
Now, I know what some of you must be thinking...why would you pick out a Work Bench to review when you have a little girl?  I'm a big believer in telling my daughter that she can and should do ANYTHING!  I personally consider myself a Renaissance woman of sorts, because it seems that I can do a lot of things that are normally consider manly.  I take great pride in the fact that I can fish, play pool, paint, assemble anything you give me, change a tire, etc. and I'd like to pass this same "can-do" attitude onto my daughter.  For this reason, I think the Guidecraft Work Bench is as much a "girl's toy" as it is a "boy's toy".
| | |
| --- | --- |
| | |
There's nothing worse than when you are all ready to assemble something you've purchased only to realize that the item has been badly damaged in shipping because it was packaged so poorly to begin with.  I can tell that Guidecraft takes this issue seriously and really packs their products well.  All of the work bench's pieces were wrapped securely in cellophane, styrofoam or super duty cardboard, and absolutely none of the wooden parts were scratched, chipped or broken.
Anytime that I assemble something, the first thing I do is gauge how hard the job is going to be by how many parts are included.  I was pleasantly surprised to find that the Guidecraft Work Bench only had a few pieces (as you can see in the left picture above).  As a matter of fact, most of the parts you see in that picture are the toys tools that are included and not parts needed for assembly.  The best surprise came when I opened up the hardware box to find just 10 bolts and 2 screws and that's it!  Woo Hoo!
How hard can the assembly of any product be when their are only 12 fasteners total?  I was liking this Guidecraft Work Bench more and more!  In the upper right picture, you can see an even neater feature to the construction of this work bench.  Most things I have assembled in the past (such as a bookshelf or chest of drawers) require you to basically lay an item on it's side and install EVERYTHING into one side of the item.
The last step is usually to try and line up ALL of these pieces and put the other side on.  Guidecraft was a step ahead when they designed all of the crossbars to SLIDE INTO the frame and then be fastened.  This allowed me to assemble the item upright and not by awkwardly laying everything on its side.  I thought this was a great design and made assembly truly a breeze!
Check out how well the finished product looks!  I love the super bright primary colors used throughout, but I also like how they kept most of it with the unfinished wood color to give it that "real" work bench feel.  The wood planks used were extremely heavy duty and all of the bolt holes were reinforced with metal inside to ensure that the product didn't warp and wobble over time.
This work bench only weighs 16 pounds, but this is one sturdy, quality-made toy!  There is no doubt in my mind that this work bench will be able to stand up to anything Riley can do to it.
Riley's verdict?  This toy was a complete hit with her!  She's only 19-months old and this toy is geared for children ages 3 and up, so I know Riley will grow to appreciate this toy more and more over time.  Right now, she doesn't understand how to twist things so as to screw and unscrew them, so she doesn't have a whole lot of use for the screwdriver and screws yet.  The great thing though, is that she turned these screws into instant microphones.
If you look at the first picture of her above, she's actually singing into the screw because she was so happy to be playing with this work bench!  Riley did find endless entertainment in playing with the two nails and the hammer though.  She also LOVED the drawer on the front which slides open so that you can store all of your extra tools.  She constantly put her tools in this drawer and then took them out, only to do that again and again.  Finally, Riley really liked playing with the vice grips and grabbing the big handles to turn.
Just to show you how much she liked her new work bench, she wouldn't stop playing with it even to watch ELMO on Sesame Street!  If you've read any of my previous posts about Riley, she thinks Elmo is the best thing going and even kisses him goodnight EVERY night!  Guidecraft, you've made one terrific product and one little girl very happy!
Disclosure:  I received the Work Bench from Guidecraft in order to facilitate my review. No other compensation was received. This product review is based on my own personal experiences with this item and is completely honest and objective.
I'm a former 7th grade Science teacher turned stay-at-home mom that lives in Houston, Texas. I am married to my college sweetheart and have a beautiful daughter named Riley, who definitely keeps me on my toes! I am also involved in starting a small business which would both manufacture and sell an invention that I've patented, called Toothpaste 2 Go. I love interacting with my readers and hope to learn as much about you as you learn about me!
Melissa @ Mommy Living the Life of Riley!