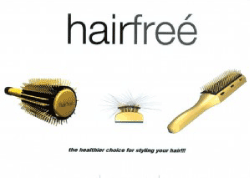 Unfortunately, I have been cursed with extremely fine, straight hair...and when I say fine, I mean baby fine!  Sure, it always feels really nice, but I can't say that it's the easiest hair to style.  Also, being from the South means that I like to have a little extra "poof" to my hair!  Us Southern women LOVE big hair!
This means that I have pretty much relied on curling irons or flat irons to style my hair for as long as I can remember.  Look at some of these pics...yes, they're scary, but they just show that even as far back as SIXTH grade, I've been damaging my fine hair with these heating tools.
Thankfully though, this doesn't HAVE to be the case any longer.  Now, with hairfree brushes, it's possible to style your hair without using either a curling iron or flat iron.  This I've GOT to see!
The hairfree Round Brush retails for $15.95 + $3.75 shipping and handling, and the hairfree Flat Brush retails for $9.95 + $3.25 shipping and handling.
In my research I learned that most blow dryers reach a top heat of about 175 degree while the heat generated from a flat/curling iron starts at about 200 degrees and can reach a top heat of upwards to 450 degrees, depending on the make and model of the flat/curling iron.  That is quite a contrast in temperatures.   The flat/curling iron temperature starts at a higher heat degree then the top heat from a blow dryer.  That high heat is needed to heat the ceramic coated plates in a flat/curling iron.
For years women have been using flat/curling iron to style their hair. Why? Because for years it was thought to be the best/only way to create a sleek shiny sexy hair style was/is to use high heat.  Based on this school of thought and no viable alternative women had no choice but to use that flat/curling iron all the while damaging ones hair in the process with all that heat.  That was before hairfreé®.
Again using the ceramic technology is not why I designed/invented the brush but it now turns out it is the brush's best feature.  This was learned during the testing phase of each brush.  As the brushes were being tested the results I received were showing that when the brushes were used with a blow dryer the user got the same sleek, shiny, sexy hair style as if they had used a flat/curling iron.
The user was/is able to create a sleek and shiny hairstyle using only the heat from the blower dryer.  As we all know the difference in heat between a blow dryer and flat/curling iron is very substantial and that heat is potentially harmful.  And to think the brush manufacturer I consulted said using ceramic technology on a brush was ineffective.
More times than not, the user, when using a flat/curling iron inadvertently burns and damages their hair.  This happens with the improper use of the flat/curling iron by a non-professional.  Dermatologist Dr. Mirmirani stated and presented evidence at the American Academy of Dermatology's Summer Academy Meeting 2008 in Chicago, "We are seeing that when these ceramic flat irons are used at the highest heat setting and on a daily basis to achieve straight hair, they can really take a toll on the structure of the hair and cause very noticeable problems that can be hard to repair."
Unfortunately the damage one does to one's hair does not show right away.  The damage continues to manifests itself over a short period of time.  Each and every time a flat/curling is used on your hair, your hair is being burned.
Now that there is a viable alternative to using a flat/curling iron, hairfreé® , I ask you do you want to continue on damaging and burning your hair by using a flat/curling iron?  The choice is yours!  hairfreé® comes with a 100% money back guarantee, that, if within 30 days of purchase you are not completely satisfied with the performance of hairfreé® simply return it for your money back.  No questions asked.
I was very eager to try out the hairfree styling brushes, since the constant flat iron and curling iron use, coupled with the chemical damage I have from highlighting my hair, was really taking a toll on my baby fine hair.  I currently use a round brush every now and then to initially style my hair while blow drying it, but I've never tried to style it 100% with just a brush and a blow dryer.
I have to admit that the hairfree round brush was just a little too large to use effectively on my short hair.  My hair is currently layered with all my layers being about 4-5" long.  I wish that hairfree made a round brush with a smaller sized barrel too.  This would ensure that people with even shorter hair could still successfully use their brush.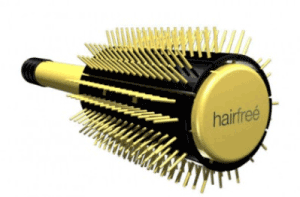 Next, I tried using the flat brush to style my hair.  This was easier to do since I had more control and could successfully wrap my hair around this brush.  The flat brush worked really well in straightening my hair and giving it a nice, sleek look.  The ceramic plates, which actually help remove the extra hair from your brush, also really work with the heat from your blow dryer to create a flat iron effect, without damaging your hair.  I was very happy with how straight and smooth my hair turned out from using the flat brush.
Another cool feature of this brush is that the height of the ceramic plates can be raised up so that you can basically create a vent brush.  This will help you get some extra volume or "poof" into your hair, since the air from the blow dryer will be able to surround your hair instead of only heating it on one side.
The only thing that I didn't like about the hairfree brushes was the type of plastic they used to make the body of the brush, including the handle.  The plastic felt flimsy and the brush was not very comfortable to hold.  Perhaps they chose this type of plastic because the brush is very easy to clean regularly with soap and water, but I just found it to be unattractive and uncomfortable.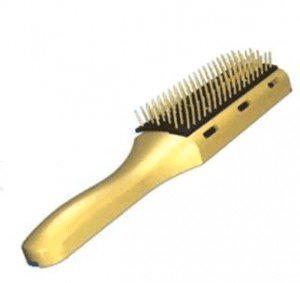 Of course, one of the best features of this brush is the whole reason that it is called a hairfree brush!  The ceramic plates slide all the way up the bristles, ridding your brush of a ton of unwanted hair!  I can't tell you how many times I have just thrown out a really good brush because I couldn't remove the hair from it.  It ended up turning into one big hairball and that isn't sanitary and your brush is no longer effective either.  Hairfree has you covered there...it's impossible to have a "hairy" brush now!
Hairfree brushes have a really unique design, one that will make your brush extremely easy to clean as well as versatile.  The movable ceramic plates ensure that you will no longer have a brush caked in hair and they help the brush to serve as a vent brush too.  The flat brush is perfect if you want straight, sleek hair and the round brush is great for curling or adding volume and body to your hair.  The ceramic plates underneath the bristles also help your hairfree brush mimic the styling benefits you get from using a flat iron or curling iron, without damaging your hair.
I wish that hairfree also made a smaller-barreled round brush for shorter hairstyles, since this is the brush I predominantly use.  I didn't care for the type of plastic the brushes were made of because they felt uncomfortable to hold and were not the best looking either.  These are brushes are very unique though, with so many perks that I would definitely recommend giving them a try!  Hairfree offers a 30-day money back guarantee, so there's absolutely no risk involved!
Disclosure:  I received both the Round and Flat Brushes from hairfree in order to facilitate my review. No other compensation was received. This product review is based on my own personal experiences with this item and is completely honest and objective.
I'm a former 7th grade Science teacher turned stay-at-home mom that lives in Houston, Texas. I am married to my college sweetheart and have a beautiful daughter named Riley, who definitely keeps me on my toes! I am also involved in starting a small business which would both manufacture and sell an invention that I've patented, called Toothpaste 2 Go. I love interacting with my readers and hope to learn as much about you as you learn about me!
Melissa @ Mommy Living the Life of Riley!