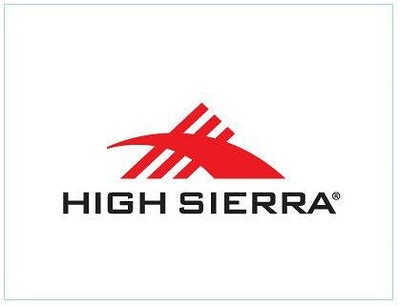 My husband and I absolutely love to travel.  We always joke that we need a vacation from our vacations because we have yet to take one that was relaxing and rejuvenating.  We are constantly on-the-go wherever we visit and have never been the kind to just relax by the pool or at the beach.  Our vacations consist of packing every minute with sightseeing tours, museums, local attractions and restaurants, and then soaking up the nightlife, too.
I know it sounds pretty tiring and it is, but we love it!  We have never traveled once without the aid of a backpack.  How else can you comfortably carry around water bottles, a camera, maps, cell phone, tons of souvenirs, our laptop, mp3 player, etc.?  I had always heard that High Sierra Sport sets the bar when it comes to luggage and travel bags, but I have never experienced their products first hand.
I was super excited when I found out that I had the chance to review one of their bags.  Right away, I knew which one I would love to try...the POWERGLIDE Day Pack!
I received the POWERGLIDE Day Pack (WBP54066) in the Pomodoro/Flint color (#911) from the High Sierra Sport Company, which retails for $140.00.
I was thrilled when I received the POWERGLIDE Day Pack from High Sierra Sport because this bag just SCREAMS quality!  I thoroughly looked over every inch of this bag and couldn't find one singular flaw.  There wasn't even any loose threads anywhere!  I was easily shocked and surprised as well once I started opening all of the pockets and inspecting it closely.
This was by far the best designed bag I've ever seen.  It was as though the folks at High Sierra had me and Michael and our wild vacations in mind when they created the POWERGLIDE.  Let me show you some of the terrific features and why this bag is now traveling with our family ANYWHERE we go!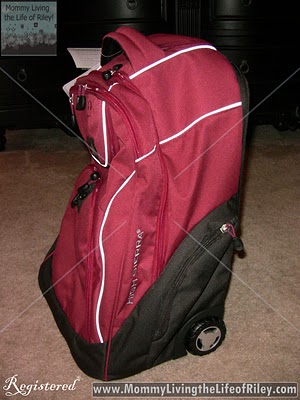 This picture shows the POWERGLIDE from the left side, where the High Sierra logo is embroidered.  You can see the smooth rolling, corner mounted wheels and the reflective accents for night safety on most of the seams of this bag.  You can also see the left zippered side pocket which can easily hold a water bottle or other gear.  The POWERGLIDE Day Pack measures 21" tall x 14" wide x 9" deep, weighs 6 lbs. 13 ounces and has a capacity of 2,930 cubic inches.
This picture shows the POWERGLIDE from the front.  Here you can easily see the triangle clip which is used to attach a lock or other accessories on the front of the zippered organizer compartment and you can also see the mp3 player pocket (on top) with headphone port.  There is a very sturdy Vapel mesh padded grab handle on top which makes it easy to carry the POWERGLIDE short distances, as well as a zippered compartment which houses a double-tube telescoping handle for wheeling it around.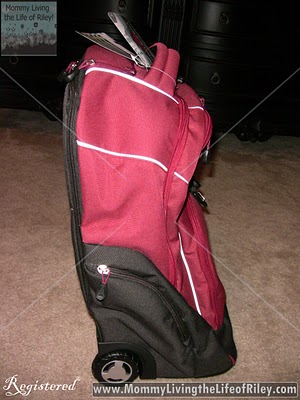 Here's a picture of the POWERGLIDE from the right side.  Again, you can see the zippered side pocket which is perfect for holding a water bottle or other gear.  Because the POWERGLIDE Day Pack has two of these side pockets, we can easily carry a water bottle for each of us!  Notice again the smooth rolling, corner mounted wheels.
This picture shows the back of the POWERGLIDE Day Pack.  Underneath this zippered compartment, lies the backpack's straps.  I love though, how the straps are concealed inside this compartment.  No one would ever guess that this is a backpack with the straps hidden like that.  When the compartment is opened, the flap folds neatly under the bag and velcros securely to the bottom.
The straps are padded, contoured, adjustable Vapel mesh and are extremely comfortable and adjust simply by pulling down on the front straps.  Also notice at the bottom of the bag, that High Sierra has included corner guards and a kick plate to protect the POWERGLIDE from abrasion.
The picture on the left shows the large, zippered front compartment which has an organizer with media pocket, zippered pocket, multiple open pockets and removable key fob.  Now, I no longer have to carry my purse AND a backpack.  This front organizer pocket will easily accommodate cell phones, cameras, keys, credit cards, money, etc.
The second picture shows the ultra cool mp3 player pocket, which allows you to carry your mp3 player in the zippered pouch and then string your headphones through the small hole in the top of the pocket, so that you can listen to your music while you carry the POWERGLIDE!
Check out all of this storage room!  The first picture shows inside the laptop compartment, which contains a CUSHION ZONE padded computer sleeve.  This compartment will actually fit most 17" screen size laptops, which is what I currently have.  I can never seem to find a bag I like which carries a laptop this big...not anymore!  The picture on the right shows the super large storage compartment behind the laptop compartment.  I am very cold-natured and usually carry a light jacket with me when we go to new places.  This roomy area would definitely hold my jacket and a LOT more!
I honestly have never come across another bag that was so well designed, so functional and so handsome all at the same time!  This is by far the most versatile bag I've ever seen and it will get plenty of use from our family in the future because of its versatility.  It can function as a laptop backpack, an airplane carry-on bag, a local excursion travel bag, a baby bag, etc.
I also love the unique Pomodoro red color, which reminds me of the Houston Astros' uniforms!  I can't say enough wonderful things about High Sierra Sport and their products and I recommend them highly to you.
Disclosure:  I received the POWERGLIDE Day Pack (WBP54066) in Pomodoro/Flint from the High Sierra Sport Company in order to facilitate my review. No other compensation was received. This product review is based on my own personal experiences with this item and is completely honest and objective.
I'm a former 7th grade Science teacher turned stay-at-home mom that lives in Houston, Texas. I am married to my college sweetheart and have a beautiful daughter named Riley, who definitely keeps me on my toes! I am also involved in starting a small business which would both manufacture and sell an invention that I've patented, called Toothpaste 2 Go. I love interacting with my readers and hope to learn as much about you as you learn about me!
Melissa @ Mommy Living the Life of Riley!