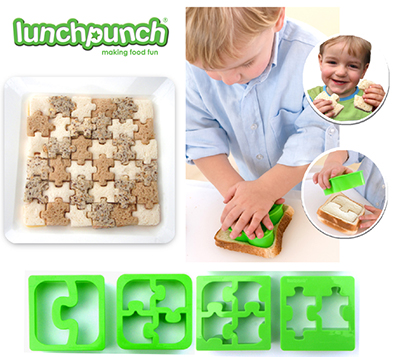 Finding appealing finger food for a toddler is not always the easiest thing to do.  Riley's at that stage where she doesn't really want to eat, yet we are still trying to give her only healthy options and not feed her full of "appealing" junk food.
That's why I am always happy to find neat inventions which transform everyday food items into something cool that children will get excited about eating.  Lunch Punch is a sandwich cookie cutter of sorts that can turn the ordinary sandwich into an extraordinary sandwich!  Keep reading to find out more!
I reviewed the Match & Munch Lunch Punch, which retails for $14.50, and the Critter Cutters Lunch Punch, which retails for $14.95.
The Lunch Punch was one review and giveaway that I was extremely excited to host, since this is an invention which takes sandwiches to a whole new level...of FUN!  The Lunch Punch has so many unique shapes and animal cutters to transform your regular, ordinary sandwich into a new reason to play with your food.  I was sent both the Match & Munch and the Critter Cutters sets and wanted to show you exactly how easy this is to do with an ordinary sandwich.
First, make the same sandwich in the same manner that you would for any lunch.  Then, simply select which fun Lunch Punch you'd like to use, press it firmly on top pushing through all layers of the sandwich, and then wiggle the Lunch Punch back and forth a few times.  Lift up and VOILA!  A normal, boring sandwich has now been changed forever into a mama elephant and her baby, or a cool puzzle with pieces that fit perfectly together.
As you can see from the pictures above and below, I used the elephant cutter from the Critter Cutters set and my results are shown in the bottom left picture.  The great thing about the Lunch Punch (besides how easy it is to do) is that this tool also removes all of the crust from the sandwich, which most kids dislike anyway!  So, you've actually saved yourself a step if your child makes you remove the crust from their sandwiches before they'll eat them.
I made a grilled turkey and Monterrey Jack cheese sandwich for Riley and then used the elephant Lunch Punch on it and you can see how excited she was to eat it!  YAY!  One meal where we didn't have to battle with her to eat!  Riley had so much fun eating her two elephants, that she was even making one of them "dance", as shown in the bottom right picture!
The Lunch Punch can be used on much more than just sandwiches too!  Use them on pancakes, French toast, cakes and cookies to create an event with any meal.  I really like the idea of making one huge sandwich puzzle from different sandwiches you create and the Lunch Punch Match & Munch set (see first picture shown at the top of this post)!  How fun would this be to serve at a party?
Although this is an ABSOLUTE MUST HAVE for back to school, this is also a great item for toddlers and preschool children too.  My daughter is only 21 months old, but she loved what the Lunch Punch did for her ordinary sandwich.  I know that I will be able to use these Lunch Punch sets to make her lunch for MANY years to come!  What a fun investment!
Disclosure:  I received the Match & Munch and Critter Cutters Sets from Lunch Punch in order to facilitate my review. No other compensation was received. This product review is based on my own personal experiences with this item and is completely honest and objective.
I'm a former 7th grade Science teacher turned stay-at-home mom that lives in Houston, Texas. I am married to my college sweetheart and have a beautiful daughter named Riley, who definitely keeps me on my toes! I am also involved in starting a small business which would both manufacture and sell an invention that I've patented, called Toothpaste 2 Go. I love interacting with my readers and hope to learn as much about you as you learn about me!
Melissa @ Mommy Living the Life of Riley!