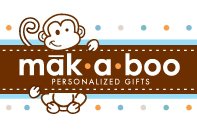 Children love to feel comforted, for sometimes this world can be a scary place to those who are so small and understand so little about it.  Every child likes to have "lovies", or portable items that make them feel better when the world gets to be a little too much.
The folks at Makaboo not only offer some wonderful products, including "lovies", but also believes that every item which leaves their hands should also be personalized for free too!  I am a huge fan of all things personalized and think that there is no better way to turn an ordinary item into a cherished keepsake.
When I was asked to review an item from Makaboo, of course I jumped at the chance!  I love personalized items and knew that creating something personalized just for Riley was going to be a lot of fun.  The folks at Makaboo had the same idea.  They wanted me to experience how easy it is to order a custom product of theirs from start to finish.  I went to their website and was definitely pleased at how well it was organized and laid out.
It was extremely easy for me to find their products categorized in many different ways, depending on how I wanted to shop.  For instance, their items are arranged by occasion, age, price, gift type and brand.  I love it when a company does this!  I don't always shop the same way every time, and so I like it when I have these different options available to me.
Next, I decided on the Angel Dear Pillow Pal and was then given six little critters to choose from.  Since we have Riley's entire room decorated in a rainforest theme and she absolutely LOVES animals, I decided on the Giraffe Pillow Pal.  There were many different views shown of the Giraffe Pillow Pal and so I definitely got a good idea of what this animal would look like before purchasing.
Then, I had to decide how it was to be personalized.  That's something I really like about Makaboo and their products.  They always include personalization for FREE!  I don't know how many times I've found an item I love and then when I try to get it personalized, the item quickly becomes more than I can afford or am willing to pay.  With Makaboo, what you see is what you get.  Their pricing always includes personalization, so you never have to worry about that added cost.
The personalization step is the part that took me the longest, but that's only because I wanted to make sure it looked just right.  Makaboo narrows it down to three steps for you.  First, you have to decide where you want the item personalized.  This step was easy, because wth the Angel Dear Pillow Pal, there's only one option...in the center.  Next, you have to decide the layout (whether you'd like the text curved or straight).  I chose the curved option since the Angel Dear Pillow Pal is curved too.  Finally, you choose the thread color, font and what text you'd like.  I chose the hot pink thread color, James Preston font and the text "Riley", of course.
Check out the pictures below to see what I created...and it was so EASY!  I was thrilled at how everything looked and at how soft the Pillow Pal is too.  I also love that the giraffe cover itself is removable and washable.  There is a Velcro enclosure on the top of the pillow which makes it very easy to remove for quick cleaning.
I think the Angel Dear Pillow Pal is a wonderful item for many reasons.  Riley can use this as a "lovie" to sleep with every night.  She can also bring this with her as a travel pillow and when she finally attends preschool, she can bring this with her for naptime.  Since it already has her name on it, there's no way that it can be accidentally misplaced or confused with someone else's pillow.
Also, because the Giraffe Angel Dear Pillow Pal is personalized, I have a feeling that this giraffe will still be lingering around on her bed, when all of her other stuffed animals have disappeared from view.  Makaboo has so many other cute things for babies and toddlers!  Here are two items that I already have my eye on for Riley:
If you have small children or know someone who does, I would highly suggest checking out Makaboo for your next gift for them.  With such a myriad of cute and practical items, all personalized for FREE and super easy to customize, I'm sure you will find the perfect gift that any child will cherish for a very long time.
Disclosure:  I received the Giraffe Angel Dear Pillow Pal from Makaboo in order to facilitate my review. No other compensation was received. This product review is based on my own personal experiences with this item and is completely honest and objective.
I'm a former 7th grade Science teacher turned stay-at-home mom that lives in Houston, Texas. I am married to my college sweetheart and have a beautiful daughter named Riley, who definitely keeps me on my toes! I am also involved in starting a small business which would both manufacture and sell an invention that I've patented, called Toothpaste 2 Go. I love interacting with my readers and hope to learn as much about you as you learn about me!
Melissa @ Mommy Living the Life of Riley!