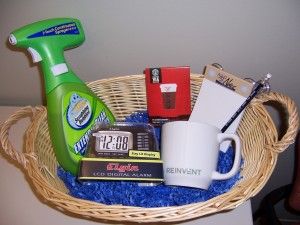 Ladies, I know that we are all super busy these days and most times it's hard enough to even GET a shower, much less CLEAN one too!  Bathrooms are definitely my nemesis and one chore that I really dread doing, so I was excited to hear that Scrubbing Bubbles has a new product, specifically for busy moms, called the Extend-A-Clean Power Sprayer.
Now, instead of fighting the dirt and soap scum battle every day, those little scrubbing bubbles are battling it for you, for up to FOUR days, without you lifting a finger!
The Scrubbing Bubbles Extend-A-Clean Power Sprayer retails for $8.99 for the Starter Sprayer and $3.99 for one Refill.
Obviously, I'm going to be a big fan of anything that claims it will keep on cleaning, so that I don't have to!  The Extend-A-Clean Power Sprayer is also easy to use because it will release a continuous spray of cleaning solution by simply holding down the trigger.  I don't know about you, but I've actually had my hand cramp up a time or two when cleaning my bathroom from the constant pumping of the spray bottle.
Not anymore!  Just hold the sprayer about 8-12 inches away from the surface you're cleaning and make sure the foam covers evenly.  Next, wipe the surface clean with a damp cloth and then rinse.  Now, anytime that surface gets wet again, the scrubbing bubbles are reactivated to help create an invisible barrier against dirt and soap scum.
** NOTE ** Works on most bathroom surfaces, including tubs, showers, glazed ceramic tile, stainless steel, chrome fixtures, fiberglass, vinyl and glazed porcelain. Avoid prolonged contact with wood, aluminum and painted, lacquered or soft surfaces. DO NOT USE on gold plated fittings, semi-glazed and resurfaced enamel baths, natural marble, travertine or brass.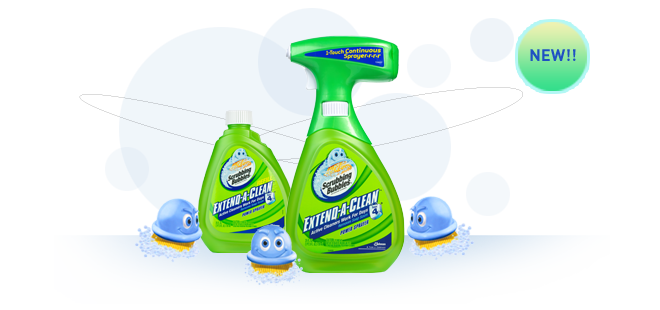 The big test for me was to see if the Extend-A-Spray Power Sprayer could really help me clean my toughest bathroom challenge...our master bathroom!  As you can see in the picture, we have two double sinks, a countertop connecting them, a glass surrounded walk in shower with plenty of tile and a jacuzzi tub.  Ugh!  I HATE cleaning this room!  I used the Scrubbing Bubbles Power Sprayer and was really jazzed about the continuous spraying nozzle...finally, no more hand cramps!
The cleaner worked really well and seemed to remove the soap scum and bathtub ring without a hitch.  I would recommend this cleaner very highly for anyone cleaning sinks, tubs and showers, surfaces which are all extremely easy to rinse.  I used to clean my sinks and my countertops with the same cleaner, but since it's not the easiest thing to rinse your counters, I think I'll only use this cleaner where I have easy and direct access to water.  I also really noticed a difference in how dirty these areas were after four days.  They definitely seemed cleaner and I think that those little scrubbing bubbles must have been hard at work defending my bathroom!
Finally, I like that although the Starter Sprayer is a little pricey at $8.99, the 1-Touch Sprayer portion can be reused and you only need to buy the refills next time, which cost only $3.99.  I wish more companies would start thinking "green" and give us more refill options instead of throwing everything out and purchasing everything new each time.
Any busy lady should give the Scrubbing Bubbles Extend-A-Clean Power Sprayer a try!  The 1-Touch Continuous Sprayer will ensure that you no longer get hand cramps from pumping the spray bottle and the cleaner works well to remove both dirt and soap scum.  I would recommend using this cleaner in areas that you have direct access to water, since it does involve rinsing as a final step.
I tried this out on my shower, bathtub and sink basins and noticed that they didn't get as dirty as quickly as they used to.  I really like that the Sprayer nozzle is able to be reused and after you buy the Starter Sprayer, you will only need to buy the refills in the future.
Disclosure:  I received the "Minimize Morning Madness" Basket from Scrubbing Bubbles in order to facilitate my review. No other compensation was received. This product review is based on my own personal experiences with this item and is completely honest and objective.
I'm a former 7th grade Science teacher turned stay-at-home mom that lives in Houston, Texas. I am married to my college sweetheart and have a beautiful daughter named Riley, who definitely keeps me on my toes! I am also involved in starting a small business which would both manufacture and sell an invention that I've patented, called Toothpaste 2 Go. I love interacting with my readers and hope to learn as much about you as you learn about me!
Melissa @ Mommy Living the Life of Riley!