Living in hot and humid Houston, Texas is like living in paradise...a mosquito's paradise!  These tiny little bloodsuckers pray on my family every time we step a foot outside our door.  We tend to get a lot of rain during the summer here and couple that with the heat, and mosquitoes are breeding like crazy!
So, what do you do when your child wants to go outside and play?  Take a bottle of Terro Mosquito Repellent with you and keep those biting pests at bay.  Read on to find out how well the Terro Mosquito Repellent granules worked for me.
I reviewed the Terro Mosquito Repellent granules from Senoret Chemical Company, which retail for $14.99.
I couldn't wait to try out the new Terro Mosquito Repellent granules in our backyard to see if we could finally get some relief from those pesky bloodsuckers!  My husband and Riley are both terribly allergic to mosquitoes and get huge welps wherever they are bitten.  They also happen to be mosquito magnets.
Personally, they are usually my mosquito repellent, because whenever I'm outside with them, the mosquitoes leave me alone.  My dog, Noel, is frequently outside and I know that mosquitoes can carry heartworms, which can be deadly for dogs.  Noel has had all her vaccinations, but I don't like to risk her health and would love to be rid of our mosquito problem, once and for all.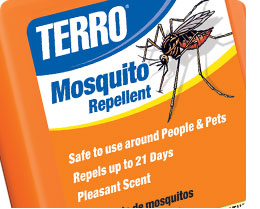 Since mosquitoes love the smell of carbon dioxide, they zero in on all breathing things almost immediately.  Terro Mosquito Repellent disables the mosquitoes' sense of smell by releasing a natural, pleasant scent into the air which masks your carbon dioxide odor.  This disorients the mosquitoes, making you invisible to them.  The great news is that these granules are simply sprinkled on your lawn and they immediately go to work, releasing their mosquito-repelling smell.
These granules are 100% natural, are completely safe for both people and pets, and even last up to 21 days.  One 2 pound container of Terro Mosquito Repellent will cover approximately 1000 square feet, though if you live in a heavily infested area, you should probably use 3 pounds per 1000 square feet.
We tried the Terro Mosquito Repellent over several weeks and found that it does cut down on the mosquito bites around our household.  We would still get the occasional bite, but we were no longer swarmed like before.  The only downside to these granules is that they become much less active with water.
Now, since it rains in Houston a lot, that will automatically deactivate our granules and stop them from releasing their smell.  Also, because it is so hot, we have to run our sprinkler system almost daily just to keep our grass from dying.  Unfortunately, this will also drastically cut down the effectiveness of these granules.
If you live in an area that doesn't get too much rain or where you don't have to water your lawn frequently, then I would recommend the Terro Mosquito Repellent granules.  But if you do happen to live in an area that receives a lot of moisture, for one reason or another, just know that you might have to buy many more packages of these granules in order to keep them effective.
Disclosure:  I received the Terro Mosquito Repellent granules from Senoret Chemical Company, Inc. in order to facilitate my review. No other compensation was received. This product review is based on my own personal experiences with this item and is completely honest and objective.
I'm a former 7th grade Science teacher turned stay-at-home mom that lives in Houston, Texas. I am married to my college sweetheart and have a beautiful daughter named Riley, who definitely keeps me on my toes! I am also involved in starting a small business which would both manufacture and sell an invention that I've patented, called Toothpaste 2 Go. I love interacting with my readers and hope to learn as much about you as you learn about me!
Melissa @ Mommy Living the Life of Riley!