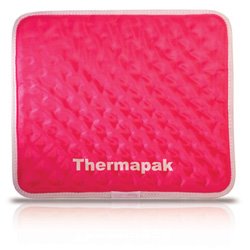 Summer is quickly approaching, and here in Texas, my A/C is already in full swing!  My money-conscious hubby is already creeping up the thermostat when he thinks no one is looking, and so the last thing I need in my house is a mini-heater on my lap...aka my laptop!
Being a mommy blogger / sweepstakes nut, requires a few many hours on my laptop.  When I heard about ThermaPAK's HeatShift Laptop Cooler, which is designed to keep you cool by diffusing the heat from your laptop away from your lap, I definitely wanted to see if it lived up to the hype or not.
The HeatShift Laptop Cooler from ThermaPAK (15" Pink) retails for $29.99, but can be purchased on Amazon for only $22.12.
Are you tired of?
Your lap burning from the heat of your notebook computer?
Your laptop computer shutting down due to overheating?
Your laptop computer components being damaged by excessive heat?
Your battery time being drained by a USB fan based laptop cooler?
Your inability to pack your laptop cooler when traveling because of its depth, heavy weight and general bulkiness.
The noise generated by your USB fan based cooler?
The USB cable from your cooler to your laptop getting in the way?
The rough, rigid edges of your laptop cooler?
ThermaPAK's patented HeatShift Technology™ is the culmination of nearly a decade in researching thermal dynamics. At the core of HeatShift Technology™ is a unique blend of phase changing material (PCM) created by our research and development engineers. This formula has proved successful in cooling laptops up to 6°C (11°F), with the following benefits:
Benefits
Requires No Refrigeration
Requires No Laptop Power (which extends battery life)
Mobile and easy to carry (approved for airport security)
Can be used for notebooks of all brands sizes
Performance comparable to USB fans
The unipocket design used in the HeatShift Technology™ ensures maximum heat distribution from the notebook computer. Its design also creates air channels beneath the computer for proper ventilation and air passage.
How It Works
A device that transfers heat by conduction AND convection provides the maximum amount of heat exchange. Conduction is heat transferred directly from one object to another by physically touching. Convection is heat transferred by the movement of liquid molecules from warmer areas to cooler ones. HeatShift Technology™ pads utilize both conduction and convection to cool your laptop - and your lap! For more information about the effectiveness of HeatShift Technology™, please refer to our labratory results and notebook cooler product reviews.
When a laptop cooler featuring HeatShift Technology™ is placed under any notebook computer, the crystals inside are in a solid state. As the underside of the laptop begins to warm up, this heat is transferred to the HeatShift Technology™ device. This transferral of heat gradually changes the PCM crystals into a liquid.
ThermaPAK's pad grooves channel air under the laptop, and use the second law of thermodynamics (which states that heat will tend to flow from hot areas to cold ones to reach equilibrium) to draw heat from the laptop. Our lab results, as well as those of independent reviewers, have seen temperature decreases of up to 6°C (11°F). After the laptop begins to cool, the HeatShift Technology™ device changes back to a solid crystal - ready for the next use.
The first thing I have to say about the HeatShift, is that I am slightly confused as to how to use it.  There aren't any instructions included that tell you which side of the pad should be facing the laptop and which side should be facing your lap.  Call me a moron, but I tried using it the way that I saw it displayed on the front of the packaging as well as on the internet, and I didn't think it worked too well.
There are two sides to the HeatShift, the bumpy side with the Heatshift or ThermaPAK logo on the front and the side which is smooth with a felt-like cover on it.  Based on the pictures I saw, I tried using this with the logo side up facing my laptop and the felt side down facing my lap.  I worked on writing reviews for a few hours wearing a pair of shorts and the part of my legs which was in direct contact with the HeatShift actually began sweating.  I believe it was because the felt-like material against my legs didn't allow them to breathe at all, thus the sweating.
I decided to try and flip the pad to where the bumpy logo side was against my lap and the felt side was against my laptop and things were MUCH better!  The cool crystals in the pad definitely kept my lap much cooler and the hotter my laptop got, the more liquid-like the HeatShift became.  I also liked the HeatShift because it cushioned the laptop on my lap, making it much more comfortable to work on.
I'm still not sure if I am using this pad correctly, but one other benefit I noticed from having the felt-like side toward the laptop itself is that the laptop does not slide so easily and tends to stay put on the pad better.  When I tried it the first time with the bumpy side up toward the laptop, I noticed that the laptop slid on the HeatShift's surface and it was sort of hard to keep it in place.
So yes, ladies and gentlemen, the HeatShift does work and will keep your laptop AND your lap noticeably cooler.  It's also a very green solution, since the HeatShift requires no batteries or power source of any kind and can be reused over and over again!  I only wish that there were some semblance of instructions included, that said which way to use this thing from the beginning.  The pictures on both the internet and packaging are very misleading since it is always shown being used logo side up.
I tried it that way originally and found that the HeatShift actually made my legs sweat.  But, when I flipped it so the logo side was facing my lap, I thought that then the HeatShift lived up to the hype.  ThermaPAK's HeatShift ensures that both you and your laptop will run better and not overheat!
Disclosure:  I received the HeatShift Laptop Cooler from ThermaPAK Technologies, Inc. in order to facilitate my review. No other compensation was received. This product review is based on my own personal experiences with this item and is completely honest and objective.
I'm a former 7th grade Science teacher turned stay-at-home mom that lives in Houston, Texas. I am married to my college sweetheart and have a beautiful daughter named Riley, who definitely keeps me on my toes! I am also involved in starting a small business which would both manufacture and sell an invention that I've patented, called Toothpaste 2 Go. I love interacting with my readers and hope to learn as much about you as you learn about me!
Melissa @ Mommy Living the Life of Riley!