I have been a bracelet fanatic for as long as I can remember.  I love bracelets of all kinds, from the dainty, classic designs, to the super unique bracelets that you can't help noticing.  As I look over the bracelets in my jewelry boxes, I think I might actually lean more toward the latter category, which is probably why I found Tori Hartman and her Gratitude Bracelet collection so appealing.
The Earth Mother Gratitude Bracelet from Tori Hartman can be purchased for $75.00.
The Earth Mother Bracelet
Ground yourself in confidence and power
Are you seeking to become a stronger woman or even to redefine yourself? There is a decisive quality about the Earth Mother bracelet that teaches confidence, inspires inner awareness and dispels anything standing in the way of your true desires. The message of Earth Mother is that she is who she is, and she offers you the opportunity to attract that same wisdom and independence.
Earth Mother is a grounding bracelet that roots your dreams in reality by connecting you to the earth. It also clears negative thinking, including the opinions and energies of others. With Earth Mother, you will be able to clearly ascertain what you desire and manifest it quickly. What you choose to have will be yours.
The Stones
Carnelian is a powerful protector. It keeps us centered and repels distracting energy that can pull us away from our highest good. It promotes feminine power and inspires compassion. Carnelian is calming and creates an aspect of grounding. It calls Earth Mother to us and delivers confidence in who we are.
Energizing your bracelet
Purify your Earth Mother Bracelet by placing it overnight on your windowsill in a bed of sea salt. This allows the moon to clear the energy of your bracelet before you wear it. The moon is always out, even if it's not visible. In the morning, tuck your Earth Mother Bracelet into its gratitude bag and say: Spirit, grant me the willingness to stand in giving and receiving the gifts that Earth Mother offers.
Let Earth Mother hang in your favorite room for a day to absorb your energy. When you are ready to wear it, take a deep breath and inhale the calm inner power that you both share.
Step into power.
I was very pleased when I received my Earth Mother Gratitude Bracelet from Tori Hartman.  First, I was sent a Tori Hartman tote bag in my choice of either white or black and my bracelet was housed in a soft brown pouch with the word "Gratitude" on the front.  As soon as I took the bracelet out of its pouch, I loved what I saw!  The Earth Mother bracelet has one large rectangular stone in the middle, called Carnelian, that is a deep orange-red color.
There are two smaller oval-shaped stones on either side of this which are also Carnelian.  I learned that Carnelian is supposed to be a powerful protector and inspires compassion.  The bracelet also had a large clear crystal ball which dangled from the clasp.  I didn't particularly care for this feature of the bracelet simply because I felt that the crystal ball being clear didn't match the rest of the bracelet well.
I would have loved it if the ball would have been the same orange color that some of the connecting beads on the bracelet were.  Jewelry is definitely a matter of taste though, so maybe I'm in the minority here by noticing this.  The bracelet fit beautifully too, which doesn't happen for me very often, since I have a slightly smaller wrist.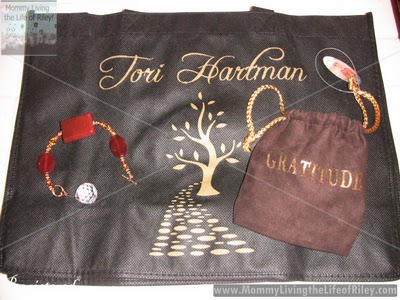 I have to admit that I don't necessarily believe in all of the significance that Tori Hartman puts behind each gratitude bracelet, but I am a huge lover of nature and I do believe that the connections between all living and nonliving things go much deeper than we know.  I have always had an open mind and will listen to anyone's point of view to see if I can find something that rings true with me.
Tori claims that everyone will be drawn to a particular bracelet and I was definitely drawn to this one.  I picked the bracelet first and then I read what it was supposed to signify and it actually fit me perfectly.  I have always been a strong person who has tried to see the good in everything, but every now and then, I need a little help to withstand the negative that creeps into all of our lives.
Knowing now that this bracelet is supposed to represent a core value I hold for myself, is actually kind of cool!  When I wear it, I remember to believe in myself, because I can do anything and to always try to show the utmost compassion and understanding to others.  To me, this just adds to the beauty of this bracelet.
Whether or not you believe in the symbolism and meaning behind each of Tori Hartman's Gratitude Bracelets, you have to admit that she makes some beautiful jewelry.  This is why I really love the Gratitude Collection.  I have always been a fan of very unique jewelry unlike anything you've ever seen before and I think the Earth Mother Gratitude Bracelet fits the bill.
I don't necessarily care for the dangling, clear crystal ball which hangs from the bracelet, but I believe that this is a trademark of the Gratitude collection.  It's not that I mind having a charm hanging down, I just wish that it wasn't clear so that it would blend in and match the rest of the bracelet better.  This is still a beautiful bracelet though, and one that I highly recommend.
Disclosure:  I received the Earth Mother Gratitude Bracelet from Tori Hartman in order to facilitate my review. No other compensation was received. This product review is based on my own personal experiences with this item and is completely honest and objective.
I'm a former 7th grade Science teacher turned stay-at-home mom that lives in Houston, Texas. I am married to my college sweetheart and have a beautiful daughter named Riley, who definitely keeps me on my toes! I am also involved in starting a small business which would both manufacture and sell an invention that I've patented, called Toothpaste 2 Go. I love interacting with my readers and hope to learn as much about you as you learn about me!
Melissa @ Mommy Living the Life of Riley!