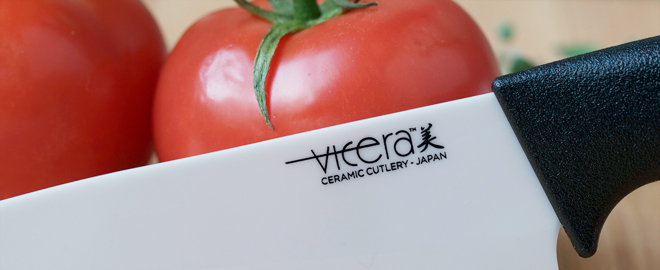 Having a great set of knives is essential for any cook because there always seems to be a ton of preparation for every tasty recipe.  I have heard about ceramic knives and how they are so much better than traditional stainless steel knives, but honestly, I didn't know.  It seems so strange to me to think that ceramic can cut better than steel.
Thankfully, ViCera Cutlery was happy to let me sample their 5.5" Santoku Ceramic Knife to see for myself.  Can a ceramic knife actually outperform a stainless steel one?  Read on to find out!
New Technology, Old-world Craftsmanship
ViCera™ ceramic knives are made of an advanced, high-tech ceramic called zirconium oxide (also known as zirconia). Zirconium oxide is extremely hard and wear resistant, rating 8.5 on the Mohs scale - surpassing stainless steel (5-6 Mohs) and approaching the hardness of diamond (10 Mohs). The Mohs scale, developed by mineralogist Friedrich Mohs, is the universally accepted standard for measuring the hardness of minerals.
During production, our master craftsmen fashion the pure zirconium oxide into knife shaped blanks using high-pressure presses. The finished blanks are then hardened in a process called "sintering", which requires special kilns that can achieve temperatures of over 1000 degrees Celsius. After they are removed from the kilns, the knives are cooled to a naturally brilliant white and then hand-sharpened on a special diamond coated grinding wheel.
When you pick up a ViCera™ ceramic knife, you are holding a perfect balance of new technology and old-world craftsmanship. A brilliant, white blade that is as light as a feather and tougher than nails.
I mentioned to my dad, a retired machinist of 30 years, that I would be trying out a new ceramic knife from ViCera Cutlery, and he was instantly impressed.  He told me that in his machine shops they actually used ceramic tools to CUT STEEL!  He said that ceramic is a lot harder than steel and that when they had super tough parts to make and needed their very best cutting tools, they would always use ceramic ones.  Now once I learned that, I was really excited to try this ceramic knife!
As you can see from the pictures above, the first thing you might notice about the ViCera 5.5" Santoku Knife is that it is shaped differently than a traditional Santoku Knife here in America.  The reason for this is simple.  Originally, the Santoku Knife was created to be a more maneuverable version of the French Chef's Knife.
It is made specifically for slicing, mincing and dicing.  Santoku knives have previously been made in many different shapes.  To classify as a Santoku, the knife must have the same size, usage and construction, but not necessarily the same shape.  I like the shape of the Santoku Knife from ViCera Cutlery, because it seems to me a perfect cross between the chef's knife and the utility knife.
In the video above, notice how easily the Santoku Ceramic Knife glides through the chicken breast I've prepared.  Just look at all of the advantages a well-made ceramic knife has over its stainless steel counterparts.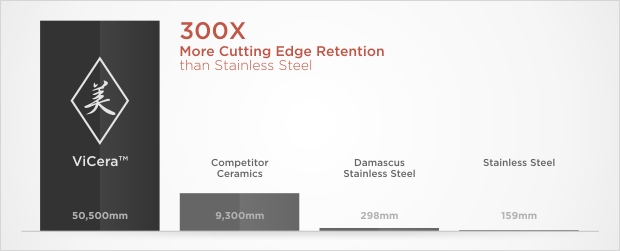 I particularly admired the double bevel blade, since I am a leftie!  I didn't have any trouble whatsoever cutting anything I came across with this Santoku knife.  Also, I absolutely LOVE the fact that I can wash this knife IN THE DISHWASHER!  I currently have a very expensive set of Wusthof knives which are a real pain to clean!  Which part of the knife is always the dirtiest?  Why, that would be the extremely sharp edge and unfortunately, if you have to wash your knives by hand, the most dangerous part of the knife is the part you have to clean the most!  Doesn't make much sense, does it?
I also appreciate the fact that a ceramic knife won't rust or stain and that it will never give your food that metallic taste either.  Of course, in my opinion, the best feature of the ViCera Cutlery 5.5" Santoku Ceramic Knife is that this knife will keep its edge 300X better than a stainless steel knife will!  I HATE sharpening knives and am always afraid that I won't do it properly and will permanently damage my cutlery.  It is so nice to know that a ceramic knife is so low-maintenance.
You might be wondering though, about a ceramic knife's fragility.  I guess I still have a hard time wrapping my mind around the fact that this material is so hard, since little ceramic figurines always seem to break when dropped.  This is why I was especially glad to discover that a ViCera Ceramic Knife can actually be dropped from a substantial height and will not shatter or break.
If you drop a ceramic knife on its tip though, it will damage the blade, just as it would damage a stainless steel knife's blade.  Also, ViCera knives are the premier in ceramic knives since they are constructed of the finest Japanese zirconium oxide without any impurities.  To demonstrate their confidence in the quality of their knives, ViCera Cutlery offers a limited lifetime warranty on all the knives they make.
I have to admit that after trying the 5.5" Santoku Ceramic Knife and learning more about the differences between a ceramic knife and a stainless steel knife, I'm sold!  I highly recommend the ViCera Cutlery ceramic knives and plan on purchasing this type of cutlery for myself in the future.
Disclosure:  I received the 5.5" Santoku Ceramic Knife from ViCera Cutlery in order to facilitate my review. No other compensation was received. This product review is based on my own personal experiences with this item and is completely honest and objective.
I'm a former 7th grade Science teacher turned stay-at-home mom that lives in Houston, Texas. I am married to my college sweetheart and have a beautiful daughter named Riley, who definitely keeps me on my toes! I am also involved in starting a small business which would both manufacture and sell an invention that I've patented, called Toothpaste 2 Go. I love interacting with my readers and hope to learn as much about you as you learn about me!
Melissa @ Mommy Living the Life of Riley!