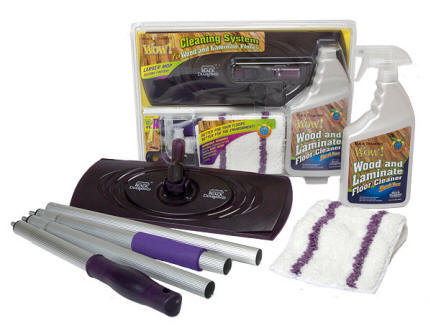 Although at times I do enjoy a good house scrubbing, for the most part, I do hate cleaning my home. Though what do you do when you're a self-proclaimed clean freak? Simple...find the best cleaning products and tools to do a wonderful job in a short amount of time.
Personally, I have tried every cleaning gadget, gimmick and tool on the market and have found a select few that I use on a regular basis. That's why I was a little surprised that Black Diamond Stoneworks didn't make my cleaning radar.
I had never heard of this company before, but once I went to their website and saw the wide variety of products and tools they carried, I really wanted to give them a try. The folks there were nice enough to oblige and allowed me to review the WOW Wood Floors Cleaning System and Brilliant Lenses Pack. So how did they work? Read on to find out!
I reviewed the following two products from
Black Diamond Stoneworks
:
WOW Wood Floors Cleaning System, which retails for $34.98, but is currently on sale for $24.98.
Brilliant Lenses Pack Eyeglass Cleaner, which retails for $4.99.
After visiting Black Diamond Stoneworks's website and learning more about their products, I was eager to get started cleaning my wood floors when their package arrived. I was given both the WOW Wood Floors Cleaning System and Brilliant Lenses Pack Eyeglass Cleaner to review and I had the perfect places to use both of these products!
First, I have two rooms in the downstairs of my house (the game room and the dining room) which both have wood floors. My house was built about 20 years ago and the previous owners didn't seem to take very good care of these wood floors. There are multiple stains and scratches all over them and they have never really shined like I think they should. I took the mop, microfiber cleaning pad and WOW Wood and Laminate Floor Cleaner out of the packaging and quickly assembled the mop.
I was impressed at how wide the mop head was (great for making a quick task of mopping your floors) as well as how durable and sturdy this mop seemed to be. Equally impressive was the microfiber cleaning pad. It was very thick and plush with long loops which would definitely not damage my floors! I really liked that the microfiber cleaning pad was washable and will clean approximately 200-300 square feet before needing to be washed.
Cleaning my floors with the WOW Wood and Laminate Floor Cleaning system was super easy too! Simply attach the microfiber cleaning pad onto the mop's Velcro strips and then spray a 4' x 6' area of your floor with the wood floor cleaner. Mop this area until dry and then move on to another area. The large mop head made mopping these areas go pretty fast and the cleaning solution dried rather quickly and didn't leave any streaks on my floor. Here's the results of my mopping:
I don't know how well these pictures do this product justice, but I really thought the WOW Wood Floors Cleaning System had made a big improvement! My floors actually shine now and look much newer! Next, it was on to the Brilliant Lenses Eyeglass Cleaner. I had high hopes for this product since I have a pair of sunglasses (which I LOVE) that I wore to the beach a while back. I got so much sand, saltwater and gook on them that I thought I might have ruined the lenses.
I was definitely afraid of cleaning them with just anything, for I was scared the sand would scratch my lenses all up. Thank goodness the Brilliant Lenses Eyeglass Cleaner review came along! What makes Brilliant Lenses so unique is that not only will this eyeglass cleaner clean your glasses, it will also protect them from future damage too!
Brilliant Lenses doesn't contain any alcohol or ammonia. Instead, it actually contains a polymer additive, called SR-8, which adds a scratch resistant coating to your lenses. YAY! Brilliant Lenses is also perfect for using on cell phones, monitors and mp3 players too! So how did it rate on cleaning my beach-damaged sunglasses? See for yourself!
As you can see from the pictures above, this stuff is PHENOMENAL! I was cleaning my glasses inside our home at night and so couldn't really see how well I was getting around the edges. I'll have to go back and clean them again in the daylight to get them perfectly clean. But, if you look in the center of the lenses, where I cleaned them well, you can see that the lenses are FLAWLESS! Just like new again!
I am so very pleased with the Brilliant Lenses Eyeglass Cleaner that I am going to purchase some for my parents, who both wear glasses. Based on my experiences with the only two products I've tried from Black Diamond Stoneworks, I'm going to have to try some of their other cleaning items. I am very happy with how both products performed and recommend them to you highly.
If you are looking for a quick and easy way to bring out the shine in your wood floors, then definitely try the WOW Wood Floors Cleaning System. If you wear glasses or have a lot of electronics with glass or plastic screens, then I highly recommend the Brilliant Lenses too. It seems like Black Diamond Stoneworks is going to be my new go-to for cleaning solutions!
Disclosure:  I received the WOW Wood Floors Cleaning System and Brilliant Lenses Pack Eyeglass Cleaner from Black Diamond Stoneworks in order to facilitate my review. No other compensation was received. This product review is based on my own personal experiences with this item and is completely honest and objective.
I'm a former 7th grade Science teacher turned stay-at-home mom that lives in Houston, Texas. I am married to my college sweetheart and have a beautiful daughter named Riley, who definitely keeps me on my toes! I am also involved in starting a small business which would both manufacture and sell an invention that I've patented, called Toothpaste 2 Go. I love interacting with my readers and hope to learn as much about you as you learn about me!
Melissa @ Mommy Living the Life of Riley!