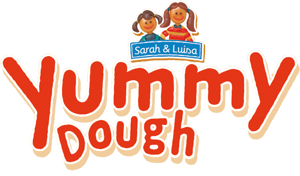 Modeling dough is a timeless classic children's toy.  It fosters endless amounts of creativity and imagination and helps to wile away the hours when children can't play outside, such as when it's raining.  Of course, the one thing you always had to watch, especially with young children, is that they didn't eat the modeling clay.
I guess there's just something about that brightly colored, mushy stuff that makes kids say, "Yum!".  Well, now those worries have been answered by a product named Yummy Dough.  You are actually supposed to encourage your child to eat this modeling clay, and you can even bake it in the oven!
I was excited to start creating with Yummy Dough and let my daughter go wild with it.  First, I made sure that she had clean hands and I actually mixed the dough for her.  Older children would be able to do this step on their own, but because the directions called for EXACTLY 20 mL of water, I knew that this was a job for me.  A plastic 20 mL syringe is included in this kit for easy measuring.
The box said that a modeling tool should also have been included with this package, but mine did not have one.  Actually, I never saw a modeling tool pictured on their website, just a small rolling pin.  The rolling pin that is pictured on the front of the box is NOT included.  My package of Yummy Dough contained four plastic bags of colored dough mix (red, yellow, blue and green) and the 20 mL syringe.  I do really wish that a set of modeling tools was included so that we could have had an easier time creating some really neat models.
As you can see from the pictures above, mixing the modeling clay is really easy.  Simply add 20 mL of water and stir the clay mixture in a bowl.  It will have a crumbly consistency at this point, like dry cookie dough.  Now, just take it in your hands and knead it until it becomes smooth and pliable.  Then, get started creating!
The great thing about Yummy Dough is that you can eat it both baked and raw.  This way, you can snack along as you work and then when you've created your finished masterpiece, you can bake that in the oven and eat it like a cookie!  It is advised that you do not eat the Yummy Dough anytime other than on the day you mix it and play with it.  If you do want to take a break that day from playing with the Yummy Dough, simply wrap up the dough with plastic wrap so that it doesn't dry out.  Then, you can return to it later.
You can even mix the four colors together to create new, original colors.  There is a simple to follow mixing guide on the side of the box.  Once you're finished, place your Yummy Dough creations on a piece of wax paper and a cookie sheet, and bake in the oven for 15-20 minutes at 270 degrees F.
I think this would make a great item to keep in the cupboard this summer for when your children are telling you the inevitable, "Mom, we're BORED!" or the weather makes it so they can't play outside.  I thoroughly stand behind any product that fosters creative thinking and imagination, and Yummy Dough definitely does!
My daughter will be turning two in October, and I think that this would be a fun and easy activity to have at her birthday party.  Parents and children alike can have fun creating silly, wacky objects together!  I do wish that this product came with a few modeling tools, but it is still a wonderful toy for any child and the dough is actually pretty tasty!
Disclosure:  I received a package of Yummy Doughfrom PlaSmart Inc. in order to facilitate my review. No other compensation was received. This product review is based on my own personal experiences with this item and is completely honest and objective.
I'm a former 7th grade Science teacher turned stay-at-home mom that lives in Houston, Texas. I am married to my college sweetheart and have a beautiful daughter named Riley, who definitely keeps me on my toes! I am also involved in starting a small business which would both manufacture and sell an invention that I've patented, called Toothpaste 2 Go. I love interacting with my readers and hope to learn as much about you as you learn about me!
Melissa @ Mommy Living the Life of Riley!