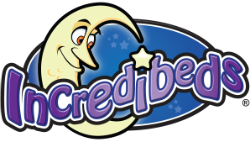 Now that my daughter is almost 23 months old, her father and I have been debating what type of "big kid bed" we will be moving her into once she outgrows her crib.  We've been lucky so far that she's not a climber and actually seems to enjoy sleeping in her crib.
I've always heard the horror stories though of how a child gets scared in their new bed and doesn't like to sleep in it by themselves.
Parents often tell of the lengthy transition period associated with moving a child from the crib to a regular bed.  For the last several months, I've been actively looking for the perfect "big kid's bed" to move Riley into and now I think I've discovered the coolest bed EVER!
Incredibeds makes a variety of bed frames and accessories which are specially geared for transitioning young children into sleeping in their own bed.  Why do I think these beds are the greatest thing since sliced bread?  Keep reading to learn all about them!
I reviewed the following items from Incredibeds:

Penelope the Female Brown Grizzly Bear Bed Frame, which retails for $299.00

Princess Aruba Bedjammies, which retail for $74.99

Zipper Bumper Transition Sheet, which retails for $29.00
Both the Incredibeds Bed Frames and the Bedjammies sheets are currently being sold with FREE SHIPPING!
I was beyond thrilled when Incredibeds asked if I would review their utterly unique children's bed frames and accessories!  Riley is a huge animal lover and I just knew that she would flip to have such a cool bed in her room.  We were sent Penelope the female grizzly bear to review, and right away, I just loved the shade of brown used on this bear as well as her HUGE bear paws!  She also had a very charming and friendly face, which for some reason, reminded me of Scooby Doo.
Besides the obvious aesthetic appeal, the Incredibed hosts a ton of safety features for your child, which makes this a perfect bed for children of all ages.  First, the Incredibed's plush bed frame is nothing more than a large stuffed animal which fits around a standard American twin size mattress and foundation.
This means that there is absolutely NO METAL or sharp edges which your child could fall and hurt themselves on.  One thing that always worried me about moving Riley to a regular twin bed frame was that she would fall down while in her room and bang her head, eye, etc. on the sharp metal edges which surround the boxspring.
Next, the Incredibed sits directly on the floor itself.  This ensures that your child is no higher off the ground than need be.  My current bed frame is almost a foot high.  Couple that with the height of the boxspring plus the mattress, and that's an elevation which ends up being pretty scary and pretty dangerous for a small child.  Using an Incredibed with your twin mattress and boxspring adds no additional height to the bed, and is much safer should your child accidentally fall off of it.
This bed frame can also be WASHED in a standard washing machine and dryer!  How neat!  Each of the parts can be unzipped from each other so that you can clean your Incredibed plush bed frame should your child accidentally spill something on it or stain it in any way.  Since we are currently in the midst of potty training, it is great to know that this bed frame won't be ruined if Riley has an accident during the night.
Finally, the Incredibed offers a zipper bumper sheet which works perfectly with their plush bed frames.  The Zipper Bumper Sheet is a 100% woven cotton material which is laminated with a safe, waterproof, non-phthalate polyurethane fabric. This sheet fits every Incredibed plush bed frame, which attaches via zippers, and converts any Incredibed into a safe transition bed.
On the top sides of the sheet there are two pockets which hold one 4" diameter by 40" long polyethylene foam cylinder. The foam is a safe, non-toxic, non-phthalate, recyclable foam which helps to prevent a child from rolling out of bed at night.  With this bumper sheet in place each Incredibed bed frame is recommended for ages 18 months and up.
Think this bed frame must be difficult to install?  Think again!  Watch the following video to see just how easy it is!
I was pleasantly surprised when I first took the Incredibed bed frame out of the box and noticed that there were only a few parts included.  Fewer parts plus less installation time always equals a happy mommy!  Michael was on hand to help me install the Incredibed frame, should I need it, but he just couldn't help himself once I began to take Penelope the female grizzly bear out of the bag!  :)
After quickly installing the included furniture glides onto the bottom of the boxspring, we were ready to get to work.  We bought Riley a 14" pillow-top mattress and I was a little worried that the Incredibed frame wouldn't work with a mattress of this height.  Thankfully though, it fit perfectly and we had absolutely no issues from using a thicker mattress with it.
Penelope had to be zipped together in several places.  The good thing was that these zippers were color-coded either brown or white, so coupled with my knowledge of basic bear anatomy, it was fairly easy to get Penelope on our mattress in no time.
Another great feature about the individual zippers connecting various parts of the frame, is that if Riley happens to spill something on only one part of the bear, I can unzip just that part and wash it.  There's no need in taking the entire bed frame apart in that case.  Once Penelope was on the mattress and boxspring, it was time to pretty her up.
One set of female blue eyes was included (though different eyes are available for purchase, if you'd like) and two different tufts of hair (blond and purple) were also included.  These were very easy to secure onto Penelope's head using hook and loop attachments.  Just look at how darling she is!
Finally, I inserted Riley's pillow under the chest section of Penelope, so that Riley wouldn't be able to throw it on the floor at night, and zipped the bumper sheet around the bear's middle.  The zipper bumper sheet was neat because the foam inserts used were easy to install and they were tall enough and long enough to actually prevent Riley from rolling out of the bed while she sleeps.  Riley is such a wild sleeper that I'm sure she'll put those bumpers to the test!
Now that Penelope was all set, it was time to put her Bedjammies on to finish getting her ready for bed.  This was super easy to do, as the video below shows:
Penelope had the Princess Aruba Bedjammies to wear and they were so beautiful!  I loved the colors of blue used for these sheets and they even donned a silky white skirt around the sides with the same accents on her sleeves.  These sheets had tiny blue bows on each sleeve for a "perfectly princess" look too!  Unfortunately, I wasn't happy with the way the bottom of these bedjammies wrapped around the bear's feet.
Unlike in the video, which shows a dog wearing shorts, the Princess Aruba sheets didn't secure between Penelope's feet, but instead was one large hole that went around BOTH feet.  This ensured that there was nothing holding the center of the sheet down and it would easily flap up with little movement on the bed.  Since Riley is such a wild sleeper, I am afraid that she might get tangled in the bottom of the sheet or that she would just have this sheet ripped off the bottom of her mattress every night.  I wish that all of the bedjammies would secure in between the feet of the bed frame just like the set used in the video does.
Now that you know all of the many benefits and features of the Penelope the female grizzly bear plush bed frame, you may be asking yourself whether Riley truly liked it?  Well, I have to say that it was impossible for her to be more thrilled or love Penelope any more than she does!  Just look at the many pictures shown below of Riley's first reaction to Penelope.
As soon as we are finished with the battle of Riley removing her diaper at night, she will be moving into her new Incredibed and I know she'll be super excited!  I don't anticipate having any long transitional period either, for she already loves Penelope like this bear is one of the family.  Every day when she lays down for a nap, Riley tells Penelope good night and to have a good nap too.  She also blows Penelope kisses and tells her good night on her way to bed.
If kids like sleeping with stuffed animals for companionship and protection, then the Incredibeds plush bed frames are the ultimate in both kid security and comfort!  The great part is that they also offer so many unique safety features which parents love too, and of course are the coolest children's beds out there!
What type of bed did your child(ren) move into once they outgrew their crib?  If your child is still in a crib, what type of bed are you thinking of moving them to once they outgrow it?
Disclosure:  I received the Penelope the Female Brown Grizzly Bear Bed Frame, the Princess Aruba Bedjammies and the Zipper Bumper Transition Sheet from The Incredibeds, LLC in order to facilitate my review. No other compensation was received. This product review is based on my own personal experiences with this item and is completely honest and objective.
I'm a former 7th grade Science teacher turned stay-at-home mom that lives in Houston, Texas. I am married to my college sweetheart and have a beautiful daughter named Riley, who definitely keeps me on my toes! I am also involved in starting a small business which would both manufacture and sell an invention that I've patented, called Toothpaste 2 Go. I love interacting with my readers and hope to learn as much about you as you learn about me!
Melissa @ Mommy Living the Life of Riley!