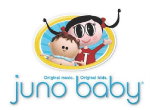 Juno Jr. is a collection of children's videos from The Juno Company that music-enthusiast parents have been waiting for. Developed by Emmy-award winning composer and mom, Belinda Takahashi, Ph.D., it features her original orchestral music compositions which you and your children will love.
This DVD is aimed at preschoolers but would be great for ages 2 and up. It's colorful and entertaining, and contains a wonderful mixture of puppets and computer animations.  Keep reading to learn much more!
In Juno Jr.'s The Day the Music Stopped, Bunny presses the big red button on Murphy's Shush Machine and she accidentally silences the town of Harmonia Springs. Juno and her friends realize that in order to bring music back to the town, she and her friends have to create their own music through melody, harmony, rhythm and most importantly friendship.
The show begins with Juno and Rai Rai in their bedroom, portrayed as puppets, with her pet cat, bunny, and a caterpillar in a jar. The three pets are real, but when Juno and Rai Rai climb aboard an imaginary train to Harmonia Springs, cat, bunny, and caterpillar transform into puppets too.

Juno and Rai Rai are the protagonists, serving as proxies for the children watching the show. Cat is polite, Caterpillar is the brainy one, and Bunny is the crazy one who does rash things like press the giant red button that says "Do Not Press!" on Caterpillar's Shush Machine. It seems Caterpillar really wanted some peace and quiet in front of the library, but like every mad scientist, his device eventually turns against him. Harmonia Springs goes completely silent!

Our crew of characters then goes on a quest to restore music to the Springs by searching out melody (tweeting birds), rhythm (the sound of the train), and harmony (musical frogs). The Juno series makes a point of explaining how music works and reinforcing that music is all around us, and this episode stays true to form. Throughout, there's some colorful but simple computer graphics, segments that encourage children to interact by answering questions or dancing, and of course a beautiful musical score.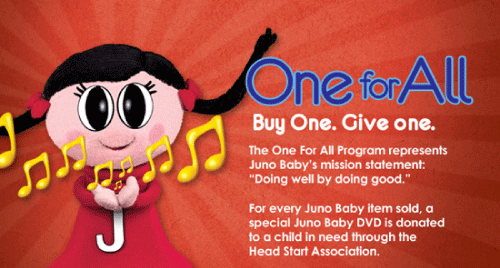 Riley really seemed to enjoy this DVD and the Juno Jr. The Day the Music Stopped is a very strong effort which adds a much needed aspect of music education to our preschool DVD collection.  If you are looking for quality children's entertainment, then I highly recommend this video!
Do you have any favorite activities to do with your children which are music-based?
Disclosure:  I received the Juno Baby DVD and Tote Bag from The Juno Company and US Family Guide in order to facilitate my review. No other compensation was received. This product review is based on my own personal experiences with this item and is completely honest and objective.
I'm a former 7th grade Science teacher turned stay-at-home mom that lives in Houston, Texas. I am married to my college sweetheart and have a beautiful daughter named Riley, who definitely keeps me on my toes! I am also involved in starting a small business which would both manufacture and sell an invention that I've patented, called Toothpaste 2 Go. I love interacting with my readers and hope to learn as much about you as you learn about me!
Melissa @ Mommy Living the Life of Riley!