Colossal Christmas Countdown:

20 Days Until Christmas!

My husband and I are known to be a little on the frugal side...okay, we're a LOT on the frugal side!  Case in point is how we choose to heat and cool our home.  Before we had our daughter Riley, we did our best to RARELY use the central heat or air conditioning.  Since having Riley, we've had to change our ways a little, but we've found that partitioning off the house and heating and cooling only specific rooms instead of the whole house, can save you BIG BUCKS!

Since Michael and I can pile under a ton of blankets at night, we almost never use our central heater then.  Of course, Riley is a constant flopper and she's all over the place while she sleeps.  Although we bundle her up in fleece footed-pajamas every night, we obviously have to make sure that her room is heated.

Portable heaters are wonderful for this purpose and I was thrilled to have the chance to review the Honeywell 360 Degree Surround Heat Heater from Kaz USA, Inc. Keep reading to learn more!
The Honeywell 360 Degree Surround Heat Heater from Kaz USA, Inc. is a very lightweight, yet sturdy, portable heater with a host of safety features making it perfect for any room where children will be present.  It is extremely easy to operate, has a carrying handle for quick movement and a large, stable base.  There are also three heat settings for energy-efficient heating, including a Fan Only option.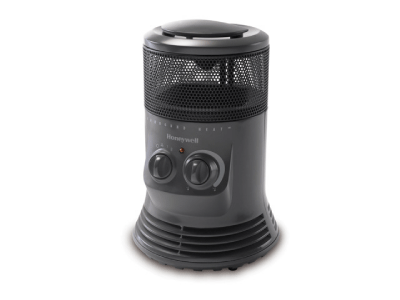 This heater has an adjustable thermostat, though unfortunately, it doesn't correlate to a temperature in degrees.  This is unfortunate, for I would just love to have the option to set this heater to 70 degrees and forget it.  But, with the meaningless heat increase dial, I have no idea what temperature this heater is being set to.  We have to constantly monitor Riley's thermometer in her room to make sure that she's not too hot or too cold.
If it weren't for Riley's room thermometer, I don't know how we'd gauge the settings on this heater.  If there was one major improvement that Honeywell could make to this portable heater, it would be to include a thermostat with numerical temperature readings.
Other than that, this heater is superb.  It can be set in the middle of the room and equally heat the entire room due to its 360 Degree Surround Heat technology.  If you have more than one child in a bedroom or are planning on using this to heat a living room, kitchen, or other room where multiple people reside, then I highly recommend the Honeywell 360 Degree Surround Heat Heater.  It also has overheat protection whereby this heater will automatically shut off if it becomes too hot as well as 360 Degree SafetyTip, which shuts the heater off if it tips over in any direction.
Now, Riley is warm and toasty in her room every night, but we don't have to waste electricity (and money) by heating the entire house needlessly.  Thanks to the Honeywell 360 Degree Surround Heat Heater from Kaz USA, Inc., we're able to regulate the heat in Riley's room individually.  If you think portable heaters are an option for you and your family, then don't hesitate to check out the large selection offered by Kaz USA, Inc.
Disclosure:  I received the Honeywell 360 Degree Surround Heat Heater HZ-0360 from Kaz USA, Inc. in order to facilitate my review. No other compensation was received. This product review is based on my own personal experiences with this item and is completely honest and objective.
I'm a former 7th grade Science teacher turned stay-at-home mom that lives in Houston, Texas. I am married to my college sweetheart and have a beautiful daughter named Riley, who definitely keeps me on my toes! I am also involved in starting a small business which would both manufacture and sell an invention that I've patented, called Toothpaste 2 Go. I love interacting with my readers and hope to learn as much about you as you learn about me!
Melissa @ Mommy Living the Life of Riley!