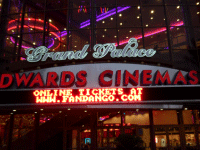 I recently had the opportunity to attend a screening of the new Warner Bros. romantic comedy, Life As We Know It, starring Katherine Heigl and Josh Duhamel.  I was never a big fan of this genre until I had Riley, and now it seems that I can't get enough of movies with small children being adorable in them!
The screening took place at the Edwards Grand Palace Cinema, which was a unique experience in itself.  This was a huge two-story movie theater with large movie inspired murals painted everywhere, grand chandeliers and bright carpeting...what a neat place to see a film!
Life As We Know It depicts a story about Holly Berenson (Katherine Heigl) and Eric Messer (Josh Duhamel) in their quest to raise their goddaughter, Sophie, together.  The problem?  Holly and Eric literally hate each other!  They went out on a date together once and had a horrible time.
The only thing they could agree on was how much they disliked each other.  Unfortunately, a tragic car accident kills Allison and Peter, Sophie's parents, leaving Holly and Eric to pick up the pieces and come together in one house in order to care for Sophie.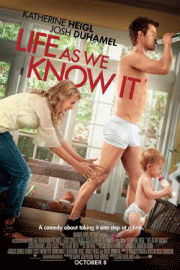 As if that weren't bad enough, Holly and Eric both have their busy careers to think of, which are just starting to take off.  Holly is a great caterer and is beginning to get really big jobs and Eric is struggling to fulfill his dream of being a network sports director.  I have to admit that while this plot is fairly predictable and you can see the ending coming a mile away, it is still worth going to see.
There were so many places in this movie that I laughed, smiled and was reminded of my own daughter.  I also liked the romantic aspect to this movie for Katherine and Josh had pretty good chemistry together.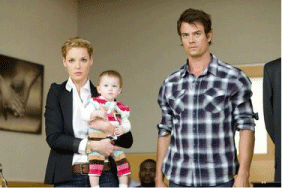 Of course, there were even a few scenes where I found myself tearing up.  I don't want to reveal too much about this movie, since it doesn't open until October 8th, and I don't want to ruin it for anyone, but I will say that it is definitely worth going to see with someone you love.
If you are a parent, you will be reminded of the trials and tribulations which come with raising a child and I'm sure you will enjoy this movie.  Children are so precious and worth making any sacrifice for and the little moments in life, like watching their first steps, make it all worthwhile!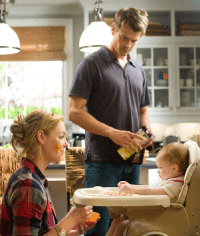 I was also glad to see that Jean Smart had a role in this movie!  I've loved watching her since "Designing Women" and it's always a nice surprise when she shows up in a movie role.  Life As We Know It opens nationwide on October 8th...if you're looking for a heartfelt, feel-good movie, then run and go see this one!
Disclosure:  I received two movie tickets and a gift card from Warner Bros. and Mom Central in order to facilitate my review. No other compensation was received. This movie review is based on my own personal experiences and is completely honest and objective.
I'm a former 7th grade Science teacher turned stay-at-home mom that lives in Houston, Texas. I am married to my college sweetheart and have a beautiful daughter named Riley, who definitely keeps me on my toes! I am also involved in starting a small business which would both manufacture and sell an invention that I've patented, called Toothpaste 2 Go. I love interacting with my readers and hope to learn as much about you as you learn about me!
Melissa @ Mommy Living the Life of Riley!