Being a mom means being able to cook up wonderful tasting meals for your family, both day and night.  In order to help make cooking both easy and fun, it definitely helps to have top performing cookware pieces at your disposal.
Mauviel is a French company that has been making the most elite handcrafted cookware pieces since 1830 and they were gracious enough to allow me to review the 9.5" stainless steel frying pan from their M'Cook line.  Did it perform better than any pan I've ever used before?  Keep reading to find out!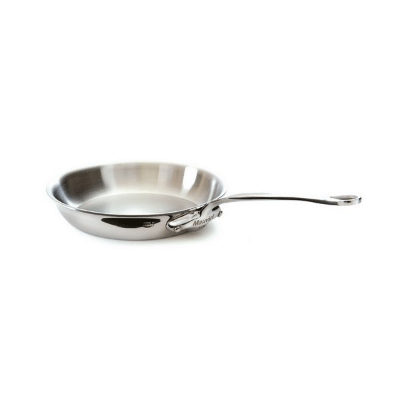 From the moment I saw the M'Cook 9.5" Stainless Steel Fry Pan from Mauviel, I was impressed by the overall beauty and design of this piece of cookware.  The solid stainless steel construction with matching stainless steel handle looked extremely durable and had a nice heft to it in my hand.  I loved how the oversized handle was attached via two stainless steel rivets so that the handle was permanently affixed to the pan.  I've had very inexpensive cookware in the past which only used screws to adhere the handle to the pot and before too long, the handle was loose and would eventually come off.
The stainless steel rivets guarantee that the handle will stay put and is always a sign of a quality piece of cookware.  Another great feature of the M'Cook line of cookware from Mauviel is that they offer three different styles of handles on all of their M'Cook pieces.  Choose either stainless steel, bronze or cast iron handles to match your personal preference and/or kitchen decor.
I also noticed the pouring rim surrounding the M'Cook 9.5" Fry Pan, which is very handy and convenient.  Now, I won't have to worry about making a mess when trying to pour broth, gravy or juices from this pan into another container or serving dish.  The Mauviel M'Cook line of cookware is also designed to have professional diameters and high sides, which are perfect for both the professional and home chefs.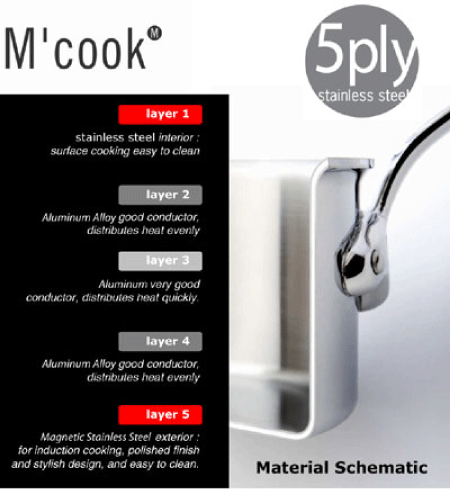 The best feature of the Mauviel M'Cook line of cookware is that it is constructed of 2.6 mm thick 5-ply stainless steel/aluminum/aluminum alloy material.  The 5-ply construction basically works like a sandwich.  The middle layer (layer 3) is composed entirely of pure aluminum, which is an excellent conductor of heat, yet is very pliable and not extremely durable.
Thus, this middle layer is sandwiched between two aluminum alloy sheets (layers 2 and 4), which also ensure that heat will be distributed evenly and quickly throughout the pan.  Finally, these three layers are sandwiched between two layers of stainless steel (layers 1 and 5) for extreme durability, stylish design and easy cleaning.
The stainless steel exterior of this pan has even been magnetized so that it can be used on absolutely any cooking surface, including induction ranges.  The M'Cook 9.5" Fry Pan is oven safe to 680 degrees and even has a LIFETIME GUARANTEE!
One of the things I love about stainless steel cookware is that it is dishwasher safe, since you don't have a nonstick surface to protect.  Many people complain though about cooking with stainless steel, for they claim that their food always sticks to the surface of the pan and then basically becomes baked on and is a nightmare to clean.
Most all of the cookware in my home is stainless steel and the trick to cooking with it is to make sure that the pan is properly heated before adding the oil or butter to the pan.  This can be done successfully by performing the water test.  If you'd like more information about how to perform the water test, then please see the following instructional video from the Rouxbe Cooking School:
Once I had heated my M'Cook Stainless Steel 9.5" Fry Pan to the proper temperature using the water test, I added a small amount of olive oil and then shortly thereafter, two seasoned chicken cutlets.  I loved how well the pan heated up and I noticed that the sides of the pan were cooking the chicken just as well as the center of the pan, thanks to the 5-ply technology and even heat distribution of the aluminum core.
Before long, the cutlets were cooked to perfection and with a little hot water and some Bar Keepers Friend, my new fry pan looked beautiful again!  I highly recommend the M'Cook Stainless Steel 9.5" Fry Pan from Mauviel, for this is definitely one of the best pieces of cookware in my collection.  With proper care, there is no doubt that the Mauviel M'Cook collection will bring you a lifetime of cooking enjoyment!
Additional Top-Quality Cookware from Mauviel:
What features have you come to look for when buying cookware for your kitchen?
Disclosure:  I received the M'Cook Stainless Steel 9.5" Round Frying Pan with Stainless Steel Handle from Mauviel USA, Inc. in order to facilitate my review. No other compensation was received. This product review is based on my own personal experiences with this item and is completely honest and objective.
I'm a former 7th grade Science teacher turned stay-at-home mom that lives in Houston, Texas. I am married to my college sweetheart and have a beautiful daughter named Riley, who definitely keeps me on my toes! I am also involved in starting a small business which would both manufacture and sell an invention that I've patented, called Toothpaste 2 Go. I love interacting with my readers and hope to learn as much about you as you learn about me!
Melissa @ Mommy Living the Life of Riley!