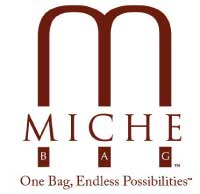 There's only one thing I love more than clothing and jewelry, and that is designer handbags!  I seem to have a closet full of wonderful purses of all shapes, sizes and colors, but I've noticed one peculiar thing...  As much as I love carrying different handbags, I absolutely dread having to take all of my belongings out of my purse and reorganize it into a new one, which is why I tend to carry the exact same handbag for a really long period of time.
If only it weren't so hard to change handbags, I would literally carry a new one every day to match whatever mood or outfit I was wearing at the time.  If you are like me and dread the changing of the purses, then Miche Bag is the solution for you.  They have an entire line of interchangeable purses so that changing out your handbag takes only seconds.  Keep reading to learn more!
I reviewed the Classic Base Bag in Black and the Tammy Shell from Miche Bag, which retails for $37.95 and $32.95, respectively.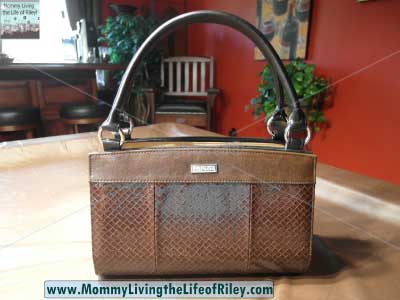 I had the supreme pleasure to review one of the medium-size handbags from Miche Bag, called the classic.  The Miche Bag designer purse collection actually allows you to quickly and easily swap handbag styles so that you can literally carry a different handbag every day without the hassle of moving all of your belongings from purse to purse.  How could they accomplish something so useful as that?
They do it by offering three different size base bags (the big, classic and mini) which actually hold your purse's possessions.  If you want to change the look of your purse, simply wrap a patterned shell around the base bag and voila! You're all set to style with a completely different look!
The classic base bag comes in your choice of three colors (brown, black or cream) and measures 5.75" (wide) x 11.75" (long) x 6.5" (tall).  This base bag also has detachable 15" handles with silver-colored hardware and a 7" drop.  The inside of this bag features a tan canvas interior with two small elastic pockets on one side and a large zippered pocket on the other.
I was also sent the Tammy Classic Shell and I absolutely loved the style and design of this outer shell.  It boasted a smooth russet-colored panel across the top containing the Miche logo, while the bottom of this shell contained three panels of criss-cross patterned faux leather.  In order to apply the shell to the classic base bag, simply wrap it completely around.  There are magnets along the top of both the classic base bag and the shell which attach them together.
Personally, I loved the Tammy Classic Shell, but have to admit that I didn't like the way that the black classic base bag could still be seen from the top and from the sides.  Maybe it wouldn't have been so noticeable if the base bag would have been brown, but I'd rather not see any of the base bag, if possible.
I love the way the big bag shells wrap completely around the base bag showing only the handles, but in the case of the classic, the shell secures to the outside only.  I still think this purse is absolutely gorgeous though and love how quick and easy it is to change shells.  My wallet, keys, cell phone and other miscellaneous items fit perfectly inside and I always feel both trendy and stylish when I carry this handbag.
If you are a designer handbag maven who would love to seriously cut down on the time it takes to switch out your purse to a different one, then I highly suggest shopping the large selection of sizes and styles offered by Miche Bag.  Their base bags' make organizing your stuff super easy and now it only takes seconds to completely change your handbag's style and personality!
Disclosure:  I received the Classic Base Bag and Tammy Shell from Miche Bag in order to facilitate my review. No other compensation was received. This product review is based on my own personal experiences with this item and is completely honest and objective.
I'm a former 7th grade Science teacher turned stay-at-home mom that lives in Houston, Texas. I am married to my college sweetheart and have a beautiful daughter named Riley, who definitely keeps me on my toes! I am also involved in starting a small business which would both manufacture and sell an invention that I've patented, called Toothpaste 2 Go. I love interacting with my readers and hope to learn as much about you as you learn about me!
Melissa @ Mommy Living the Life of Riley!