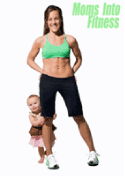 We moms have all been there at one point in our lives.  You've just had a baby and are cleared by your doctor to begin exercising again.  After taking a good look at yourself, you realize that things are definitely not looking as you left them 9 months ago!  But where do you begin to get your body back on track?
Well, Lindsay Brin has had this exact experience...twice, and as a mother of two in tremendous shape, she knows just how to reshape your core and burn away those extra pounds.  I recently had the opportunity to review her 60 Day SlimDown System, which includes a 60 day meal plan, calendar, progress tracker, fit level test and 4 DVDs.  Keep reading to learn how the 60 Day SlimDown could be your key to a new body in the new year!
Receive 30% OFF the 60 Day SlimDown System when using coupon code "60daydvd30".
Just released from Moms Into Fitness! This Cutting Edge System will boost your metabolism and have the pounds melting off within the first 10 days. Get started today with the 3-phase Nutrition Plan any mom can follow, a detailed Fitness Calendar and Progress Tracker. Check your fitness level on Day 1 & Day 60 with the Fitness Test to see the stronger, leaner, new you.
Set Includes:
4 DVDs (Shed 5 Fast, PostNatal Boot Camp, Core Metabolic Jumpstart & the CFS Method)
60 Day Meal Plan
Fitness Test
Progress Tracker
In Phase 1 all workouts can be done in 30 minutes or less. Then in Phase 2 you will challenge your body even more so you continue to shred your core - and lose even more fat! All in 45 minutes or less. Also included, a bonus Phase 3 so you learn how to see results after the initial 60 Days.
In 60 days you will Super Charge your body for the Ultimate Slim Down. All you need is 1-2 sets of weights!
The 3-Phase Meal Plan is simple. No grocery lists, no tofu and broccoli, we are talking REAL meals! Pork Tenderloin, Grilled Cheese, Smoothies, Shrimp Tacos and much, much more! The recipes are designed for the whole family to enjoy. Then in Phase 3 Lindsay teaches you how to do it on your own, easy as 5-4-3-2-1.
You can even use the 60 Day System if you are breastfeeding! Simply follow a few rules in each of the 3 Phases of the Nutrition Plan.
Each DVD will challenge your body in a different way with so many workouts your body will continue to get leaner and leaner. Postnatal Boot Camp will have you doing Intense Interval Training to jumpstart that body! In the CFS Method DVD you will train your core to fire from the inside-out, creating ab muscles that work like a Corset. Then Core Metabolic Jumpstart will have your metabolism boosting while shredding the core. And Shed 5 Fast will melt off the pounds!
Note: Your 60 Day Meal Plan Packet is a download. You will find the link to your download in your package.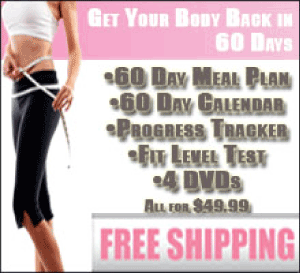 I've only had the 60 Day SlimDown for a few days and must admit that I haven't had the opportunity to personally try many of the elements yet, though they all look very interesting and Lindsay Brin has to have some of the best abs in the business!  I found her blog photos very inspiring, because she shows you week by week how she transformed her body through eating right and exercising.
In only 21 weeks, Lindsay went from still looking as if she were pregnant to a rock-hard body that anyone would die for!  Since my goal is to lose around 8-10 pounds, I know that with the right routine, I could achieve these same results much faster.  I definitely plan on downloading the 60 Day Meal Plan, Progress Tracker and Fit Level Test as well as integrating these videos into my workout routine.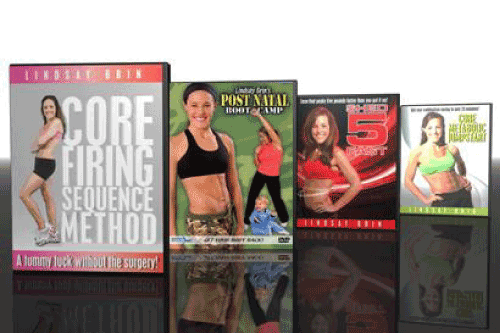 I did have time to check out one of the DVDs that I plan to use quite often...the Shed 5 Fast.  I really liked this video for it provided cardio and maximum fat burning in only 30 minutes.  Lindsay uses interval training to really help melt away those unwanted pounds and she promises that you'll lose at least 5 pounds in just the first three weeks.  Now, I can help undo all of the holiday damage I did to my waistline!
Lindsay utilizes the 3/3 interval method, which is 3 minutes of toning followed by 3 minutes of cardio to effectively boost your metabolism and get you firm fast.  I like how she has several new moves I've never seen before and is also very energetic and fun during the workout.
I definitely appreciate having both the diet plan and fitness plan mapped out for me for an entire 60 days, making this workout regimen a total no-brainer.  After that, Lindsay includes a general exercise guide for permanently maintaining your hard-earned results.
The 60 Day SlimDown is a very comprehensive and detailed plan which includes all of the steps needed to achieve real results.  I think this is an extremely affordable solution for any woman who would like to transform their physique and improve their overall health.  Lindsay Brin has brought her body back from the brink, twice, and has created an easy-to-follow way to achieve these same results, and shared it with the rest of us!
Additional Fitness Products from Lindsay Brin:
What tips do you have for whipping your body back into shape after having a baby?
Disclosure:  I received the 60 Day Slimdown System from Moms Into Fitness and MamaBzz in order to facilitate my review. No other compensation was received. This product review is based on my own personal experiences with this item and is completely honest and objective.
I'm a former 7th grade Science teacher turned stay-at-home mom that lives in Houston, Texas. I am married to my college sweetheart and have a beautiful daughter named Riley, who definitely keeps me on my toes! I am also involved in starting a small business which would both manufacture and sell an invention that I've patented, called Toothpaste 2 Go. I love interacting with my readers and hope to learn as much about you as you learn about me!
Melissa @ Mommy Living the Life of Riley!