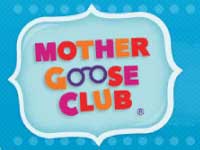 My daughter has a few television shows that she just can't get enough of.  Her favorites include Sesame Street, Caillou and the Wiggles.  I love watching how excited and enthralled she becomes while watching these shows and they have really helped in developing her vocabulary too.  Ever since Riley was a baby, her father and I have been reading the classic Mother Goose nursery rhymes to her and she absolutely loves them.
So I was excited to discover a brand new collection of DVDs, music CDs and even a coloring book that center around those popular children's rhymes called the Mother Goose Club.  Did this collection get Riley's seal of approval?  Keep reading to find out!
I reviewed the Mother Goose Club Super Pack, which includes the DVD, CD Volumes 1 and 2, Coloring Book and Sticker Pack, and retails for $32.00.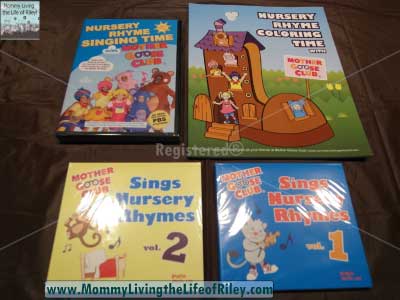 We received four items from the Mother Goose Club which included two audio CDs, a DVD movie and a coloring book.  Michael and I were very thankful for the two new audio CDs from the Mother Goose Club, for we were growing quite tired of the 12 or so tracks on the Elmo's Greatest Hits CD we currently listen to in the car.
Riley immediately took to these new CDs, for unlike the Elmo songs, she already knew the words to most of the songs included.  Since these songs were taken from the familiar nursery rhymes we've all grown up with, Michael and I knew these rhymes very well too, giving us plenty of instant family singalongs in the car!
The DVD was the only piece of this collection that I was unsure of.  I didn't know how Riley would take to the Mother Goose Club, simply because she was already so loyal to Elmo, Caillou and the Wiggles.  We've tried exposing Riley to other quality shows such as the Bernstein Bears and Sid the Science Kid, but to very lukewarm results.  I didn't think anything would be able to replace these top 3 characters for her, but the Mother Goose Club actually did the impossible!
Riley LOVES this DVD and quite frankly, prefers watching it over any of the other three television shows that were her favorites before.  I was stunned at how she took to the bright colors and backgrounds, catchy tunes and music, infectious laughter and lovable Mother Goose Club characters.  Just look at how involved Riley becomes while watching the Mother Goose Club DVD:
Now if that's not a ringing endorsement, I don't know what is!  Riley even loves these characters so much that she frequently calls herself "Eep" (the name of the small mouse character) and then calls me "Baa Baa Sheep".  It's so cute how involved she becomes every time this DVD is played and I've already noticed an increase in her rhyming and counting skills since becoming a fan of the Mother Goose Club.
If you have a preschool age child or toddler that loves the classic Mother Goose children's nursery rhymes, then I highly recommend bringing those rhymes to life with the Mother Goose Club!
Disclosure:  I received the Mother Goose Club Super Pack from the Mother Goose Club and Team Mom in order to facilitate my review. No other compensation was received. This product review is based on my own personal experiences with this item and is completely honest and objective.
I'm a former 7th grade Science teacher turned stay-at-home mom that lives in Houston, Texas. I am married to my college sweetheart and have a beautiful daughter named Riley, who definitely keeps me on my toes! I am also involved in starting a small business which would both manufacture and sell an invention that I've patented, called Toothpaste 2 Go. I love interacting with my readers and hope to learn as much about you as you learn about me!
Melissa @ Mommy Living the Life of Riley!