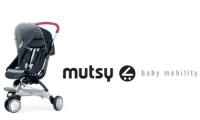 For the past few weeks, I've been noticing that Riley is growing tired of her high chair.  She is far more interested in what her father and I are doing at mealtimes and really seems like she wants to be included at the dinner table with us.  When we're not eating, she will frequently go into the kitchen and climb up on one of our dining chairs to "sit".
I've also noticed how much she enjoys being at the table with us when we're out at a restaurant to eat.  Before bringing Riley to the dining room table for good, I wanted to make sure she had a very safe and sturdy permanent booster seat to sit in, so that we could all enjoy a good meal together as a family!  Mutsy came to my aid with the Grow-Up! Booster seat, which I had the opportunity to review.  Keep reading to see what Riley and I both thought of it!
I reviewed the Grow-Up! Booster Seat from Mutsy, which retails for $59.00.
Click here to view a video detailing the story of how the Grow-Up came to be!
The first thing that impressed me about the Mutsy Grow-Up! had to be the overall style and look of this seat.  I thought it had a neat modern flair and I loved the bright green color!  The Grow-Up! is also made out of a sturdy, yet comfortable foam-like material which makes for a very cushy seat for your toddler.  It is recommended for children up to 4 years of age and elevates them to just the right height when used in a regular adult dining chair.
Installing the Grow-Up! was a breeze!  Simply fasten one set of nylon straps under the chair you wish to secure the Grow-Up! to and then fasten the other set of straps around the back of the chair and tighten.  Once I did this, the Grow-Up! seat didn't move at all and I felt very reassured in Riley sitting there.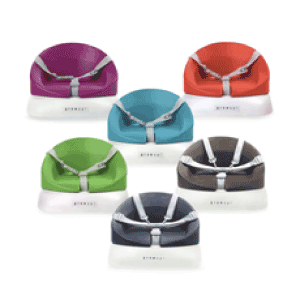 The Mutsy also has a very secure harness system which insures your little one doesn't go sliding out of the Grow-Up!, no matter how rambunctious they get!  There is a lap belt as well as a shoulder strap for each shoulder which really holds your child to the seat.  Because Riley doesn't like to wear the shoulder straps, we only use the lap belt when we're right there at the table with her.
These shoulder straps can easily be unclipped, making them very simple to take off and on.  When Riley is sitting in the Grow-Up! while playing at the kitchen table, I may be further away from her and then we make using the shoulder straps mandatory.
The Mutsy Grow-Up! seat is a fun, stylish and safe way to include Riley at our dinner table.  She feels like such a big girl because she is no longer confined to her high chair and often mimics her father and I when we eat now.  I'm so happy that Riley loves sitting in the Grow-Up!, not just at meal times, but anytime that I'm in the kitchen and she wants to play at the table.  Thanks to Mutsy, we are now a table of THREE!
Mutsy also carries a wide variety of strollers too!
Fashion and functionality are offered with Mutsy's 4Rider Light, the superior baby transport choice for parents on the go. This lighter-weight version of the 4Rider has durable tires on jaunty spoked wheels for even more maneuverability. As with every Mutsy frame, the 4Rider Light can be combined with a full-sized, cosseting bassinet and a separate, fully reclining, spacious seat.
The 4Rider next has the same functionality and modern, minimalist look as the 4Rider but with a luxurious leather handle. This stylish frame can be combined with all 9 Rider colors. Your complete 4Rider 'Next' comes with fully-reclining seat with head enclosure, leg support and its own full-sized hood. A bassinet is available separately.
This light flexible combi-buggy can be used in combination with a carry cot, a seat cover, and different car seats. This buggy is characterised by its ease of operation, a height adjustable push bar and its compact volume when folded.
The Easyrider is a basic buggy, fitted with small swivel wheels at the front, plus canopy and adjustable back.
Mutsy's solution for parents with two young children (mom can now use her 4Rider chassis even after the arrival of a new member in the family!), the Duoseat is a special insert with two seats that can be combined with the 4Rider stroller chassis.  The Duoseat's compact styling offers the benefit of being able to transport two children without the hindrance of a double width stroller.  The seat allows for easy turning in tight places and full access even through the narrowest of doors.
When did you know it was time to move your little one from the high chair to the table?
Disclosure:  I received the Grow-Up! Booster Seat from Mutsy in order to facilitate my review. No other compensation was received. This product review is based on my own personal experiences with this item and is completely honest and objective.
I'm a former 7th grade Science teacher turned stay-at-home mom that lives in Houston, Texas. I am married to my college sweetheart and have a beautiful daughter named Riley, who definitely keeps me on my toes! I am also involved in starting a small business which would both manufacture and sell an invention that I've patented, called Toothpaste 2 Go. I love interacting with my readers and hope to learn as much about you as you learn about me!
Melissa @ Mommy Living the Life of Riley!