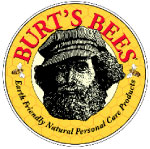 When it comes to getting older, there's one phrase that is definitely not in my vocabulary:  "Aging Gracefully".  I plan on fighting the signs of aging with all of my might and am not letting those fine lines and wrinkles appear on my face without a fight!
Of course, there are more radical ways to combat an aging face, such as through facelifts and various injectables, but Burt's Bees has found a way to battle prematurely aging skin with their Naturally Ageless line of skin care products.  I had the opportunity to review four of their Naturally Ageless lotions and creams.  Keep reading to find out more about them!
I've been using Burt's Bees lip balm for what seems like forever.  I have never found another product which glides on so smoothly and moisturizes my lips so well.  I also love that every item manufactured by Burt's Bees is guaranteed to be completely natural, meaning that it is free from paraben, phthalate, sulfate, artificial colors and petrochemicals.  So, I was excited to see what they had concocted with their Naturally Ageless skin care line.
The Naturally Ageless products are all based on the power of pomegranate, which is a wonderfully nutritious and powerful fruit with a rich history of use in traditional medicine.  The reason being because pomegranate is abundant in antioxidants known to fight free radicals that damage and prematurely age skin.  Although pomegranate is the primary ingredient in the Naturally Ageless creams and lotions, Burt's Bees has also included other powerful natural ingredients such as:
Para Cress, a South American plant known to relax expression lines and smooth skin
White Birch Bark, a North American tree known to help increase skin firmness
Magnolia, a flower found in the Americas and Asia known to reduce dark circles around the eye area
Borage and Evening Primrose Oils, flowers found in Europe known to improve skin's firmness and inhibit skin's aging effects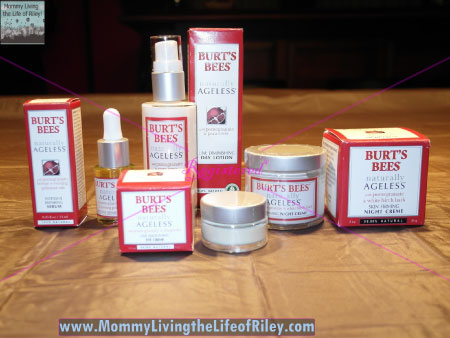 So far, I've been pretty lucky to have avoided a lot of wrinkles on my face.  The only ones that plague me are the laugh lines around my mouth.  I was really hoping that the Burt's Bees Naturally Ageless products would help reverse this sign of aging.
I have to say that I am thrilled with the Naturally Ageless skin care line, for each product I used seemed to make my face appear more youthful.  All of these products have a light and fruity scent that I enjoyed and none of them made my face appear greasy or oily.  Also, since I tend to break out quite often, I was a little nervous about trying a new set of skin products, for usually this is a recipe for disaster with my skin.  But, with the Burt's Bees cremes, my skin didn't get irritated or break out.  As a matter of fact, it actually appears a little clearer than it did before using them.
The Skin Firming Night Creme was a delight to use and even made my skin feel firmer after just a few uses.  It is super rich and creamy and trust me when I tell you that a little goes a long way.  The Line Diminishing Day Lotion is very lightweight and absorbs quickly into your skin.  I instantly feel refreshed when I put this on and notice that my makeup goes on much smoother and looks better too when I'm wearing the Day Lotion underneath.
The Line Smoothing Eye Creme made me look much more relaxed and not as tired as before.  I think that my eyes appear brighter and my fine lines under my eyes don't seem as noticeable either.  I love how moisturized this delicate skin feels after applying the creme and will definitely continue using this product.  Finally, the Intensive Repairing Serum is extremely thick and oily and at first, I was worried that my pores would become clogged from using it, but that didn't happen at all.  I only use it at night though, since it is so thick, but am happy with the results.
My deep laugh lines seem smoother and my skin is definitely more radiant than it's looked in a long time.  All you need is a few drops to cover your entire face, so even this small bottle will last you several months.
I feel like I have more of a glow to my skin after only using these products for a few weeks.  Speaking as a self-proclaimed skin care maven who has pretty much tried anything and everything there is to get my skin to look great, I am really impressed by the results I've seen from the Burt's Bees Naturally Ageless products.  I highly recommend giving them a try to see if they'll work just as well for you too!
How do you keep your skin looking as youthful as possible?  Have any beauty secrets you'd like to share?
Disclosure:  I received four Naturally Ageless skin care products from Burt's Bees in order to facilitate my review. No other compensation was received. This product review is based on my own personal experiences with this item and is completely honest and objective.
I'm a former 7th grade Science teacher turned stay-at-home mom that lives in Houston, Texas. I am married to my college sweetheart and have a beautiful daughter named Riley, who definitely keeps me on my toes! I am also involved in starting a small business which would both manufacture and sell an invention that I've patented, called Toothpaste 2 Go. I love interacting with my readers and hope to learn as much about you as you learn about me!
Melissa @ Mommy Living the Life of Riley!