There are many times that I'd love to drown out the world for a while and focus on the music or movie I'm listening to at that time.  For instance, if I'm going for a long walk or jog through the park, I'd love to become engrossed in the music coming from my iPod.  While traveling, especially while flying, I love having the opportunity to wile away the hours with my portable DVD player and enjoy a great movie.
Of course, in order to fully experience these activities, a high-quality set of headphones is key.  Able Planet designs and manufactures innovative audio products containing their patented LINX AUDIO technology.  I recently had the opportunity to review a pair of their EXTREME Foldable Active Noise Canceling Headphones.  Keep reading to learn more!
Right away, I appreciated the design of the Able Planet EXTREME Foldable Active Noise Canceling Headphones, for they completely covered the ears in the classic earmuff style.  Personally, I have never been impressed by the earbud style headphones, for I never can truly experience the sound as it was intended to be listened to.
First of all, an earbud actually stuck inside your ear is pretty gross, especially if you plan on sharing your headphones with another person.  Secondly, earbuds never seem to deliver really great sound because your ear is also picking up so much background noise which interferes with what you're trying to listen to.
Unfortunately, the classic earmuff style headphones are usually bulky and heavy, which makes the earbuds such a terrific on-the-go alternative.  This is where Able Planet shined in their redesign of the classic headphones.  The EXTREME Foldable Active Noise Canceling Headphones are very lightweight, weighing just a little over a pound.
They are also extremely comfortable.  I've had headphones like this in the past, which squeezed and pinched my ears, but the EXTREME headphones put hardly any pressure on my ears and were easy to forget they were on at all.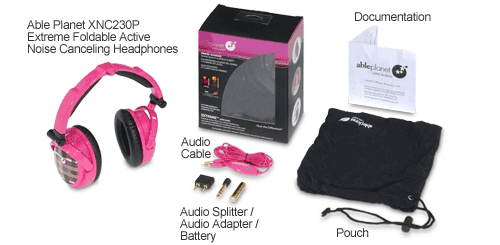 In order to make these headphones travel-friendly, Able Planet designed them to fold up and even provided a soft travel case to store them in.  I love how compact these headphones are when folded and how easy they are to take anywhere.
As soon as I put them on, I could hear a tremendous reduction in the background noises around me, and once I actually turned the volume to my iPod up, all I could hear was the wonderful music coming from my player.  It's been so long since I've listened to music from headphones like these and I forgot how intricate your favorite songs really are.
For instance, I was listening to the Aaron Neville hit, "Everybody Plays the Fool", with the Able Planet headphones, which I've heard on the radio a ton of times.  But listening to it this time, I heard a marvelous amount of detail in the drums and a constant play back and forth between left and right speakers that I never knew was there before.
It was almost like I was listening to this song again for the first time!  The audio was clean and crisp, and there was the perfect amount of bass blended with mid's and high's.  I only intended on listening to a few songs on my iPod for the purpose of this review, but ended up dedicating over 30 minutes to this review's research.  :)
I also thought it was a nice touch for Able Planet to include both the 1/4" home stereo adapter and the airplane adapter with these headphones.  Now, I am guaranteed to always have the appropriate adapter I need to listen to any device out there.  Having the soft drawstring pouch to store them in, means that I will always have all of my adapters with me when I need them too.  The 3.5 mm plug even has an in-line volume control for quick and easy adjustment to safe listening levels.
As I'm sure you can tell by now, I am a huge fan of the Able Planet EXTREME Foldable Active Noise Canceling Headphones!  This is one product that is so well designed, that I actually don't have one negative thing to say about it.  If you are looking for a terrific way to plug in and tune out all of the distractions around you, both at home or on-the-go, then I highly recommend purchasing a pair of these headphones!
Disclosure:  I received the EXTREME Foldable Active Noise Canceling Headphones (XNC230P) from Able Planet in order to facilitate my review. No other compensation was received. This product review is based on my own personal experiences with this item and is completely honest and objective.
I'm a former 7th grade Science teacher turned stay-at-home mom that lives in Houston, Texas. I am married to my college sweetheart and have a beautiful daughter named Riley, who definitely keeps me on my toes! I am also involved in starting a small business which would both manufacture and sell an invention that I've patented, called Toothpaste 2 Go. I love interacting with my readers and hope to learn as much about you as you learn about me!
Melissa @ Mommy Living the Life of Riley!