Colossal Christmas Countdown:

35 Days Until Christmas!

Recently, my daughter was introduced to the wonderful world of Play-Doh and she's been hooked on it ever since!  She just loves squishing the colorful dough in her hands and doing her best to create something brand new with it.  The one thing that Riley loves above everything else though is Elmo.

Absolutely NOTHING can compare with Elmo, so I thought it was a stroke of pure genius when I learned that Play-Doh had teamed up with that furry red monster to bring you Shape & Spin Elmo!  Keep reading to find out what Riley thought of this new combination.
Shape & Spin Elmo has two fun play modes designed to help your child learn to count as well as identify shapes.  In mode 1, Elmo helps teach your child different shapes by announcing out loud what each shape is.  The Shape & Spin Elmo has six shapes to make including a circle, square, hexagon, triangle, pentagon and octagon.
When you press the large red button on the front of the toy where the number one is, Elmo will announce what shape your child has just made and he will also count the shapes too.  It wasn't long before Riley had followed suit and was counting right along with Elmo!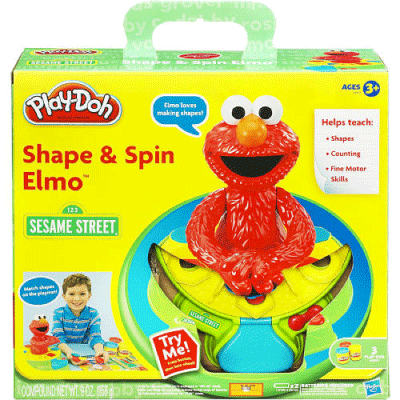 In mode 2, Elmo begins asking your child to make specific shapes and corrects your child when they don't make the appropriate one asked for.  Since shapes are one of the more difficult concepts for children to learn, especially pentagons, hexagons and octagons, I thought that mode 2 was especially helpful and definitely more advanced.
Elmo even describes the shapes by telling your child how many sides each one has.  Later, Elmo asks your child to make a specific shape based on the number of sides only.  This level of questioning helps to solidify the concept in children's minds and develop their understanding.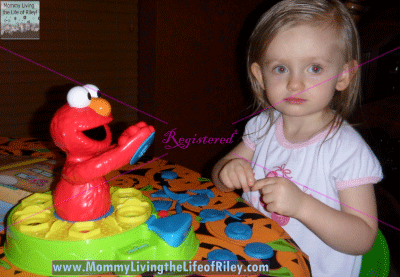 Riley and I had a ball playing with the Shape & Spin Elmo and counting the various shapes we made in the different colors we made them in.  Of course, with Play-Doh there is plenty of room for creative fun without Elmo.  Just look at the beautiful blue bracelet Riley is wearing in the picture below.
The Shape & Spin Elmo toy also has three Sesame Street face plates which can be attached to the bottom of Elmo's hands.  When you press out a shape, the face plate you selected would then become imprinted on it.  Unfortunately, I didn't find the face shape feature to work very well and most of the time which face you imprinted couldn't easily be recognized.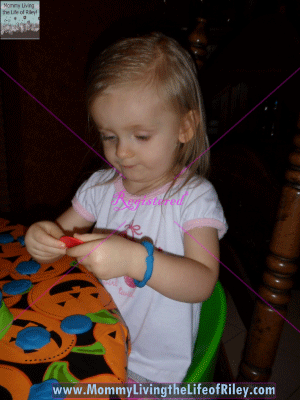 This toy definitely inspires imaginative play and had Riley in the mood for creating large balls of Play-Doh and sorting them on top of the Shape & Spin Elmo.  I don't exactly know why she was doing this, but she had a ton of fun doing it!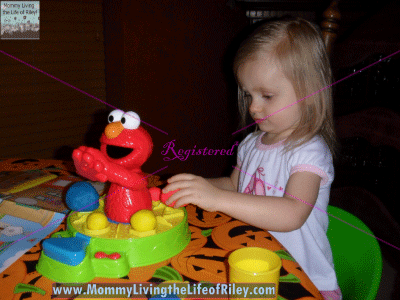 Play-Doh has definitely created a wonderful toy any Sesame Street fan will adore!  If you are looking for a great way to integrate shapes, colors and counting into your little one's play time, then I highly recommend the Shape & Spin Elmo.  Your child will have a blast now that they're able to play with Elmo AND Play-Doh at the same time!
Disclosure:  I received the Shape and Spin Elmo from Play-Doh in order to facilitate my review. No other compensation was received. This product review is based on my own personal experiences with this item and is completely honest and objective.
I'm a former 7th grade Science teacher turned stay-at-home mom that lives in Houston, Texas. I am married to my college sweetheart and have a beautiful daughter named Riley, who definitely keeps me on my toes! I am also involved in starting a small business which would both manufacture and sell an invention that I've patented, called Toothpaste 2 Go. I love interacting with my readers and hope to learn as much about you as you learn about me!
Melissa @ Mommy Living the Life of Riley!