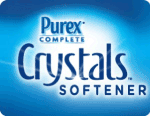 Laundry softener is a product that I've always wanted to use, but for various reasons, have always been unable to.  First of all, typical laundry softeners are oil-based and will coat fibers with an oily residue which can destroy certain properties of specialized fabrics.  A lot of Riley's clothes are flame-retardant, but this safety benefit can only be retained if fabric softener isn't used.
Michael and I also have a lot of athletic clothing which has the wicking ability to draw sweat away from the body.  Again, if fabric softener is used, this moisture wicking property will be destroyed.  Fabric softeners are also one of the main culprits in the yellowing or graying of white clothing.
Finally, I hated waiting for the rinse cycle to pour in the fabric softener and then being left with a bunch of caked on gunk inside my washing machine.  Purex has invented a terrific new fabric softener which eliminates all of these previous softener downsides called Purex Complete Crystals Softener.  Keep reading to learn more about the product that can transform your laundry into soft, sweet-smelling goodness!
I reviewed the Purex Complete Crystals Softener, which retails for $3.99-$5.99, depending on the merchant and is available at food, drug and mass retailers nationwide.
WHY IT'S DIFFERENT > SAFE FOR ALL LAUNDRY AND BETTER FOR FABRICS
Do ALL of your laundry—worry free! Purex Complete Crystals Softeners are safe for all laundry and will not harm, wear down or discolor your fabrics like oil-based softeners.  Safe for all fabrics, including baby clothes, athletic wear, towels, and whites. Unlike other softeners, Crystals WILL:
Preserve the flame retardant benefits of your children's clothes
Retain your athletic wear's wicking ability which draws sweat away from your body
Maintain your towels' built-in ability to absorb water
Keep your white clothing from yellowing and graying vs. using traditional softeners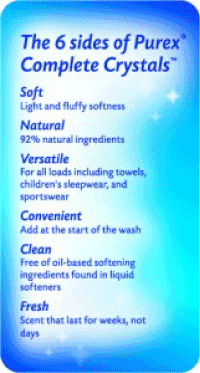 HOW IT'S USED > ADDED WITH LAUNDRY AT THE START OF THE WASH CYCLE
Why struggle with plastic fabric softener balls, risk staining your clothes or waste time waiting for the rinse cycle? Simply add Purex Complete Crystals Softener directly with your laundry at the beginning of every wash cycle to infuse fabrics with long lasting freshness.
HOW IT WORKS > CRYSTALS DISSOLVE INFUSING FABRICS WITH FRESHNESS
Laundry scent lovers will perk up as freshness is infused into clothes with this new fabric softener. Over time, traditional oil-based softeners coat fibers causing harmful oily residue to accumulate. Purex Complete Crystals Softeners penetrate fabrics to reduce fiber entanglement and smooth frayed fibers providing a naturally soft feel.
VARIETIES > ON-TREND SCENTS
Purex Complete Crystals Softener is available in three on-trend fragrances: Fresh Spring Waters, Lavender Blossom, and Tropical Splash.
I absolutely loved the fact that I could add this fabric softener at the beginning of the wash instead of waiting (and most of the time, missing) the rinse cycle.  I also love how this fabric softener infused all of my clothes and linens with a super fresh scent and made them feel much softer too.  I'm so excited that there is finally a fabric softener I can use and feel good about, while still preserving the specialized properties of some of my garments.  Thanks so much, Purex Complete Crystals Softener!  :)
How do you keep your clothes looking and feeling their best?
Disclosure:  I received the Purex Complete Crystals Softener from Purex in order to facilitate my review as part of the Purex Insiders Program. No other compensation was received. This product review is based on my own personal experiences with this item and is completely honest and objective.
I'm a former 7th grade Science teacher turned stay-at-home mom that lives in Houston, Texas. I am married to my college sweetheart and have a beautiful daughter named Riley, who definitely keeps me on my toes! I am also involved in starting a small business which would both manufacture and sell an invention that I've patented, called Toothpaste 2 Go. I love interacting with my readers and hope to learn as much about you as you learn about me!
Melissa @ Mommy Living the Life of Riley!