We've all got them, whether it be from an accident, a surgery, a C-section or a burn of some sort...SCARS!  Some of them are easy to hide and don't cause much notice, but others can plague us with their presence simply because of their location on our bodies.  What do you do when you desperately want a scar to disappear?
Well, now there is an extremely affordable way to greatly diminish the redness and thickness of an unsightly scar with ScarAway.  These professional grade sheets are made from a patented material that provides a unique combination of breathability, flexibility, washability and adhesiveness, with a silky fabric backing for optimal convenience and comfort, even under clothing.  ScarAway comes with 8 reusable 1.5" X 3" silicone scar management sheets, which basically constitutes an 8-week supply.  Keep reading to learn more!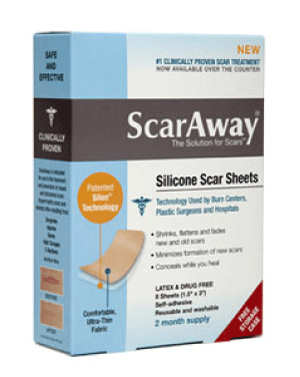 I've seen ScarAway before at places like Walgreens and was always curious as to whether or not it could help with acne scarring.  I have several raised areas on my cheek where there is thicker skin which is also a very dark pink.  I hate these scars and they've bothered me for years, so I was hoping that ScarAway might finally be a low-cost alternative to dealing with these.
ScarAway is very easy to use, though you are encouraged to keep it on continuously for 8-12 weeks.  ScarAway consists of 8 adhesive sheets which can be used for 7 days each.  If you have smaller scars, you can cut the sheets to fit the size of your scar, or if your scar is larger, simply place two sheets side by side.  You should clean your skin with soap and water thoroughly before applying the sheet and then wear it for 12-24 hours per day.  This would be a cinch to do if your scar wasn't on your face like mine is.
The sheets are a tan color, resembling a band-aid.  No one will realize that you are actually working to remove a scar when they see this patch.  I guess I'm lucky I'm a stay-at-home mom and can usually manage to keep these patches on my face for at least 12 hours per day without too much of a problem.  I found that it's easiest to do if I wear them the majority of the time while sleeping.
Currently, I am in my second week of wearing the ScarAway Silicone Scar Sheets and can already confirm that my scar feels much softer and the dark pink color has lightened some too.  I have to admit that I am really surprised with the results I am seeing for I was afraid that ScarAway might not work very well on my scars, since they are almost 15 years old.  Thankfully, that doesn't seem to matter and my scars definitely look better!
If you have a "life memento" that you would love to say good riddance to, then give the Pro Grade Silicone Scar Treatment Sheets from ScarAway a try.  Maybe this will finally be the year that your unsightly scar gets its walking papers!  :)
Top Products from ScarAway:
Got an interesting scar story you'd love to share?  I'd love to hear them!
Disclosure:  I received the ScarAway Professional Grade Silicone Scar Treatment Sheets from ScarAway in order to facilitate my review. No other compensation was received. This product review is based on my own personal experiences with this item and is completely honest and objective.
I'm a former 7th grade Science teacher turned stay-at-home mom that lives in Houston, Texas. I am married to my college sweetheart and have a beautiful daughter named Riley, who definitely keeps me on my toes! I am also involved in starting a small business which would both manufacture and sell an invention that I've patented, called Toothpaste 2 Go. I love interacting with my readers and hope to learn as much about you as you learn about me!
Melissa @ Mommy Living the Life of Riley!